The 100 best romantic movies: pin-up
Experts including Tom Hiddleston, Joan Collins and EL James vote for the best films about love and romance
Now we know which are the 100 best romantic movies of all time. But which are funny and which are heartbreaking? Which depict a dignified romance and which are saucy? Which are strictly arthouse and which are cheesy? We've applied 19 handy labels to the 100 films in our list. Here you'll find all the films with a female star who we believe to be a 'pin-up'.
Got something to add? Tell us what you think in the comments below.
The 100 best romantic movies: pin-up
16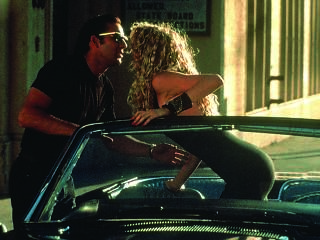 Wild at Heart (1990)
Director: David Lynch
Cast: Nicolas Cage, Laura Dern
Best quote: 'The way your head works is God's own private mystery.'
Defining moment: After dancing like a maniac to speed-metal combo Powermad, Sailor Ripley busts into a swoonsome version of Elvis's 'Love Me'.
American dream
No one does romance quite like David Lynch: just think of Sandy and the robins in 'Blue Velvet', or Henry and the radiator lady in 'Eraserhead'. There are those who write him off as an ironist, but this uniquely intense and unabashed worship of love as an otherworldly, all-consuming and dangerous state of higher consciousness is anything but detached.
Lynch loves love, and he loves lovers, none more so than Sailor and Lula, the star-crossed, whisky-fuelled, sex-crazed, emotionally scarred couple that are the wild heart of his madcap kaleidoscopic road movie. This is all-American love reimagined as a carnival show: brutal and beautiful and completely barmy. TH

Read the Time Out review of 'Wild at Heart'
---
34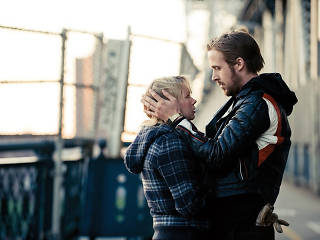 Blue Valentine (2010)
Director: Derek Cianfrance
Cast: Ryan Gosling, Michelle Williams
Best quote: 'In my experience, the prettier a girl is, the more nuts she is, which makes you insane.'
Defining moment: When Dean threatens to throw himself from a New York bridge if Cindy won't tell him what's up.
 
In sickness and in health
The rough follows the smooth in this bittersweet US indie which flits back and forth from the dying embers of a five-year marriage to the first throes of heady passion. Cindy and Dean are tired, frustrated young parents, but not long ago they were dancing on the streets. Cianfrance gives us a frank portrait of where love can head if there are problems from the start.
It's a difficult and sad watch, but an invigorating one as we run along with the energy of Cindy and Dean's first meetings and then scratch our heads at where it all went wrong. What makes 'Blue Valentine' a smart summary of a faltering romance are the specifics of Dean and Cindy's problems: there's no cynical suggestion that all or most relationships head south with time. Instead, Cianfrance makes subtle suggestions as to why this one might not last the distance. DC

Read the Time Out review of 'Blue Valentine'
---
46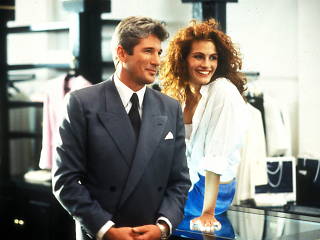 Pretty Woman (1990)
Director: Garry Marshall
Cast: Richard Gere, Julia Roberts
Best quote: 'You and I are such similar creatures Vivian. We both screw people for money.'
Defining moment: Gere and Roberts take a private jet from LA to San Francisco for a date at the opera.
 
Date with destiny
Roberts offered a very different shot in the arm to prostitutes everywhere with this ludicrous but undeniably charming romantic fantasy about a Hollywood streetwalker who falls for a stinking rich businessman (Gere) after he hires her for a week to be his companion at dinners and evening engagements, in between his epic workload of barking at lawyers.
Sure, the idea of a prostitute who's as beautiful, clean, happy and glamorous as Roberts is absurd, but then Gere's portrait of the archetypal 1980s business shark with a core of ice yearning to be melted is just as caricatured as her tart with a heart.
'Pretty Woman' is slushy, cheesy and so smoothly crafted that it succeeds as the very definition of romantic escapism. Roberts also has some winning comic moments, including her curtain-call quip to an elderly lady at the opera: 'It was so good I almost pee'd my pants.' DC

Read the Time Out review of 'Pretty Woman'
47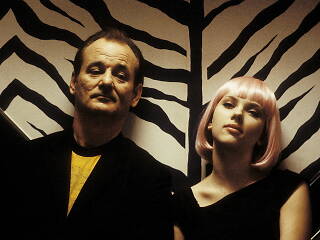 Lost in Translation (2003)
Director: Sofia Coppola
Cast: Bill Murray, Scarlett Johansson
Best quote: 'Can you keep a secret? I'm trying to organise a prison break. I'm looking for, like, an accomplice.'
Defining moment: Crooning Roxy's 'More Than This' in a Tokyo karaoke bar.
 
Platonic bomb
Two different souls, years apart in age, meet in the same upscale Tokyo hotel in which they're staying and spend a chaste but intimate few days together sharing feelings and experiences. She (Johansson) is a young New Yorker whose husband is on a photographic assignment; he (Murray) is an actor making a whisky advert in the city.
They know nothing about each other. But they spend a weekend talking, walking and exploring Tokyo together, and it's all the more romantic because it feels so transient and unlikely. It helps that Johansson is beautiful and has a youthful world-weariness and that Murray gives one of his very best performances, offering an endearing mix of damage and charm. The whole thing feels like a snatched dream. DC

Read the Time Out review of 'Lost in Translation'
48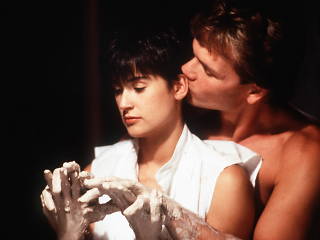 Ghost (1990)
Director: Jerry Zucker
Cast: Demi Moore, Patrick Swayze
Best quote: 'I love you. I really love you.' 'Ditto.'
Defining moment: Swayze and Moore send shares in pottery classes skywards.

 
Care for a little necrophilia?
Screenwriter Bruce Joel Rubin was initially dismayed to hear that producers planned to hand his heartbreaking supernatural romance over to 'Airplane!' director Jerry Zucker ('I thought with this director that they were going to turn "Ghost" into some kind of comedy and it'd be horrible'), but in fact the move led to a skilfully put-together mixture of tearjerker and madcap farce, enabling Whoopi Goldberg to turn in an Oscar-winning Best Supporting Actress performance for her role as con artist/medium Oda Mae Brown.
Counting sexy pottery as a given, 'Ghost' is also romantically notable for the queer frisson of the scene where Sam's spirit possesses Oda Mae to share one final dance with Demi Moore's grieving Molly. CB

Read the Time Out review of 'Ghost'
---
66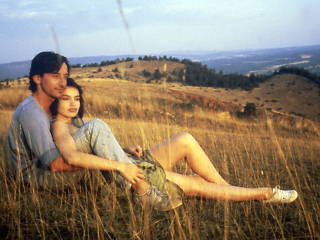 Betty Blue (1986)
Director: Jean-Jacques Beneix
Cast: Béatrice Dalle, Jean-Hugues Anglade, Gérard Darmon
Best quote: 'There comes a moment when the silence between two people can have the purity of a diamond.'
Defining moment: The single-take opening, a full-on naked shagfest, sets the tone of uninhibited passion.


Vive la difference!
Amour fou: the French invented the term and this shows you why. In her very first movie, the 21-year-old Béatrice Dalle delivered a career-defining performance which transcends mere pouting petulance to embody a wide-eyed, crockery-smashing, blade-wielding, bush-flashing rage to live. Struggling writer Anglade does his best to provide the unconditional affection she craves, but will anything be enough to quieten Betty's inner torment?
Quintessentially French, quintessentially '80s, as 'Diva' auteur Beneix revels in an eye-popping palette of electric blues, neon yellows and lipstick crimson. Tellingly, it's best experienced in the deliriously grandiloquent 186-minute director's cut rather than the more familiar but deeply compromised two-hour release version, which struggles to make sense of Betty's extreme psychology. TJ

Read the Time Out review of 'Betty Blue'
67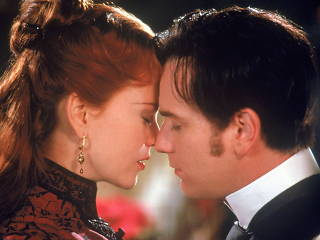 Moulin Rouge! (2001)
Director: Baz Luhrmann
Cast: Nicole Kidman, Ewan McGregor
Best quote: 'Come what may, I will love you until my dying day.'
Defining moment: David Bowie, Elton John, The Beatles and more are pressed into service in one mega-mixed Elephant Love Medley.
Nothing left toulouse
Baz Luhrmann takes the lavish staging of Bollywood, mashes up elements of the Greek myth of Orpheus together with Giuseppe Verdi's opera La Traviata, and throws it all into a kaleidoscopic blender along with some of the catchiest Western pop songs of the 20th century.
As with Luhrmann's inspirations, events are entirely passion-powered, as Ewan McGregor's 'oh-so-talented, charmingly bohemian, tragically impoverished' writer Christian conceives an amour fou for Nicole Kidman's courtesan Satine, serenading her with lines like 'the greatest thing you'll ever learn is just to love and be loved in return'. Of course, given the consumptive Satine is carrying more tuberculosis bacteria than your average badger colony, the greatest thing she's likely to have passed on to poor old Christian is a highly infectious lethal disease. CB

Read the Time Out review of 'Moulin Rouge!'
---
74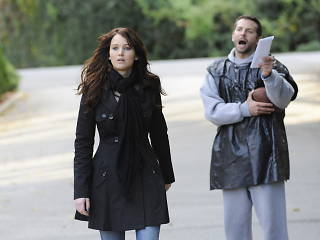 Silver Linings Playbook (2012)
Director: David O Russell
Cast: Bradley Cooper, Jennifer Lawrence
Best quote: 'I love you. I knew it from the moment I saw you. I'm sorry it took me so long to catch up.'
Defining moment: Tiffany meets Pat's dysfunctional parents.
 
Crazy in love
You know that moment when you meet someone for the first time and something clicks? Maybe you bond over a mutual hatred of beetroot. Or love the same film? That's exactly what happens to Pat (Bradley Cooper) and Tiffany (Jennifer Lawrence) in 'Silver Linings Playbook' – except it's anti-depressant side effects they bond over.
He's recovering from a nasty manic episode. She's been sleeping around since her husband died ('I'm just the crazy slut with a dead husband!') As romcoms go, this is awkward and messy, but motors on offbeat energy and a fast-paced wisecracking script. It's a date movie with a beating heart, a story that believes in love. A happy pill of a film. CC

Read the Time Out review of 'Silver Linings Playbook'
---
77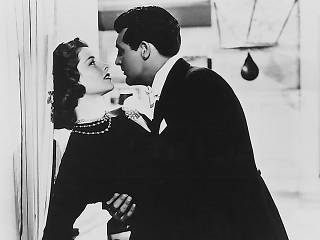 Holiday (1938)
Director: George Cukor
Cast: Katharine Hepburn, Cary Grant, Doris Nolan
Best quote: 'Compared to the life I lead, the last man in a chain gang thoroughly enjoys himself.'
Defining moment: Grant and Hepburn perform somersaults to announce their anti-establishment credentials.


Pack up your troubles
If you love 'The Philadelphia Story' then do catch Hepburn in this previous adaptation of a Philip Barry play as an independent-minded young woman stymied by her conservative family. She senses a kindred spirit in youthful Grant's Johnny Case, who plans to leave his self-made career behind and travel the big, wide world. The complication is that he's engaged to her alluring sister Nolan.
Yes, the theatrical origins are only too obvious, but glittering dialogue and sparkling star turns pave the way to a surprisingly affecting ending. Grant is unusually goofy, skillfully masking his character's contradictions, while Hepburn's trademark display of determined intelligence remains the key to a film that thrives on the notion of liberating elopement. TJ

Read the Time Out review of 'Holiday'
---
90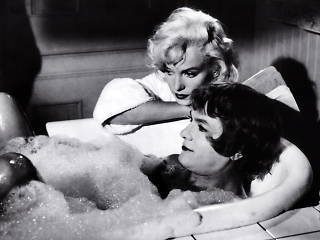 Some Like It Hot (1959)
Director: Billy Wilder
Cast: Marilyn Monroe, Tony Curtis, Jack Lemmon
Best quote: 'Nobody's perfect!'
Defining moment: Curtis, in disguise as a rich Brit, takes Monroe for a date on someone else's yacht.

 
Love comes in spats
The romance in 'Some Like It Hot' is very much of the anything-goes, outsider sort. Wilder's brilliant, high-energy transvestite comedy is a celebration of folk from the other side of the tracks dressed up as a madcap farce in which Curtis and Lemmon spend most of the film disguised as female musicians and on the run from the Chicago mob in 1929. It's also, of course, a vehicle for Monroe's beauty, charm and amply-platformed cleavage (seriously, check out her dresses in her two musical numbers).
Most of the fun lies in gender-bending games of mistaken identity that would make Shakespeare proud. But there's also some real feeling here, both between Curtis and Monroe and, most bizarrely if fleetingly, between Lemmon and an ageing playboy. Delightful and giddy. DC

Read the Time Out review of 'Some Like It Hot'
---
97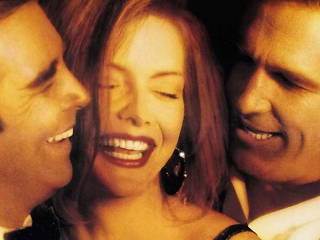 The Fabulous Baker Boys (1989)
Director: Steve Kloves
Cast: Jeff Bridges, Michelle Pfeiffer, Beau Bridges
Best quote: 'You're not going to start dreaming about me and waking up all sweaty and looking at me like I'm some sort of princess when I burp?'
Defining moment: Michelle drapes herself atop Jeff's piano for a smoky rendition of 'Makin' Whoopee'.
Another season, another reason
He knows he shouldn't. She knows she shouldn't. But they can't help themselves. For decades, talented but feckless Jeff Bridges has been working hotel lounges in an easy-listening piano duo with his steady-Eddie brother (and real-life sibling) Beau, but when the work dries up they take on a vocalist – Michelle Pfeiffer's Susie Diamond, a world-weary former escort seeking the showbiz spotlight.
Suddenly, the trio's a hit, but there's something in the air between Jeff and Michelle, which could break the act apart if they choose to respond to it. First-time writer-director Steve Kloves matches awkward adult emotions to razor-sharp dialogue, so naturally Hollywood picked him to adapt the 'Harry Potter' saga (!). Still, we'll always have the Airport Ramada… TJ

Read the Time Out review of 'The Fabulous Baker Boys'
---
100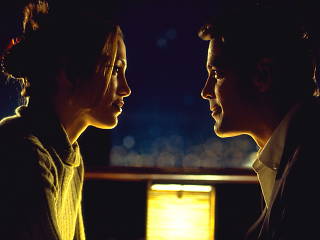 Out of Sight (1998)
Director: Steven Soderbergh
Cast: George Clooney, Jennifer Lopez
Best quote: 'Jack, please don't make me do this.'
Defining moment: J-Lo and Clooney get up close and personal in the boot of a getaway car.
 
 
Junk in the trunk
It's got to be the sexiest meet-cute in the movies. Clooney is a bank robber who's just bust out of prison. Lopez is the federal marshal who gets in his way. We already know she likes a bad boy, so when he bundles her into the boot of a getaway car, sparks fly.
The chemistry between Clooney and Lopez is smokin' hot in Soderbergh's down-and-dirty adaptation of Elmore Leonard's novel. Sandra Bullock was originally tested for the marshal role, but it's impossible to believe she would have sizzled like J-Lo. 'Out of Sight' will also go down in history as the movie that finally made TV pin-up Clooney a bona fide Hollywood star. CC

Read the Time Out review of 'Out of Sight'
---
---
The best songs from the top 100
Read a review of...
Regular Time Out film features
The best films now showing
The sequel to the prequel is a knockout
A near-perfect film about growing up from Richard Linklater
Keira Knightley is newly dumped and singing her heart out
See more Time Out film reviews
Latest Time Out film features