The 100 best romantic movies: saucy
Experts including Tom Hiddleston, Joan Collins and EL James vote for the best films about love and romance
Now we know which are the 100 best romantic movies of all time. But which are funny and which are heartbreaking? Which depict a dignified romance and which are steamy? Which are strictly arthouse and which are cheesy? We've applied 19 handy labels to the 100 films in our list. Here you'll find all the films we think deserve the label 'saucy'.
Got something to add? Tell us what you think in the comments below.
The 100 best romantic movies: saucy
18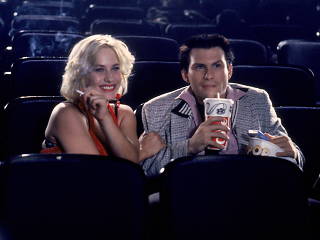 True Romance (1993)
Director: Tony Scott
Cast: Christian Slater, Patricia Arquette
Best quote: 'And all I could think was, you're so cool!'
Defining moment: To free his hooker wife from bondage, hero Clarence guns down her dreadful, dreadlocked pimp.

 
Geek cheek
There are few more blatant examples of personal wish fulfillment in the movies than Quentin Tarantino's script for 'True Romance'. A comic store clerk and exploitation movie nerd (hey, write what you know) meets a gorgeous, sweet-natured hooker who immediately falls madly in love with him. They head off on the run, taking in all the sights from Hollywood directors to bloodthirsty gangsters, all the while exchanging dynamic repartee and having great sex.
It's thanks to Scott's unwillingness to indulge the script's excesses that 'True Romance' works as well as it does: avoiding both smugness and sentiment, this is a breeze of a film, coasting on terrific dialogue, charming performances, pacy plotting and sheer, coke-fuelled joie de vivre. Sure, it's a teensy bit shallow, but damn it's entertaining. TH

Read the Time Out review of 'True Romance'
---
45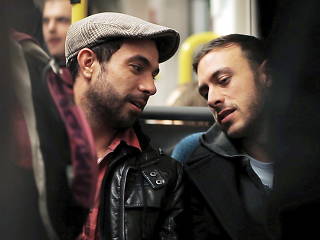 Weekend (2011)
Director: Andrew Haigh
Cast: Chris New, Tom Cullen
Best quote: 'I couldn't be more proud of you than if you were the first man on the moon.'
Defining moment: When Glen interviews Russell on tape for an art project the morning after the night before.
 
Boy meets boy
This British film, shot on a shoestring, captures in a lively and fresh style the first throes of attraction, passion and maybe even love between two men, Glen (New) and Russell (Cullen), who meet one night in a bar and spend a couple of days and nights together. They talk, they have sex, they size each other up. Glen is open and chatty, while Russell is more guarded and defensive.
Haigh's film is marked by an immediacy and a sense of tentative exploration that's rare in depictions of couplings, and by a keen awareness that we project one image on the world and hold another back for ourselves. Not a great deal happens in terms of big events, but the film's honesty and realism mean that it's a little film with a lot to say. DC

Read the Time Out review of 'Weekend'
---
52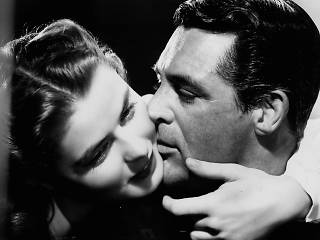 Notorious (1946)
Director: Alfred Hitchcock
Cast: Ingrid Bergman, Cary Grant, Claude Rains
Best quote: 'There's nothing like a love song to give you a good laugh.'
Defining moment: The stars lock lips in the wine-cellar, but is it real or play-acting?
 
A spy in the house of love
'Vertigo' gets all the love from the critical fraternity, but Hitchcock's earlier romantic thriller is equally potent in its passionate turmoil. Just after WWII, party girl Bergman has a chance to atone for her Nazi father's sins by helping US secret service agent Grant uncover a nest of spies in Rio. They begin a torrid affair, yet her mission entails seducing her way into the house of sleek schemer Rains. Is Grant's suddenly icy demeanour a reflection of professional responsibility? Or a spurned lover's hauteur?
Churning emotions, deliciously complex and grown-up, run through an increasingly gripping suspense plot, and though it's the star-powered glamour we remember, closer reacquaintance reveals an anguished undertow of guilty yearning and chastening self-denial that's quintessentially Hitchcockian. TJ

Read the Time Out review of 'Notorious'
---
61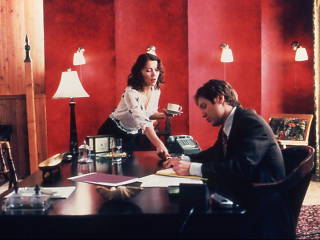 Secretary (2002)
Director: Steven Shainberg
Cast: Maggie Gyllenhaal, James Spader
Best quote: 'Who's to say that love needs to be soft and gentle?'
Defining moment: Lee reads back a mistyped letter and gets spanked for the first time.
 
Taking down the particulars
Before there was 'Fifty Shades Of Grey', there was E Edward Grey (James Spader), a boss who exercises a penchant for strict discipline on new hire Lee (Maggie Gyllenhaal). In contrast to 'Fifty Shades…', which metastasised out of 'Twilight' fan fiction, the literary origins of 'Secretary' are more respectable: a short story by Mary Gaitskill, whose writings about BDSM go a bit deeper than the recent bonkbusters.
The skewed romance at the heart of 'Secretary' is beautifully played; the characters never come off as dabblers trying to spice things up a bit with fluffy-cuffed role-play, but as submissive and dominant to the core of their sexual identities. CB

Read the Time Out review of 'Secretary'
---
65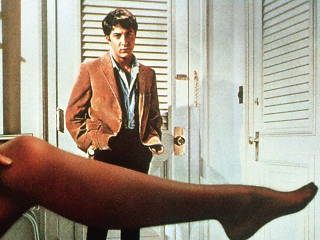 The Graduate (1967)
Director: Mike Nichols
Cast: Dustin Hoffman, Anne Bancroft, Katharine Ross
Best quote: 'Would you like me to seduce you?'
Defining moment: Dustin Hoffman, Paul Simon, Art Garfunkel, a red Alfa Romeo Spider and the Southern California highway system.
 
We'd like to help you learn to help yourself
How romantic is 'The Graduate', really? Are we talking about the affair between Benjamin Braddock (Hoffman) and Mrs Robinson (Bancroft), in which he's driven by adolescent lust and gnawing boredom, and she by a desperate desire to revisit her youth, to feel something, anything for a change? Or do we mean the engagement between Benjamin and Mrs Robinson's daughter Elaine (Ross), in which both characters appear to be marching through some sort of societally mandated courtship routine, without ever really meeting in the middle?
And yet, despite the cynicism and the ironic distance, despite that frankly terrifying closing shot of Ben and Elaine on the bus, miles distant, there's still something bracing and heartfelt about 'The Graduate'. Perhaps in showing us all this tragic emptiness, Nichols is encouraging us to confront it. TH

Read the Time Out review of 'The Graduate'
66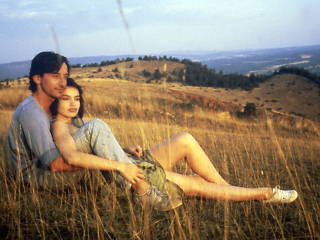 Betty Blue (1986)
Director: Jean-Jacques Beneix
Cast: Béatrice Dalle, Jean-Hugues Anglade, Gérard Darmon
Best quote: 'There comes a moment when the silence between two people can have the purity of a diamond.'
Defining moment: The single-take opening, a full-on naked shagfest, sets the tone of uninhibited passion.


Vive la difference!
Amour fou: the French invented the term and this shows you why. In her very first movie, the 21-year-old Béatrice Dalle delivered a career-defining performance which transcends mere pouting petulance to embody a wide-eyed, crockery-smashing, blade-wielding, bush-flashing rage to live. Struggling writer Anglade does his best to provide the unconditional affection she craves, but will anything be enough to quieten Betty's inner torment?
Quintessentially French, quintessentially '80s, as 'Diva' auteur Beneix revels in an eye-popping palette of electric blues, neon yellows and lipstick crimson. Tellingly, it's best experienced in the deliriously grandiloquent 186-minute director's cut rather than the more familiar but deeply compromised two-hour release version, which struggles to make sense of Betty's extreme psychology. TJ

Read the Time Out review of 'Betty Blue'
---
72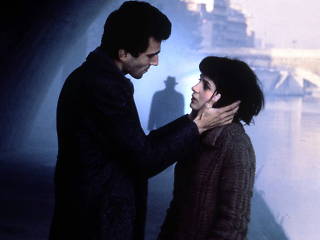 The Unbearable Lightness of Being (1988)
Director: Philip Kaufman
Cast: Daniel Day-Lewis, Juliette Binoche, Lena Olin
Best quote: 'I don't understand how someone can make love without being in love.'
Defining moment: Lena Olin clambers over a mirror, reflecting the film's running theme of solitary sexuality.
Je t'aime... moi non plus
Some of the greatest love stories hinge on denial rather than devotion. Philip Kaufman's shiveringly erotic adaptation of Milan Kundera's 1968-set novel – which many thought too tangled up in its characters' psychologies to be filmed at all – is remarkable for the romance it builds around a man with no desire to be in love.
Daniel Day-Lewis is ideally cast as Tomas, a young Czech surgeon whose pursuit of an emotion-free sex life is fostered and challenged, respectively, by Lena Olin's uptown artist and Juliette Binoche's sincerely adoring country waif. Between and beyond this brittle love triangle are some of the sexiest sex scenes ever put to celluloid, as the Prague Spring withers and the true cost of free love is learned. GL

Read the Time Out review of 'The Unbearable Lightness of Being'
---
97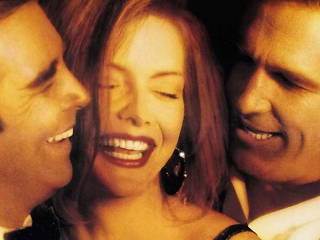 The Fabulous Baker Boys (1989)
Director: Steve Kloves
Cast: Jeff Bridges, Michelle Pfeiffer, Beau Bridges
Best quote: 'You're not going to start dreaming about me and waking up all sweaty and looking at me like I'm some sort of princess when I burp?'
Defining moment: Michelle drapes herself atop Jeff's piano for a smoky rendition of 'Makin' Whoopee'.
Another season, another reason
He knows he shouldn't. She knows she shouldn't. But they can't help themselves. For decades, talented but feckless Jeff Bridges has been working hotel lounges in an easy-listening piano duo with his steady-Eddie brother (and real-life sibling) Beau, but when the work dries up they take on a vocalist – Michelle Pfeiffer's Susie Diamond, a world-weary former escort seeking the showbiz spotlight.
Suddenly, the trio's a hit, but there's something in the air between Jeff and Michelle, which could break the act apart if they choose to respond to it. First-time writer-director Steve Kloves matches awkward adult emotions to razor-sharp dialogue, so naturally Hollywood picked him to adapt the 'Harry Potter' saga (!). Still, we'll always have the Airport Ramada… TJ

Read the Time Out review of 'The Fabulous Baker Boys'
---
100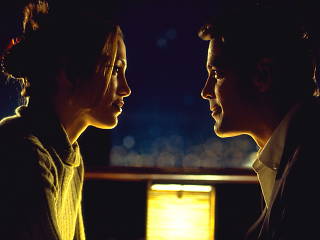 Out of Sight (1998)
Director: Steven Soderbergh
Cast: George Clooney, Jennifer Lopez
Best quote: 'Jack, please don't make me do this.'
Defining moment: J-Lo and Clooney get up close and personal in the boot of a getaway car.
 
 
Junk in the trunk
It's got to be the sexiest meet-cute in the movies. Clooney is a bank robber who's just bust out of prison. Lopez is the federal marshal who gets in his way. We already know she likes a bad boy, so when he bundles her into the boot of a getaway car, sparks fly.
The chemistry between Clooney and Lopez is smokin' hot in Soderbergh's down-and-dirty adaptation of Elmore Leonard's novel. Sandra Bullock was originally tested for the marshal role, but it's impossible to believe she would have sizzled like J-Lo. 'Out of Sight' will also go down in history as the movie that finally made TV pin-up Clooney a bona fide Hollywood star. CC

Read the Time Out review of 'Out of Sight'
---
---
The best songs from the top 100
Read a review of...
Regular Time Out film features
The best films now showing
Has the biggest heart of any film you'll see this year
A brilliantly black vigilante Scandi-comedy
Marion Cotillard gives (another!) Oscar-worthy performance
See more Time Out film reviews