The 100 best romantic movies: senior
Experts including Tom Hiddleston, Joan Collins and EL James vote for the best films about love and romance
Now we know which are the 100 best romantic movies of all time. But which are funny and which are heartbreaking? Which depict a dignified romance and which are saucy? Which are strictly arthouse and which are cheesy? We've applied 19 handy labels to the 100 films in our list. Here you'll find all the films which describe a mature romance. We've tagged them 'senior'.
Got something to add? Tell us what you think in the comments below.
The 100 best romantic movies: senior
5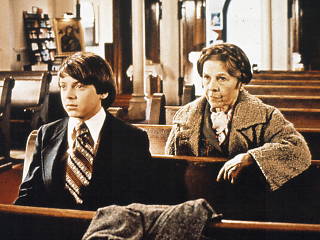 Harold and Maude (1971)
Director: Hal Ashby
Cast: Ruth Gordon, Bud Cort
Best quote: 'Oh, Harold, that's wonderful. Go and love some more.'
Defining moment: In a field of daisies overlooking a vast military cemetery, Maude explains her philosophy of life.
 
Age shall not wither them
The hippy era was full of movies that attempted to confront square society, to shock viewers into some undefined form of action. How many of them are still effective today? But 'Harold and Maude', the gentle flipside of the revolutionary dream, is every bit as charming, affecting and surprising as it must have been on its first release.
Partly this is because none of its themes have gone out of date: we still live in a world of empty privilege and rigid hierarchy, petty authority and relentless conformism. So the idea of a teenage boy (Cort) shacking up with a batty old woman (Gordon) is still a challenge to social norms. Best of all, 'Harold and Maude' is also still devastatingly romantic: a story of soulmates, in the most literal sense. TH

Read the Time Out review of 'Harold and Maude'
---
23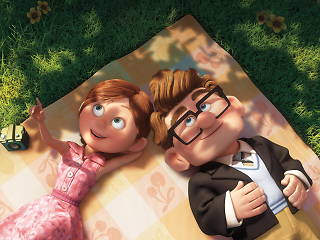 Up (2009)
Directors: Pete Docter, Bob Peterson
Cast: Ed Asner, Christopher Plummer
Best quote: 'You don't talk much. I like you!'
Defining moment: It's all about the opening ten minutes, as we follow Carl and Ellie from childhood, through years of happy marriage 'til death does them part.
 
The story of us
It's remarkable that 'Up' has managed to sneak into the all-time top 25 romantic movies on the strength of a single 10-minute sequence, but it's also testament to the extraordinary power this Pixar classic possesses.
It could've been so cutesy, so saccharine: a geeky kid with coke-bottle glasses dreams of being an explorer. The girl down the street wants the same thing. They grow up, fall in love, years pass, and we see the highs and lows of their life together: marriage, family, work, sickness, eventually death – a tapestry of honest emotion and meaning (and this, lest we forget, is a kids' movie). The rest of 'Up' is 'only' hilarious and smart – but that opening is romance itself. TH

Read the Time Out review of 'Up'
---
27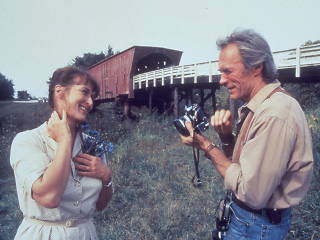 The Bridges of Madison County (1995)
Director: Clint Eastwood
Cast: Meryl Streep, Clint Eastwood, Annie Corley
Best quote: 'Do you want more eggs or should we just fuck on the linoleum one last time?'
Defining moment: Meryl and Clint in her kitchen, slow-dancing to the honeyed sounds of jazz crooner Johnny Hartman.
Four days in paradise
This classy adaptation of Robert James Waller's bestseller is 'Brief Encounter' in another time and another place. It's mid-'60s Iowa and Italian housewife Streep, long wedded to a local farmer, starts thinking about the life she could have had when dashing National Geographic photographer Clint turns up to shoot the famed covered bridges nearby.
While the latterday framing device is somewhat clunky, the central middle-aged romance is exquisitely inscribed through tender looks, stolen moments, and much sultry jazz on the radio, building to a wrenchingly bittersweet conclusion that love's liberating affirmation doesn't always arrive when circumstances allow it to flourish. 'This kind of certainty comes but once in a lifetime' is the key line, and we believe it. Sigh. TJ

Read the Time Out review of 'The Bridges of Madison County'
---
30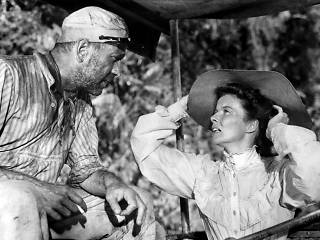 The African Queen (1951)
Director: John Huston
Cast: Katharine Hepburn, Humphrey Bogart
Best quote: 'What a time we had, Rosie. What a time we had.'
Defining moment: After surviving the rapids, one of the great 'celebratory hug gets serious' moments in cinema.
 
Messing about on the river
We tend to think of movies about old folks shacking up as being a modern phenomenon, as producers pursue the newfangled 'grey pound'. But it's really nothing new: in fact, when the original script for 'The African Queen' was presented to the censors, the busybodies were shocked at the idea of two unmarried persons enjoying a late-in-life romance in the sweaty confines of a rickety old tramp steamer.
'The African Queen' is one of the great films about delayed self-discovery: brittle spinster Hepburn's realisation of her love for crusty, good-hearted layabout Bogart isn't just believable, it feels completely necessary. Wise, warm, witty, and with just the hint of a sly, subversive twinkle in its eye, 'The African Queen' is old-school Hollywood at its absolute finest. TH

Read the Time Out review of 'The African Queen'
31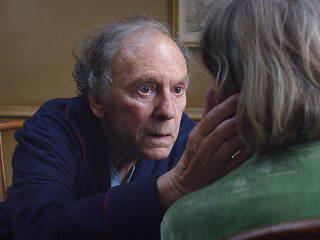 Amour (2012)
Director: Michael Haneke
Cast: Emmanuelle Riva, Jean-Louis Trintignant
Best quote: 'Please never take me back to the hospital… Promise… Promise me.'
Defining moment: When Anne suddenly freezes in the kitchen one morning.
 
Looks like we made it to the end
'What will survive of us is love,' wrote Philip Larkin, a poet equally known for being a cuddly old romantic as Michael Haneke, the writer and director of 'Amour'. In his Paris-set film, Haneke examines what love means when we're reaching the end of our lives. Haneke gives us Georges (Trintignant) and Anne (Riva), a couple in their eighties who struggle to cope when Anne falls ill from a stroke.
'Amour' isn't romantic in any traditional sense of the word, but it's steeped in ideas about living life as a couple. It's deeply thoughtful – and thought-provoking – in relation to what it really, properly means to be with someone all your life, to the end of your life. It's heartbreaking and totally free of false sentiment. DC

Read the Time Out review of 'Amour'
---
35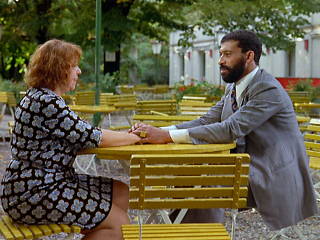 Fear Eats the Soul (1974)
Director: Rainer Werner Fassbinder
Cast: Brigitte Mira, El Hedi ben Salem
Best quote: 'We'll be rich, Ali. And we'll buy ourselves a little piece of heaven.'
Defining moment: The scene where Emmi reveals her relationship to her family is a masterclass in awkwardness and character tension.
Achtung, baby
Many of cinema's most exciting moments come about as a result of unlikely juxtapositions. Who would've thought that taking the structure and form of 1950s Hollywood 'womens' pictures' and transplanting them to grim, urban 1970s Germany would result in one of the sweetest, most challenging and emotive romantic films ever made?
Mira plays Emmi, the solitary, spreading middle-aged cleaner who starts an affair with a Moroccan 'gastarbeiter' two decades her junior. What's remarkable about Fassbinder's film is that he takes these two diametric characters and makes their love completely convincing – not for a second do we wonder why the strapping Ali cares so much for crumbling Emmi, or vice versa. TH

Read the Time Out review of 'Fear Eats the Soul'
---
---
The best songs from the top 100
Read a review of...
Regular Time Out film features
The best films now showing
Fond and giddy, the film of Michael Bond's books is everything you want it to be
Rated as: 4/5
Critics choice
A boys-own retelling of adventurer Thor Heyerdahl's 1947 Pacific crossing
A soulful, uplifting documentary following the occupants of a Nepalese cable car
See more Time Out film reviews