The 100 best romantic movies: spurned
Experts including Tom Hiddleston, Joan Collins and EL James vote for the best films about love and romance
Now we know which are the 100 best romantic movies of all time. But which are funny and which are heartbreaking? Which depict a dignified romance and which are saucy? Which are strictly arthouse and which are cheesy? We've applied 19 handy labels to the 100 films in our list. Here you'll find all the films which tell of a love that's 'spurned'.
Got something to add? Tell us what you think in the comments below.
The 100 best romantic movies: spurned
1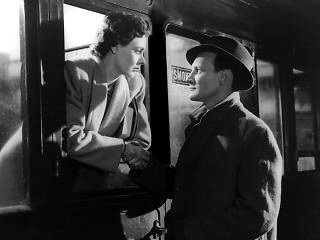 Brief Encounter (1945)
Director: David Lean
Cast: Celia Johnson, Trevor Howard
Best quote: 'This misery can't last… Not even life lasts very long.'
Defining moment: That most restrained of farewells, Alec squeezing Laura's shoulder goodbye.
 
Make tea not love
You'd think that Lean's tale of stiff-upper-lip emotion would be frightfully and unwatchably old-fashioned today. A married woman falls in love with a married man and they do the decent thing. So why do we continue to find this much-loved classic so unbearably moving? Because it's still thrilling to watch the continents of emotion beneath Laura and Alec's icy properness.
They meet in a railway café. Laura (Johnson) has grit in her eye. Alec (Howard) gallantly removes it. Later, they run into each other in a restaurant. The couple know in their heart of hearts that leaving their families and running off together will not make a happy ending. And so they must part. He accepts a job in South Africa. Our hearts stop with the lovers' when a busybody crashes their last few precious minutes together. Unforgettable. CC

Read the Time Out review of 'Brief Encounter'
2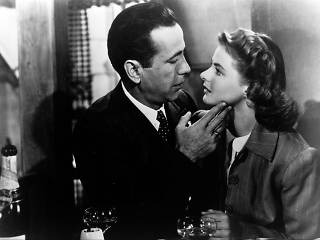 Casablanca
Casablanca (1942)
Director: Michael Curtiz
Cast: Humphrey Bogart, Ingrid Bergman
Best quote: 'We'll always have Paris.'
Defining moment: Bogey tells Ingrid Bergman to get on the plane with her husband, or she'll regret it. Maybe not today…
 


The fundamental things
Of all the gin joints in all the towns in all the world, she walks into his. Humphrey Bogart's choice between the woman he loves and doing the honourable thing is one of the most wrenching you'll ever see on screen. Seventy years on, it gets the heart racing every time.
Bogey is Rick, a hard-drinking American in Casablanca, a city full of refugees fleeing the Nazis. Most of them wash up in Rick's bar, including his great lost love Ilsa (Ingrid Bergman). With her is a Czech Resistance leader who's escaped a concentration camp.
'Casablanca' is full of famous lines, but my favourite is Rick's description of himself heartbroken and abandoned on a train platform – 'a guy standing in the rain with a comical look on his face, because his insides are kicked out.' CC

Read the Time Out review of 'Casablanca'
---
6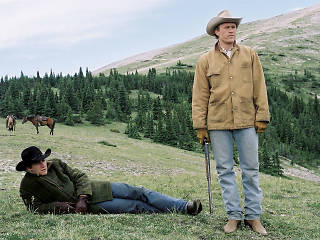 Brokeback Mountain (2005)
Director: Ang Lee
Cast: Jake Gyllenhaal, Heath Ledger, Michelle Williams, Anne Hathaway
Best quote: 'I wish I knew how to quit you.'
Defining moment: When Jack and Ennis make love in a tent.
 
A camp romance
Lee's adaptation of E Annie Proulx's short story is a desperately sad account of gay love beaten into submission by society's attitudes and conventions. Jack (Gyllenhaal) and Ennis (Ledger) are two ranch hands in early 1960s Wyoming who spend one glorious summer out in the wilderness falling in love and sleeping with each other.
It's a golden age – a long-lost arcadia – that can never be recovered by this unlikely romantic pair as the years go by and Jack and Ennis live separate lives (though they occasionally meet up for secretive fishing trips to rekindle their passion). As they age, Jack is more successful at holding down an everyday life with a job and family, but Ennis seriously struggles, and his story is all the more tragic for it. It's a brilliantly acted film, and Lee finds time to celebrate and explore the love at the core of his story as well as creating space to mourn its fallout. DC

Read the Time Out review of 'Brokeback Mountain'
---
14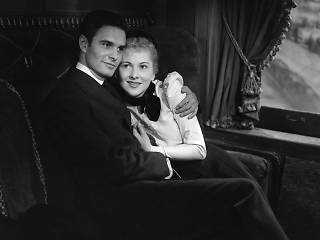 Letter from an Unknown Woman (1948)
Director: Max Ophüls
Cast: Joan Fontaine, Louis Jourdan
Best quote: 'If only you could have shared those moments, if only you could have recognised what was always yours, could have found what was never lost. If only...'
Defining moment: The greatest first-date setting of all time – an old fairground ride where scenes from around the globe roll past the windows of a wooden train.
Lonely are the brave
'Letter from an Unknown Woman' is about the death of love, a yearning so intense that the heart breaks into pieces. From one point of view, the film has no place on this list: love turns to loss, hope to despair. But, in a way, isn't unrequited love the purest kind, with none of that dirty reality and compromise getting in the way?
If that's true, then this might be the most romantic film of all, a story of reckless, undimmed, lifelong passion, against all odds and common sense. It's the peak of Ophüls's career as a visual stylist. As the camera swoops and swoons, as the characters waltz and wander through high-ceilinged ballrooms and jangling cafes, it's impossible not to be drawn, like the heroine, into this dream of impossible infatuation. TH

Read the Time Out review of 'Letter from an Unknown Woman'
---
47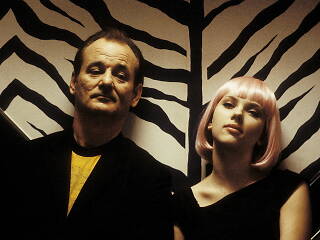 Lost in Translation (2003)
Director: Sofia Coppola
Cast: Bill Murray, Scarlett Johansson
Best quote: 'Can you keep a secret? I'm trying to organise a prison break. I'm looking for, like, an accomplice.'
Defining moment: Crooning Roxy's 'More Than This' in a Tokyo karaoke bar.
 
Platonic bomb
Two different souls, years apart in age, meet in the same upscale Tokyo hotel in which they're staying and spend a chaste but intimate few days together sharing feelings and experiences. She (Johansson) is a young New Yorker whose husband is on a photographic assignment; he (Murray) is an actor making a whisky advert in the city.
They know nothing about each other. But they spend a weekend talking, walking and exploring Tokyo together, and it's all the more romantic because it feels so transient and unlikely. It helps that Johansson is beautiful and has a youthful world-weariness and that Murray gives one of his very best performances, offering an endearing mix of damage and charm. The whole thing feels like a snatched dream. DC

Read the Time Out review of 'Lost in Translation'
---
85
Chungking Express (1994)
Director: Wong Kar-Wai
Cast: Tony Leung, Faye Wong, Takeshi Kaneshiro, Brigitte Lin
Best quote: 'People change. A person may like pineapple today and something else tomorrow.'
Defining moment: Faye Wong's idea of affection involves rearranging cop Tony Leung's apartment while he's on the beat.
The Wong goodbye
Wong Kar-Wai's third feature remains a perennially fresh declaration of his unique aesthetic, where the accretion of voiceover, music cues, faces and places creates an immersive mood more significant than whatever passes for a plot.
In this instance, that involves two sets of would-be lovers – policeman Kaneshiro falls for shady lady Brigitte Lin, while his colleague Leung circles around winsome kebab-stall girl Faye Wong. Still, the idea of actually getting it together is much less headily intoxicating than the sweet ache of a broken heart, or the woozy rush of unconsummated possibility. Meanwhile, Wong's stop-go camera captures the restless bustle of pre-handover Hong Kong, and the melancholy sway of the original 'California Dreaming' sets the seal on an off-hand masterpiece. TJ

Read the Time Out review of 'Chungking Express'
---
89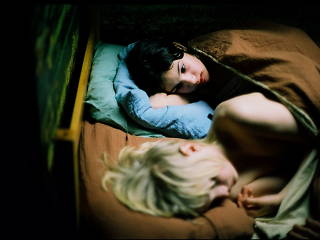 Let the Right One In (2008)
Director: Tomas Alfredson
Cast: Kåre Hedebrant, Lina Leandersson
Best quote: 'If I wasn't a girl... would you like me anyway?'
Defining moment: Eli crosses the threshold to show Oskar why she needs an invite.

 
My bloody valentine
Just because a romance is between two twelve year olds, one of whom has been twelve for a really, really long time, doesn't mean it's not a romance. And so what if your new girlfriend a) isn't exactly a girl and b) feasts on the blood of innocents? At least you've got a girlfriend.
Oskar meets Eli at a difficult time in his young life, and quickly learns that the path of true love ne'er did run smooth, nor faint heart win fair maiden. This chilly Scandinavian take on vampire mythology is a pre-teen supernatural romance you can really get your teeth into – and there's not a sparkly dreamboat in sight. CB

Read the Time Out review of 'Let the Right One In'
---
---
The best songs from the top 100
Read a review of...
Regular Time Out film features
The best films now showing
Wes Anderson's funniest film since 'Rushmore'. An absolute treat
A brilliant, soulful 'Terminator'-meets-'Brief Encounter' (kind of) love story
Hardcore sex and fly-fishing. Only in a Lars Von Trier film…
See more Time Out film reviews
Latest Time Out film features