This Is England (18)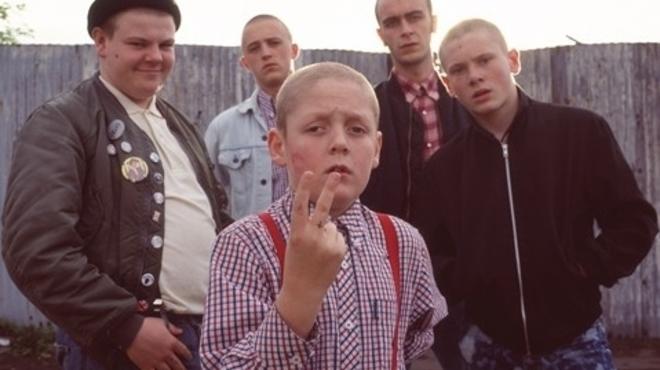 Time Out rating:
<strong>Rating: </strong>4/5
User ratings:
<strong>Rating: </strong>4/5
Rate this
Time Out says
Wed Oct 25 2006
'This is England' was the title under which Humphrey Jennings's 10-minute paean to beleaguered but indomitable British pluck, 'The Heart of Britain', was presented in the US in 1941. After showing the wreckage of Coventry and life in the shadow of the Blitz, the narration forecast that 'the Nazis will learn, once and for all, that no one with impunity troubles the heart of Britain'. As the opening montage of
Shane Meadows
's new film makes clear, the heart of Britain was troubled in 1983. Cross-cutting between Roland Rat and Maggie Thatcher, rioting and the royal wedding, it's a nifty scene-setter for a deft, heartfelt local story in which the nation is at a different kind of war, and violent bigotry is not an external threat but literally wraps itself in the flag.
Grieving a father lost in the Falklands, lonely 12-year-old Shaun (
Thomas Turgoose
) is taken under the wing of a local skinhead gang, which includes the dryly charismatic Woody (
Joe Gilgun
), appealingly dippy Smell (
Rosamund Hanson
) and cheerful Milky (
Andrew Shim
), whose parents are Caribbean. As in any pack, there are pecking orders and face-offs, but the generous-minded 'spirit of '69' prevails – until the older Combo (
Stephen Graham
) returns from jail exuding the stench of aggressive racism, which can't quite mask the whiff of something lost, desperate and sad. Soon there is speechifying; vulnerable spots are exploited, lines are drawn and a summer of happy belonging mutates into something darker.
With his Nottingham-centric trilogy ('Twentyfourseven', 'A Room for Romeo Brass' and 'Once Upon a Time in the Midlands') and 2004's 'Dead Man's Shoes', Meadows has created a body of unmistakably English work, but 'This Is England' is the first time nationalism has explicitly underpinned the action. Drawing on the director's own experiences, the film offers assured insights into the pleasures and wages of tribalism, and the ease with which both the urge to belong and individual insecurities and resentments can be grievously spun into political capital. The St George cross initially seen on a poster of the England squad on Shaun's bedroom wall becomes a coddling blanket of self-justification, then a badge of self-loathing.
If Shaun's progress can feel a bit schematic and there's the odd formal lapse into melodrama, these are outweighed by Meadows's confident pacing and the superb performances of the young ensemble. Turgoose marvellously captures that awkward stage of early adolescence where a yearning for self-determination can't quite stretch to independence – he goes to buy bovver boots with his mum – and Graham ensures that Combo is pitiable even at his most vile, while the rest of the gang – many of whom studied together – are relaxed, enjoyable company. The film also pays tribute to the music whose enjoyment initially marked skinheads as early adopters of multiculturalism. Even Combo retains his love of ska – a capacity for transcendence that rhymes with the scenes in Jennings's film in which a Huddersfield choir sings Handel and Beethoven at the height of hostilities.
Author: Ben Walters
Release details
Rated:
18
UK release:
Fri Apr 27, 2007
Duration:
100 mins
Cast and crew
Cast:
Screenwriter:
Production Designer:
Editor:
Cinematography:
Director:
Producer:
Write your own review