Toy Story 3 (U)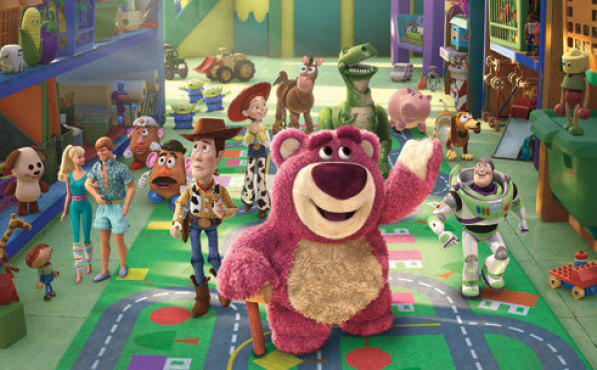 Time Out rating:
<strong>Rating: </strong>4/5
User ratings:
<strong>Rating: </strong>5/5
Rate this
Time Out says
Tue Jul 13 2010
The 'Toy Story' films are deservedly seen as the gold standard for computer-generated animation, putting their gorgeously detailed digital craftsmanship at the service of a pleasingly simple fantasy set-up, warm, complex characterisation and classically elegant storytelling. But, like the best children's stories, they're also about something seriously scary: the separation anxiety with which all kids (and plenty of adults) are familiar and the spectre of its extreme extrapolation, total abandonment. It doesn't take a sociologist to work out why such themes might strike a chord at a time when family life is so fragile for so many; the 'Toy Story' cycle broaches the subject with an emotional honesty that allows young viewers to exercise those anxieties in safety – even if it stops short of the kind of traumatic wallop associated with, say, Bambi's mum.
This third outing finds the gang – Woody the cowboy (voiced by
Tom Hanks
), space ranger Buzz Lightyear (
Tim Allen
), cowgirl Jessie (Joan Cusack), timid dinosaur Rex (Wallace Shawn) and various other dog, pig and potato-based playthings – facing the reality of their long-indifferent owner leaving for college. The toys fear indefinite leave in the attic or – worse – the trash; the middle ground is relocation to Sunnyside, a day-care centre where, perhaps, they can serve new owners. All seems well on their arrival – sweet kids, welcoming new toys – but jeopardy is, of course, around the corner.
The film is in 3D but, hang-gliding escapades notwithstanding, in-your-face effects take a back seat to more subtle applications, such as environmental immersion, mock-heroic playfulness and suspenseful contrasts of scale. That said, the opening adventure sequence is an assured stereo set piece and the short preceding the main feature, 'Day & Night', a high-concept gem.
There are several elements in 'Toy Story 3' that echo its predecessors: the outside-world escape plot, the reversion of Buzz to factory-setting-level naivety, the trustworthiness of new pals. But there are also many witty novelties, from a when-Barbie-met-Ken subplot to a 2D makeover for Mr Potato Head and gags about toys as Method actors. This is also a film willing to flirt with darker matter, including mortal jeopardy at a landfill, freaky clown, monkey and baby toys and a flashback in which a toy feels abandoned. Emotional responsibility is mutable in the toy-owner dynamic: at some points the toy feels like the owner's vulnerable child, at others like its diligent parent. Either role, these reassuring movies recognise at their darkest moments, can yield the kind of despair that prompts one character to growl: 'We're all just trash waiting to be thrown away.'
Author: Ben Walters
Release details
Rated:
U
UK release:
Fri Jul 16, 2010
Duration:
108 mins
Cast and crew
Voices:
Director:
Write your own review