London's top 50 restaurants: Haute Cuisine
Big-ticket tables and world famous chefs: nowhere does five-star dining quite like London
Innovative cooking, great service, a meal to remember: these are the destination restaurants run by the celebrity chefs du jour. Do you agree with the choices? Use the comments box below or tweet your suggestions.
Rated as: 4/5
Price band: 3/4
Chef Ollie Dabbous and his eponymous restaurant (pronounced 'Daboo') were the runaway success of 2012. Within weeks of opening, the phones were ringing off the hook with tables becoming some of the most sought after in London. Dish names may be simple, but the execution of his inventive food is of the highest standard.
When to go: Whenever they can squeeze you in.
What to have: Barbecued Iberico pork with acorn praline has had tongues wagging.
Rated as: 5/5
Price band: 3/4
Critics choice
Everything about Nuno Mendes's restaurant is hip – the name ('traveller' in Portuguese), the location (in 'up-and-coming' Bethnal Green, the Nordic-meets-Tate Modern decor). But pretentious it isn't, even when you're presented with an amuse-bouche titled 'Thai Explosion II' and the chefs plate up using tweezers. There's a sense of fun here, in part due to Mendes's infectious enthusiasm (he often serves some of the dishes to diners himself) and the food is genuinely creative and accomplished. It's quite unlike anything else in this city. Prices are, of course, among the highest in east London – pay £100 or so per head for dinner (yes, really).
When to go: When you want your tastebuds to do the travelling.
What to have: No choices here, just pick a number – three, six, nine or 12 courses?
Find top Haute Cuisine restaurants in London
---
---
Write your own review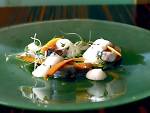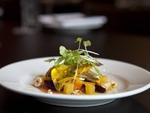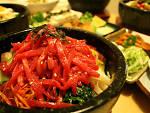 Read more popular food features