London's top 50 restaurants: Italian
Our guide to London restaurants serving up pizza and pasta that's even better than what mamma used to make
Better than bunga bunga and with more pzazz than Naples, London has the best of the boot of Italy on a plate. For the best Italian dishes in London, read on. Do you agree with the choices? Use the comments box below or tweet your suggestions.
Rated as: 4/5
Price band: 2/4
Critics choice
It's not so much a lone wolf: this Soho trattoria has garnered quite a following. Jacob Kenedy is a skilled hand when it comes to executing the treasured dishes of Italy, and most dishes are offered in small or large sizes – very conducive to sharing. Every dish is annotated with its region of origin (cheekily, house creations are marked as 'BDL'), pleasing food nerds everywhere. Sit at the bar for the best experience.
When to go: For a pre- or post-theatre meal, with a few close friends who like to share.
What to have: Anything that fascinates you.
Rated as: 5/5
Price band: 2/4
Critics choice
Years on, food bores will probably be waxing lyrical about how this modest Bermondsey restaurant started a movement for clean, simple modern Italian food at bargain prices – River Café lite. It wouldn't be implausible, after all. Zucca is a brilliant newcomer, its food refreshingly simple yet achingly good, the prices decent and the design neat and unfussy. It's a return to letting ingredients speak for themselves, in a time where fussy food seemed to have reached their zenith.
When to go: Date night. After all, great Italian food and wine, chilled out service and wallet friendly prices – that's amore.
What to have: Everyone will tell you to have the eponymous zucca (pumpkin) fritters, but we have eyes only for the juicy, rosy grilled veal chop.
Rated as: 4/5
Price band: 2/4
Critics choice
Restaurateur Russell Norman's got the magic touch. There's a charm to Norman's restaurants, with their New York styling meets Venetian bacaro – and menus to match. Sohoites have lapped up the 'small plates' revolution, which also goes one further (or smaller) at Polpo in the form of cicheti (Venetian bar snacks), which are often bite-sized; there's even a dedicate cicheti bar in Polpo's basement now. A few of these with, say, a plate of sliced flank steak with heady truffle cream, or slivers of tender cuttlefish cooked in ink and embellished with gremolata, is all you need to be happy
When to go: No bookings are taken at dinner, so rock up early or very late. Or book for lunch.
What to have: About three small plates per person is the magic number.
Find top Italian restaurants in London
---
---
Write your own review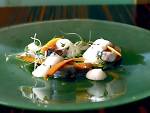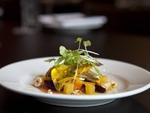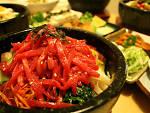 Read more popular food features