London restaurants open on Christmas Day
Don't fancy stuffing that turkey? Then leave it to the professionals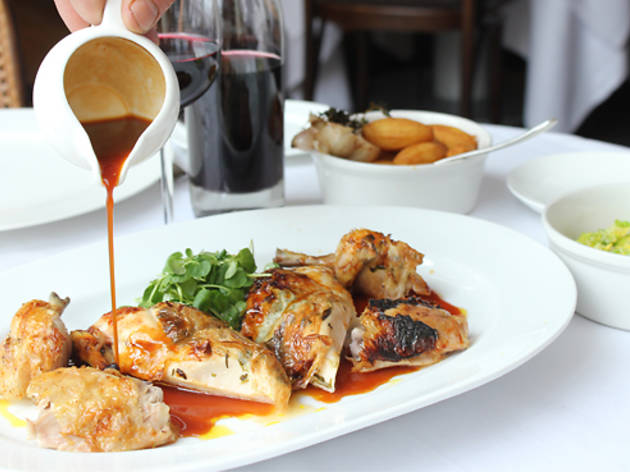 Looking for a traditional Christmas meal, but without all the faff? Or perhaps turkey isn't your thing, but you'd still like to dine out on 25 December? The Time Out Food Editors round up the best places to eat on Christmas Day 2016. Do you have suggestions for restaurants to eat on Christmas Day? Use the comments box below or tweet your suggestions.
RECOMMENDED: Find more festive fun with our guide to Christmas in London
Central London restaurants open on Christmas Day
North London restaurants open on Christmas Day
East London restaurants open on Christmas Day
South London restaurants open on Christmas Day
West London restaurants open on Christmas Day
Find more festive feasting options
Whether you're bleary-eyed and in need of a good feed, or looking for somewhere more refined to meet friends and family, start the year as you mean to go on.
Read more
Sponsored listing
Sushi Surprise
As the name suggests, it's all about the sushi at this Scrutton Street spot, between Shoreditch and the City. But the surprise? Well, that comes from inventive toppings for the fish - think seared salmon with mixed radish and beetroot, or sun-dried tomato and melted parmesan.   Elsewhere, it's pretty much classic sushi, sashimi, nigiri and maki. Expect, therefore, slices of salmon, tuna, scallop, prawn and eel, California rolls, sushi boxes and platters for sharing. There's also donburi, sushi salads and 'new style' sashimi - thinly sliced fish gently cooked with warmed olive oil.  The drinks list features soft drinks, hot Japanese teas, miso soup and organic coffee. Keep an eye out for lunch set menus too - they come with a complimentary little gift from the chef. How nice.
"The best sushi you can get for delivery! Check the menu and the pics and get your lunch/dinner delivered in minutes via our website."
Shoreditch
Online booking