London's best cafés and coffee shops
On the hunt for a classier caffeine kick? Here's Time Out's guide to the latest wave of London coffee shops creating a buzz
There's more to London's coffee shops than just great brews. The last few years have seen an explosion of coffee culture in the capital, and these are the places to check out this creative community. Do you agree with the choices? Use the comments box below or tweet your suggestions.
South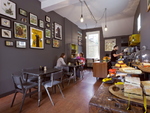 Birdcage is about as unpretentious as a five-star coffee bar can get, but that doesn't mean it's artless in its approach. Everything is intended to soothe and relax, from the lovely colour scheme to the retro furnishings and the jolly cluster of pictures adorning the long wall. But the best thing is the staff, always including at least one of the two owners as far as we can tell. They make this place buzz with their obvious enthusiasm for coffee, catering and their customers. A mid-morning weekday crowd ranged widely in age, and included several children happy to eat superior baked goods or nurse a hot chocolate while their parents talked or read. The sandwiches are great, but the warm banana bread is well-nigh impossible to resist. Partnered with a perfect espresso made from Climpson & Sons beans, it's a guaranteed cure for rainy-day blues. Aspiring baristas take note: if you want to see how an espresso machine should be tended, come to Birdhouse.
Espresso: £2.
The bottom line: The effortlessly chilled local coffee bar of everyone's dreams; lucky Battersea.
123 St John's Hill, SW11 1SZ. Clapham Junction rail.
More info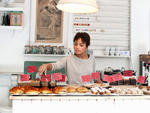 Even on a day when the wonderful Brixton Village market wasn't at its busiest, Federation was bursting at the seams. This corner spot is not a large place, and it is very popular with a clientele of every age and many nationalities. Seats with a view of the covered market are the ones to grab. Take a perch and eavesdrop (in several languages when we were there) or just enjoy the sights. The food is made on the premises, and in addition to standard (and enticing) sweet stuff it includes daily-changing specials with an Antipodean but internationalist outlook. Nothing is very complicated, but neither is it expensive. The espresso beans are roasted at a nearby unit in the market, and the house blend is quite high roast, best suited to milky incarnations rather drinking as espresso. Service is friendly and there's a real neighbourhood atmosphere here. For that, and for the location, Federation is top-drawer.
Espresso: £1.90
The bottom line: A hugely popular spot in Brixton Village market, buzzing and jolly.
Units 77-78, Brixton Village Market, Coldharbour Lane, SW9 8PS. Brixton.
More info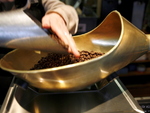 Monmouth is always busy, except on Friday and Saturday; on those days, it's rammed. Roll up on Saturday and prepare to join a queue that snakes a good way round the corner of this prime spot on the southern border of Borough Market. Nothing here speaks of flashiness or trendiness. It's the coffee, stupid, and the simple, well-chosen food offerings (breads, pastries, etc.) that go with it. Espresso and its derivatives are well made, but brewed coffee – from the company's peerless range of single-estate beans – is the real star. On a midweek visit there were takers for both, and the relatively small crowd made it possible to dawdle among the young trendies and middle-aged gourmands who were scoffing pastries with their chosen brew. Seating is not exactly the lap of luxury (wooden benches, perch, or stand) but it's comfortable enough. Still going strong after 35 years in business, Monmouth is as good as coffee gets.
Espresso: £1.35
The bottome line: The public face of the grandmama of high-class UK coffee, self-assured and always busy.
2 Park Street, SE1 9AB. London Bridge.
More info
---
Other great places to drink coffee in south London
---
Popular food features
---