London's best cafés and coffee shops
On the hunt for a classier caffeine kick? Here's Time Out's guide to the latest wave of London coffee shops creating a buzz
There's more to London's coffee shops than just great brews. The last few years have seen an explosion of coffee culture in the capital, and these are the places to check out this creative community. Do you agree with the choices? Use the comments box below or tweet your suggestions.
West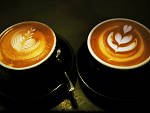 This Australian-owned place (as you might guess from the name) packs in appreciative customers. There's no simple way to describe the clientele – apart from affluent, since this is, after all, the Parsons Green end of New King's Road. Late at lunchtime on a dreary Saturday it was buzzing with young families, middle-aged locals wearing thousands of pounds worth of very understated casualwear, and twentysomethings gathered in small, lively groups. There's a small room at the front with a good view of passing traffic and a larger back room where the serious lunchers seem to congregate. Coffee here is a pleasure, with beans from the Caravan roastery treated carefully and served immaculately. But the food is taken equally seriously: the usual brunch dishes and an international array of other things that is very tempting. In an area not well served with quality coffee in casual surroundings, Barossa stands out.
Espresso: £1.80
The bottom line: A deservedly popular wizard of Oz in sedatest Parsons Green.
277 New King's Road, SW6 4RD. Parson's Green.
More info
The few patrons in place on a Thursday mid-afternoon were dawdling luxuriously in this big, airy neighbourhood hangout, and it was a treat to join them. This is not just a coffee place. It's an ex-boozer, and alcohol still features prominently. As does a short menu bringing in international touches alongside more traditional pub grub, such as a sausage sandwich, in this case using bangers from the renowned Ginger Pig butcher. Nearly everything is made on the premises, including bread, and when something has to be bought in, the barista said, it's a form of 'cheating'. Beans come from Volcano Coffee Works, and alongside the house espresso blend there was a single-estate coffee – rare in espresso – from Colombia. The barista wasn't satisfied with his first two attempts for geeky technical reasons, so he persevered – and the third one was glorious, with bright berry notes. His perfectionism sums up a lot about this gem. Maida Valeites should cherish it.
Espresso: £2.40
The bottom line: A lovely local with lots of room and a really warm welcome.
255 Elgin Avenue, W9 1NJ. Maida Vale.
More info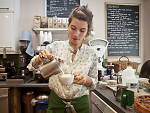 L&B opened in summer 2010, and many locals consider it a godsend after years of a serious lack of local independent coffee places. The food offering is small but outstanding, with good soups, sandwiches, salads and assorted other savouries. Sweet things are equally splendid (check out the blueberry cheesecake and banana bread), and prices are very reasonable. This is a neighbourhood hangout par excellence, with an atmosphere that's like being in someone's living room – staff talk to customers, and customers talk to each other. The food is served on a delightful jumble of unmatched crockery, but the perfectly brewed coffee – with beans from Monmouth – comes in well-warmed white cups. It's warm, welcoming and totally laid back: we all wish we could have a café like this one on our corner.
Espresso: £1.60
The bottom line: A tiny, eccentrically decorated place with total commitment to quality in everything.
339 Portobello Rd, W10 5SA. Maida Vale.
More info
Other great places to drink coffee in west London
Rated as: 3/5
Price band: 1/4
Popular food features
Share your thoughts