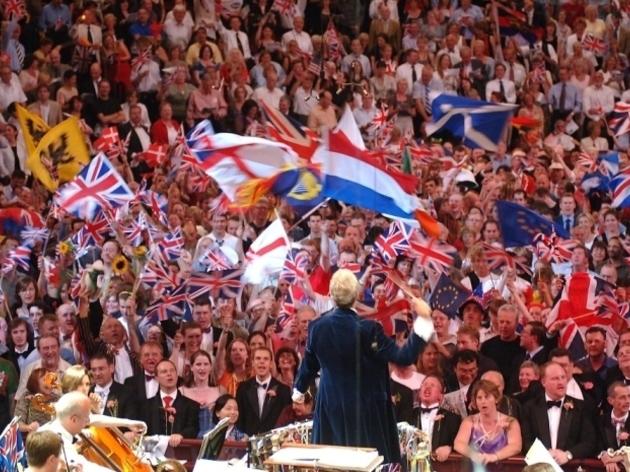 1/9
© BBC/Mark Allan
2/9
Last night of the Proms – © Tim Ande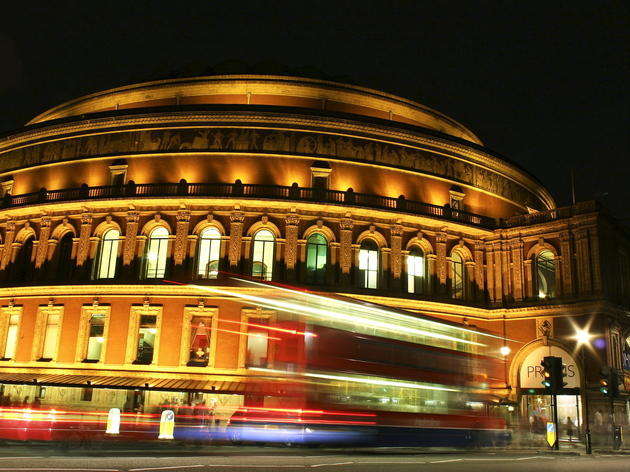 3/9
© Olivia Rutherford / Time Out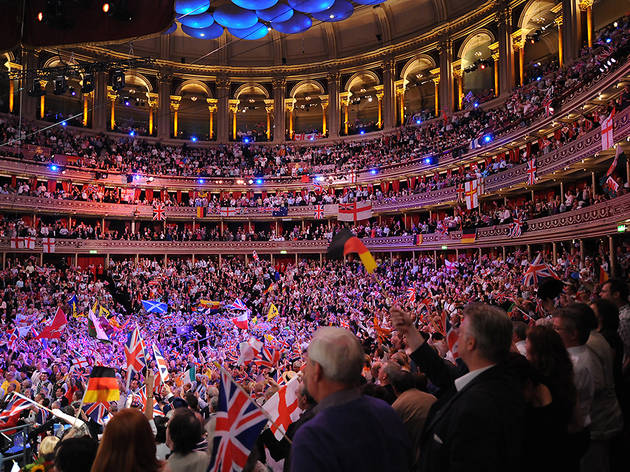 4/9
Last night of the Proms
5/9
6/9
Proms queue - © Rob Greig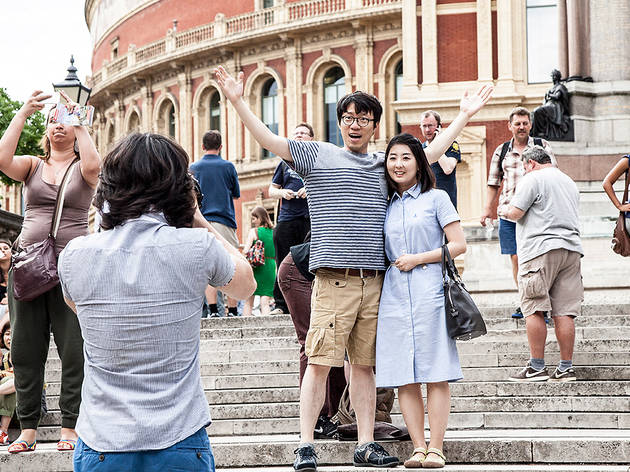 7/9
Proms queue - © Rob Greig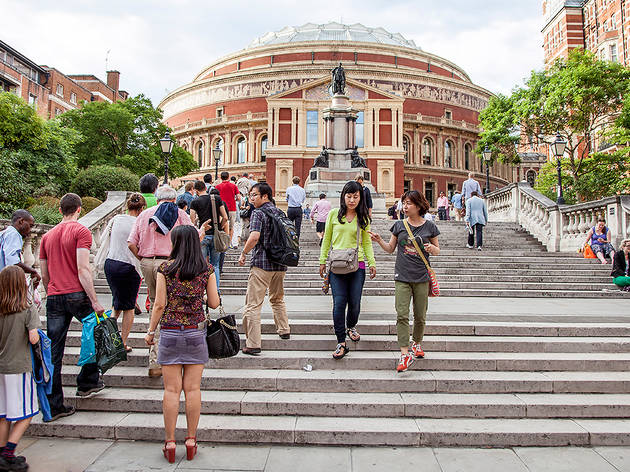 8/9
Proms queue - © Rob Greig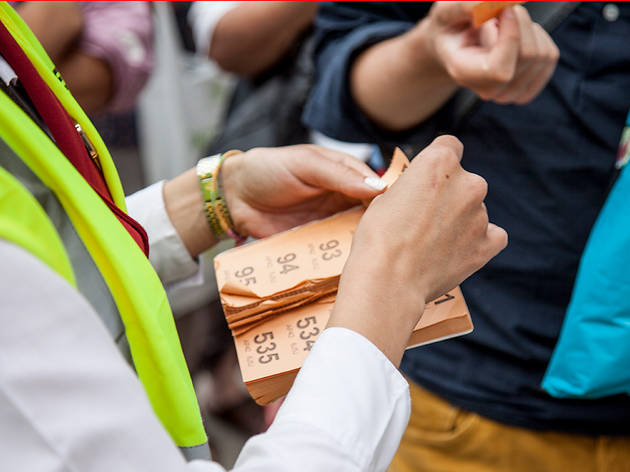 9/9
Proms queue - © Rob Greig
Built as a memorial to Queen Victoria's husband in 1871, the Royal Albert Hall's vast rotunda was once described by the monarch as looking like 'the British constitution'. It has been the venue for the (now BBC) Proms since 1941, despite acoustics that do orchestras few favours. The Royal Albert Hall's splendid exterior is matched by the regal red-and-gold interior which is crowned by a domed stained-glass skylight. Occasional classical concerts are held throughout the year – look out for recitals on the Willis pipe organ. Other key events in its calendar include pop and comedy gigs (including the annual Teenage Cancer Trust shows), and circus extravaganzas from the likes of Cirque du Soleil.
In addition to seasonal tours during the Proms, the RAH has launched daily Secret History Tours, which draw on a rich seam of stories about London's largest hall for hire and offer access to areas not normally open to audiences.
Venue name:
Royal Albert Hall
Contact:
Address:
Kensington Gore
London
SW7 2AP

Opening hours:
Tours run daily 10.30am-4.30pm (Apr-Oct), 10.30am-3.30pm (Nov-Mar)
Transport:
Tube: South Kensington
Do you own this business?
Pixar's animated marvel may not reach the same heights of wonderment as a 'Wall-E' or a 'Ratatouille', but those are tough boots to fill and this short, sharp and sweet fantasy still manages to reaffirm its makers as world leaders in the kind of p...

Read more

Fifty-seven years on, Ripley is discovered - Sleeping Beauty in space. Plagued by nightmares and surrounded by sceptics, she's forced to return to the resting place of the original alien's mother ship with a bunch of seen-it-all-before Marines. ...

Read more

Returning to the rich pastures of American suburbia, Spielberg takes the utterly commonplace story of a lonely kid befriending an alien from outer space, and invests it with exactly the same kind of fierce and naive magic that pushed Disney's majo...

Read more

No 3D enhancements or spiced-up SFX, just a straight digital restoration for Steven Spielberg 's multiplex marvel, the film which established CGI as the dominant force in mainstream moviemaking. You know the plot – crumbly billionaire Dickie Atten...

Read more

Act I is an Anarchists' Ball. Massive metal spaceships loom over the cities of the world. The destruction of the White House is just for starters. Annihilation of the human race is on the agenda. US President Pullman, a wimp ex-fighter jock, lis...

Read more
Prom 60: Gustav Mahler Jugendorchester

Philippe Jordan conducts a performance of J. S. Bach's Cantata No 82 and Bruckner's Symphony No 9 In D Minor.

Classical and opera

Tuesday August 30 2016

Prom 61: Kamasi Washington

Thrilling California-based saxophonist and composer Kamasi Washington has been described as the biggest thing to hit jazz for years.

Jazz

Tuesday August 30 2016

Prom 62: BBC Symphony Orchestra/Bayan Northcott

Simon Young conducts a performance of Bayan Northcott's Concerto For Orchestra (BBC commission: world premiere), Mozart's Violin Concerto No 5 In A and Zemlinsky's Lyric Symphony.

Classical and opera

Wednesday August 31 2016

Prom 63: Bach - Mass In B minor

William Christie conducts Bach's Mass with a quartet of soloists and his own ensemble Les Arts Florissants, known for its historically informed and infectiously exciting performances of Baroque music.

Classical and opera

Thursday September 1 2016

Prom 64: Berlin Philharmonic And Simon Rattle - Boulez And Mahler

Sir Simon Rattle conducts a performance of Boulez's Eclat and Mahler's Symphony No 7.

Classical and opera

Friday September 2 2016

Prom 65: Ensemble Intercontemporain - Pierre Boulez, Bela Bartok And Elliott Carter

The ensemble commemorates the late Pierre Boulez with a programme of pieces he conducted during more than 40 years of appearances at the Proms. His Anthemes 2, for violin and electronics, contrasts with the exuberant vocal setting of avian poetry by E....

Classical and opera

Friday September 2 2016

Prom 68: Orchestra Of The Age Of Enlightenment/Opera Rara Chorus: Rossini - Semiramide

Sir Mark Elder conducts a concert performance of Rossini's operatic tragedy. Sung in Italian.

Classical and opera

Sunday September 4 2016

Prom 69: Staatskapelle Berlin And Daniel Barenboim - Mozart and Bruckner

The ensemble performs Mozart's Piano Concerto No 24 In C Minor and Bruckner's Symphony No 4 In E Flat Major, 'Romantic'.

Classical and opera

Monday September 5 2016

Prom 70: Staatskapelle Berlin And Daniel Barenboim - Mozart and Bruckner

The ensemble performs Mozart's Piano Concerto No 26 In D, 'Coronation' and Bruckner's Symphony No 6 In A.

Classical and opera

Tuesday September 6 2016

Prom 73: Academy Of Ancient Music: Handel - Coronation Anthems

The Academy Of Ancient Music returns to the Proms to fill the Royal Albert Hall with all the regal splendour of Handel's Coronation Anthems and with Leopold Stokowski's equally grandiose upholstering of music by Bach and Purcell.

Classical and opera

Thursday September 8 2016

Show more
Average User Rating
4.7 / 5
Rating Breakdown
5 star:

7

4 star:

3

3 star:

0

2 star:

0

1 star:

0
This is a jewel in London's crown. The most stunning place to see a gig if you have a decent seat, or if you are standing for The Proms. I have spent some memorable nights here. The best ever was Frank Sinatra, Liza Minnelli and Sammy Davies Junior. If I had a time machine I would return every night. I also have memories of Les Miserables 10th Anniversary and wild nights in the company of Eric Clapton. Come to think of it there have been too many to list including the most bonkers Blues Set from Robert Plant and his World Orchestra. Sublime - nearly as good as The Last Night of the Proms which is the calendar highlight here.
But .... and it's a big but.
Beware of the balcony seats, rear choir and balcony standing.
Unless you are desperate to be there or really tight , don't bother.
Also, don't bother writing to the management if the sound is bad.
I had one of the worst nights ever here when I saw Paul Weller "Waking up the Nation". The sound was appalling. I wrote to the The Albert Hall and the letter I got back was between arrogant and insulting - hoping I would have a better night next time (or words to that effect)
Well fortunately I have had better nights and encourage all of my friends to go to at least one gig at The RAH. Get a good seat , soak up the views and hopefully the sort of crisp sound they hoped for when the mushrooms were hung from the ceiling.
It was a dark Halloween night last Thursday that I found myself sat at the Albert Hall waiting for the emergence of former Led Zeppelin front-man Robert Plant. The audience were excitable in anticipation, and thankfully there was nothing gloomy about the performance. Rivalling Brain May for the best hair in rock, Plant appeared ready to have a fine time. The wonderfully gifted voice that Plant has possessed since the '60s was in fine form, having matured with age and showcasing rich tones that blended so well with the mix of rock, blues and African rhythms vibrating around the hall to much applause. The appearance of the Gambian musician Juldeh Camara added to the layers of high quality musicianship that the band (which featured musicians from Bristol and Liverpool) had in droves. A friend had told me that he had seen Plant play on tour with Alison Krauss last year and that he looked tired and thought that he may be finding it hard to keep up. I have to say the opposite was true here; it is possible that Plant's decision to not make another album with Krauss after all their success (winning 5 Grammys for their album 'Raising Sand' as well as much acclaim)and instead pursue working on something different to keep music fresh and interesting for him seemed to be paying off. While a lot of his peers look tired and worn with their best days behind them, he looked fitter and stronger than he has in the last few years and he was flying around the stage, throwing the microphone around with ease and prowling around with an unbelievably menacing presence; and who wouldn't feel 10 feet tall with such a remarkable voice? I could have closed my eyes and believed that the man on stage was the Plant of old not a man of pensionable age. He seems to be enjoying the aging process ('I can travel for free now') as well as the music more than ever. 'This is an invigorating time for me'. Quite. The quality of the band was obviously helping to keep him on his toes and he looked to be having the time of his life, and wonderfully, so were we. With the music ranging from old blues classics to Led Zeppelin numbers (which were met with roars of approval), it all blended in together beautifully. 'Whole Lotta Love' , 'What Is and What Should Never Be' and other classics went down a storm and Plant looked like he could continue all night. Despite finishing at 10 minutes past midnight (leaving most struggling to make the last tube home) I think we would have all quite happily stayed all night for a lock in. Greedy yes, but it truly would have been heavenly. Trick or treat? Treat definitely. A really thrilling night out. Rating; 10/10
I agee the AH is not the best for sound although its better than it used to be before the hanging baffles were installed . However nothing in london has the same atmosphere as the Albert Hall it seems to have a buzz all its own with a unique feel of closeness to the action that no concert hall i have been can match. Imho the greatest concert venue in the world dispite any accustic failings.
Great guide for classical concerts, theatre , ballet .