Bastille interview: 'London is the best city in the world'
After a whirlwind year in which they've risen from obscurity to a Number One debut album, the synth-pop group tell us why the Smoke is so great
By James Manning Mon Feb 17 2014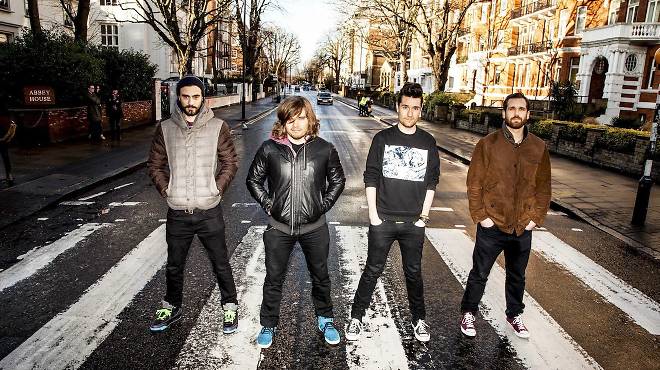 Photo: Ed Marshall

The phrase 'synthpop megastars' is usually reserved for stadium-smashing bands like Depeche Mode and Pet Shops Boys. But in danger of becoming just as big are south London four-piece Bastille. Their debut album 'Bad Blood' hit Number One and they've bagged nominations for four BRIT Awards. In short, their profile is even higher than singer Dan Smith's hairdo.

What makes London such a great city for music?
Dan Smith 'You have access to pretty much anything. Everything comes through London, and if you seek it out you can find whatever music you want. It's the place we always come back to. I think it's the best city in the world.'
Will Farquarson (guitarist) 'I used to work in the Dublin Castle. I remember, I did shifts there five days in a row, and there were five bands on every night – and that's just one pub in north London! The whole of London is just teeming with music.'

What's your favourite place to eat?
Dan 'Monty's Deli in Maltby Street Market in Bermondsey. It does the best pastrami sandwich in London.'

You were the first band to play at the British Museum. Are there any other London landmarks where you'd like to gig?
Dan 'In the ribcage of the big dinosaur in the Natural History Museum lobby, playing the ribs like a xylophone.'

You're up for four BRITs. Have you prepared a victory speech?
Dan 'I think we've all written off in our heads even the remote possibility of winning anything, because we're up against such amazing people.'
Will 'Big hitters like Bowie and Arctic Monkeys.'
Dan 'All the best bands in the world… and us!'

You're playing live at The BRIT Awards too.
Dan 'That's totally bizarre and surreal. If you'd suggested to us last year that we'd be playing at The BRITs, we'd have laughed in your face. But politely. In a nice way.'

Bastille perform live at The O2 as part of The BRIT Awards with MasterCard on Wed Feb 19 and at Alexandra Palace on Mar 6.
Justin Timberlake, The Killers, Chic with Nile Rodgers, Elbow, Ed Sheeran, Lily Allen, Blondie, Paolo Nutini, Example, Bastille, Katy B, Example, Chase & Status, Alesso, Kaiser Chiefs, Manic Street Preachers, Above & Beyond, Tom Odell, Sub Focus, Axwell & Ingrosso, Rizzle Kicks, Sam Smith, Embrace, The Human League, Kodaline, Miles Kane, The Magic Number, Newton Faulkner, George Ezra, M People, All Saints, The Wonder Stuff. This mainstream-friendly dual-venue festival continues to draw a truly staggering array of the most popular names in rock and pop, thanks to a budget that appears to be bottomless. Thus, they're bringing the sexy back by bringing in JT as the big headliner, with further huge sets from The Killers, Chic, Elbow and Blondie, as well as EDM-tastic house from jet-setting DJs including Alesso, Axwell and Ingrosso. There's also the Glee Club Comedy Tent for laffs, and if you fancy a bit of luxury, you can splash out on the 'V Style' camping range, which features nifty-looking bell tents, pods, huts and even Winnebago-esque 'airstreams'.
---
---