Five things you didn't know about Alex Trimble
The Two Door Cinema Club frontman opens up about karaoke, Metallica and Steps
By Danielle Goldstein Tue Feb 5 2013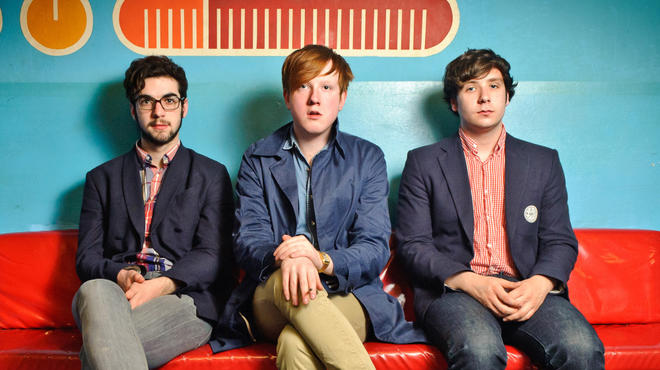 Born in Bangor, 23-year-old Alex Trimble is best known as the frontman of indie-poppers Two Door Cinema Club. He also sang the specially-composed song 'Caliban's Dream' at the 2012 Olympic opening ceremony. On Feb 8 he'll be headlining O2 Academy Brixton with his band to promote their second LP 'Beacon'. We pinned him down to find out five things you didn't know about the cherub-faced singer.

1. Steps were the first band he saw live.
'It's an interesting one; when I was 9 or 10 I went to see Steps and when I was 11 I went to see Korn. That's quite a big transition in a year, to go from Steps to Korn. I remember having a Steps CD in my dad's car that I loved and he got tickets as a surprise. There was a time when I was listening to Steps, the Spice Girls and S Club 7.'

2. He earned his stripes in wedding bands.
'I started that circuit when I was about 15, and I was in a couple of groups. We'd play everything from Stevie Wonder classics and The Beatles to modern pop stuff. Whatever people wanted to hear. I was one of the few confident guitar players in our town, so people would come to me if they needed one.'

3. Lars Ulrich from Metallica likes Two Door Cinema Club.
'We were playing a show in Sacramento and Lars Ulrich turned up at the show 15 minutes before we went on stage. He just walked into our dressing room, said 'hi' and told us he had our record in his car. And Metallica were another band I got really into around 14 or 15, so having that happen was extremely surreal and knocked me sideways for a while.'

4. Alex has never done karaoke, but when he does he'll sing 'Angels' by Robbie Williams.
'It's always been a goal of mine to do it when we go to Japan, but we never get round to it. The song's just got that huge, soaring chorus. You can put your heart and soul into it.'

5. Nirvana hooked him with artwork.
'"Nevermind"' by Nirvana was one of the first albums I distinctly remember buying, and I bought it purely on the basis of the cover. It was the first record I had a true connection to, I had it on day in day out and eventually my dad asked if I'd like a guitar so I could learn to play it. I learnt it from start to finish and from that moment I wanted to be a singer in a rock band.'
Imagine Two Door Cinema Club's Alex Trimble singing with a Finnish accent – that's Satelite Stories.
See all Two Door Cinema Club events in London
---
Watch Two Door Cinema Club's 'Sleep Alone' video
Listen to Two Door Cinema Club's 'Beacon'