Five things you didn't know about Chvrches
The Glaswegian synthpop trio tell us about getting signed, not knowing Emeli Sandé and why their name is spelled that way
By Jonny Ensall Tue Mar 5 2013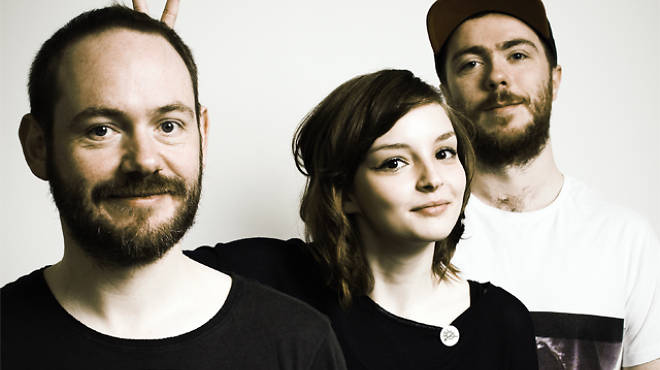 Chvrches are on the way up. They were named one of the BBC's sounds of 2013 earlier this year on the back of their earworm single 'The Mother We Share', and the ensuing boost to their profile has seen them sell out their Village Underground show two months in advance. Frontwoman Lauren Mayberry gave us five reasons they're a new breed of synthpop band.

1 Pretty doesn't always mean vacant
'If there's a girl in the band with shiny hair people can assume that the guys are the songwriters, and she just stands at the front and does what she's told. But it's a band, rather than a girlish singer and two producers.'

2 That 'v' in their name isn't a spelling mistake
'It was because our parents were trying to Google us on the internet – if you Google "churches", a lot of religious stuff comes up.'

3 They're from Glasgow – but they don't know Emeli Sandé
'People ask you what was it like getting to know her on the scene. I don't necessarily think she was around on the scene – at least not the scene that I know.'

4 They have some cutting-edge influences
'I'm a huge fan of [mysterious Scandinavian electronic duo] The Knife. I like the fact that they seem to be able to keep themselves to themselves – there's never an oversaturation because you never really know anything.'

5 They're only pop up to a point
'During the scary dance with the record labels there was one man who informed me he could make me the new Pixie Lott, and I was like, "Thanks, sir. I'm going to run away from you as fast as possible."'
Animal Collective, Bat For Lashes, Solange, Tim Burgess, Everything Everything, Four Tet, Fucked Up, Savages, Palma Violets, TNGHT, Daphni, Django Django, John Cooper Clarke, Kurt Vile, Seth Troxler, Toy, Stealing Sheep, Objekt, How To Dress Well, Disclosure, Chvrches, Jagwar Ma, East India Youth, Gabriel Bruce, King Krule, Metz, Kwes. The leftfield one-dayer returns for its seventh year. Field Day has become known for its triumphantly eclectic choice of underground as well as established talent, such as the hip double bill-toppers this year: Baltimore-based post-psych innovators Animal Collective and beguiling pop singer Natasha Khan, aka Bat For Lashes. Recent additions to the line-up include Solange, doing her best to step out of the shadow of her big sister Beyoncé, rising guitar-wielders Savages and Palma Violets, the heavy sounds of Toy and Metz, and alternative icons Kurt Vile and John Cooper Clarke.
See all Chvrches events in London
Watch Chvrches' 'Lies' video
Share your thoughts
Listen to Chvrches on Spotify