Five things you didn't know about Darwin Deez
'The Michael Jackson of indie rock' lets us in on some secrets
By Alistair Reid Fri Feb 8 2013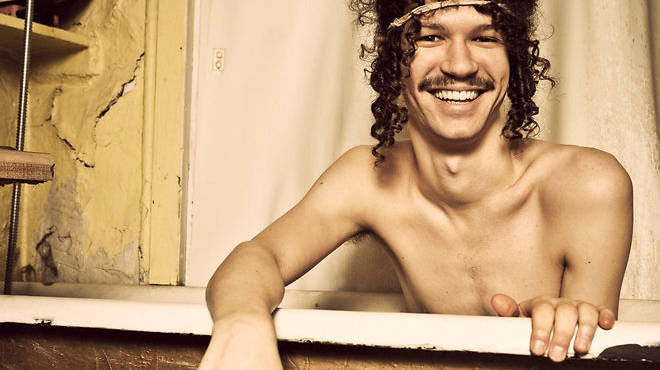 © Pieter M Van Hattem
No one's quite sure how Darwin Deez (real name Darwin Smith) picked up the title 'the Michael Jackson of indie-rock', but his brilliantly awkward dance moves and relentlessly upbeat tunes have made him notorious in the music world. Well, either that or it's because he looks like John Oates playing Napoleon Dynamite. His band – which, like Alice Cooper and Marilyn Manson before them, is confusingly named after its frontman – will release their new album 'Songs for Imaginative People' this month. Before that, though, we got Darwin to tell us some of his darkest secrets.

1. There's history in those dance moves…

'I can tap-dance well. I've studied with the masters, and I performed in a semi-professional ensemble at public schools, dance festivals, and even internationally. In second grade, I found my sister's tap shoes on the closet shelf and put them on and my mom signed me up for classes. I ended up dancing way longer than she did, till I was 19 or so.'

2. …and maybe a little heritage.

'I am mixed-race. My mom is white and my dad is half-black, like Obama. He was adopted by a well-to-do black couple who sent him to all-white prep schools and on to Harvard. So that's not a "Jewfro" you're seeing there, because I'm not Jewish, despite the payesses [side locks]. I'm black, baby. I'm yellow.'

3. He's a Baba lover.

'My parents met each other in the '70s through their mutual interest in spiritual master Meher Baba, who was popular at that time. They are still married and I have developed an appreciation – a love, if you will – of the man and his message, which includes the original quote, made famous by Bobby McFerrin, "Don't worry, be happy". So Meher Baba is my guru and spiritual guide.'

4. He used to be a chugger.

'I used to have a job canvassing for the Fund for the Public Interest. That means I was one of the people harassing you on the street to donate to Greenpeace, Save the Children and human rights campaigns. This is a high-turnover job with a performance quota, and most canvassers don't last more than three days. I did it for six months. Then I loafed for six months on my savings.'

5. You can tell him anything.

'If I weren't a musician, I would be a psychotherapist. That is my dad's job. I find it interesting, and I would do it in my spare time if I could practice without a license. I think people's feelings are really important and worth hearing and investigating in every case. Either that or a writer of some kind, like maybe a screenwriter.'

6. He has met the Ybor city shoe-licker.

'While on tour in Tampa, we went shopping and our driver Evan got a compliment on his sneakers. The man asked for a closer look and when Evan lifted his foot, the man licked the bottom of his shoe! Back in Asheville after the tour, I told this story to some recent Tampa transplants and they knew the ending to the story before I even finished it. Apparently the Ybor city shoelicker is famous. I told Evan and he YouTubed him.'
'The Michael Jackson of indie rock' (not our words, but we're happy to go with it) – Darwin Smith makes zany electro-pop and dances like Napoleon Dynamite. Here he and his band DD will be busting out snippets of their new album along with some of the usual fancy choreography.
See all Darwin Deez events in London
---
Watch Darwin Deez's 'Radar Detector' video
Listen to 'Songs For Imaginative People'