Kasabian interview: how to rock a festival
Serge Pizzorno and Tom Meighan give their headliners' advice on how to steal the show (and fans' knickers)
By Jonny Ensall Mon Jun 24 2013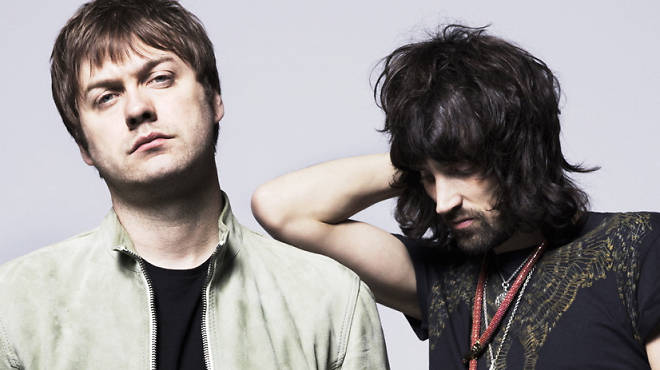 © Dean Chalkley
1. Feel the rush
Serge (pictured right): 'The moment before you step on stage the adrenaline kick is intense. I've never boxed, but I imagine it's a similar kind of feeling to stepping into the ring.'
Tom (pictured left): 'It's like taking the biggest dose of the best drug ever. You just feel 100 fucking feet tall!'
2. But keep it together
Serge: 'As soon as I hit the first chord I'm away. I'm in another state of consciousness.'
Tom: 'If I've been jumping around too much, the whole world starts moving really slowly, and I feel like I'm going to collapse. That used to happen a lot in my younger days, when I was more of a lunatic on stage.'
3. Remember, you're a star
Tom: 'As soon as we come on: euphoria. It's not just a gig, it's a great rock 'n' roll show. People have got love for other bands, but we're off the scale. Completely off the fucking scale mate.
'Why do girls take their tops off at our gigs? Maybe they're in love with us. It's not a bad thing.'
Serge: 'You've got to be pretty off your nut to get your tits out at a gig. We get loads of knickers and bras thrown at us. It's just bizarre – I feel like Rod Stewart. Knocking out this really heavy, psychedelic rock, and there are all these knickers on stage. I imagine the roadies take them away and hoard them.'
4. Watch out for trouble
Tom: 'I've seen some violence in the crowd before. There are people getting hurt, people crying. One tip for crowd surfers: just keep hold of your fucking trainers.'
5. Save the best until last
Serge: 'Our encore is ridiculous. It goes "Switchblade", "Vlad the Impaler", "Fire". It doesn't matter where we are in the world, what time of day it is, or even if anyone's heard of us before, we end with those three songs and the crowd is destroyed. God forbid you have to go on after it, though there aren't many people who have to do that anymore. It's like being in the ring with Mike Tyson. Before you know it you're on the floor.'
---
Watch Kasabian perform on the Pyramid Stage at Glastonbury 2009
Leicester's enormously popular, Glastonbury-headlining, swaggering good-time rockers show everyone what they're made of. Essentially that's baggy revivalism with a fixation on the Mondays, Primal Scream and Oasis, but with more epic, experimental, psych-rock flavourings and (just occasionally) some interesting electronic excursions. Massive chant-along choruses, sweaty jumping about and spilt beer should be the order of the day throughout this massive run of Brixton gigs – and, despite the naysayers, everyone present will have a reet good time.
See all Kasabian events
---
Summer may have come to an end, but that doesn't mean the party's over. Check out festivals taking place this autumn
See our month-by-month festival guide
---
Leicester's enormously popular, Glastonbury-headlining, swaggering good-time rockers show everyone
Listen to 'Velociraptor' by Kasabian
See our guide to 2013 music festivals