Matt Berry interview: 'It was never the plan to be taken seriously'
The actor, musician and insomniac has made an album designed to send you to sleep. We snuggled up for some pillow talk
By Jonny Ensall, portrait by Rob Greig Fri May 16 2014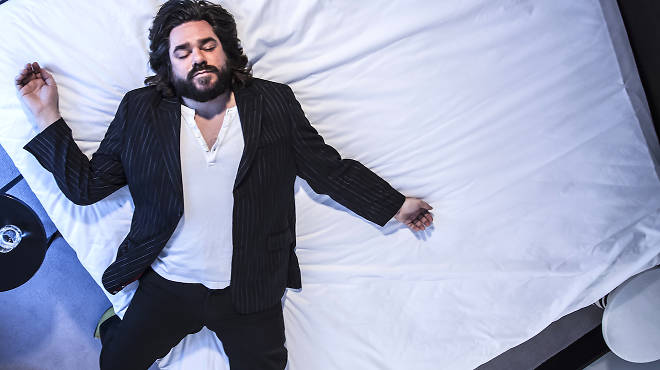 © Rob Greig
Matt Berry is that guy. You know, the one from that thing? He's the actor who crops up in 'The Mighty Boosh', 'The IT Crowd' and 'House of Fools', and steals the scene with his bombastic charm. Not to mention his voice. Ah, that voice! Somewhere between Brian Blessed and James Mason. The only voice that could make the words 'Yes I can hear you, Clem Fandango' into a catchphrase.
If you've no idea who Clem Fandango is, you should catch up with 'Toast of London', Berry's brilliant Theatreland-set sitcom, shown on Channel 4 last year. Once you've watched all of it (and you can online) then move on to Berry's musical output. He's currently on to his fifth album of whimsical, psych-influenced tunes. Titled 'Music for Insomniacs', this latest LP was recorded across a string of sleepless nights, with Berry taking to his Rotherhithe home studio to play soothing soundtracks. The music has since helped him nod off, so he tells me, over lunch at the South Place Hotel in the City. Now he hopes his soporific musical opus will also press other people's snooze buttons.
How did you sleep last night?
'Fine. I'm okay now. The last time I really suffered badly was 2012, when I made "Music for Insomniacs". A lot of people stare at the ceiling, or listen to whale song or distant panpipes or all that cheesy shit. But it doesn't work. I was at my wits' end, because there wasn't anything else to do other than go for a run, and I couldn't be arsed to do that. My studio was next to my bedroom. I didn't want to waste any more time, so I just went in there at, say, 3.15am.'
And recorded an album?
'Well, I started just trying to sum up the atmosphere with sound. Because it's a great time of night: dead time. There's no noise anywhere and no one's going to get in touch with you. Before I knew it I had a bunch of things that I could dovetail into one another cohesively.'

It's unusual for a performer to want to send his audience to sleep.
'Yeah, but that's good as far as I'm concerned. I would like to perform it live, in someone's bedroom, just to see first-hand whether it would actually work.'
You co-wrote and starred in cult TV hit 'Toast of London'. What was your aim with that show?
'I just wanted it to be something I would want to watch. At least it's true to myself. I have to cultivate a moustache for the second series now [Berry's character, Steven Toast, sports a magnificent mouthbrow]. I can't go out for months: it makes me look like a fool!'
Isn't it important to look good these days if you're an actor?
'Oh fuck that. Obviously not. If you're a comic you should look terrible, like a clown or a gargoyle. Not a handsome leading man: that's an American thing. It's the same with boozing. Although it's not as acceptable to be pissed on the job as it was. I mean nobody would say that about John Hurt in 1978: "Do you want to hire that guy? He always looks pissed!"'
Do you worry what other people say about you?
'No. It was never the plan to be a thespian or to be taken seriously. It was just to be able to get away with doing stuff that I like and not have to do shit, I guess.'
You used to work in a London call centre, right?
'Yeah, which was bullshit. I was fired for eating a Double Decker at my work space. There was a sign saying "No eating or drinking." A bloke made me stand up in front of everyone, and it was all "What does that sign say there? Get your bag and get out!"'
Then where did you work?
'At the London Dungeon. I really enjoyed that. You'd be like: "Jack the Ripper was here five minutes ago. There's the dead body on the floor. It's still warm. There's only one person who witnessed what he looked like." And then you describe yourself. They'd shit themselves, the kids. I used to love all that.'
Do you believe in ghosts?
'Well, I don't want to say for sure. It's like anything: if you say "This won't happen," then within a month it does. Really, though, people think they have seen what they have seen, but I reckon it's usually due to tiredness.'
Speaking of tiredness, it must be important for a recovering insomniac to have a good bed. What's yours like?
'It's the best. My dad once said to me: "Spend all your money on a bed and a good pair of shoes, because if you're not in one you're in the other." And that stuck with me.'
'Music for Insomniacs' is out on Mon May 19 – buy it on Amazon.

If you didn't manage to bag a ticket to his sell-out 'Hamlet' last year, here's another chance to catch Benedict Cumberbatch in the flesh: the star lends his considerable weight to this series of evenings – inspired by Shaun Usher's 'Letters of Note' and Simon Garfield's 'To the Letter' – the celebrate the power of the letter. He'll be on stage every night of the run, alongside his 'Sherlock' co-star Louise Brealy and a selection of other big name guests including Caitlin Moran, Matt Berry, Meera Syal, Gillian Anderson, Dominic West, and Jude Law. Last year's diverse array of letters being read included Virginia Woolf's suicide note, Iggy Pop's letter to a young fan, and Gandhi's letter to Hitler - this year's line-up includes insights into the correspondence of Charlotte Bronte, Gandhi, and David Bowie. 
---
---
If you didn't manage to bag a ticket to his sell-out 'Hamlet' last year, here's another chance to catch Benedict Cumberbatch in the flesh: the star lends his considerable weight to this series of evenings – inspired by Shaun Usher's 'Letters of Note' and Simon Garfield's 'To the Letter' – the celebrate the power of the letter. He'll be on stage every night of the run, alongside his 'Sherlock' co-star Louise Brealy and a selection of other big name guests including Caitlin
Listen to Matt Berry on Spotify