Parquet Courts – 'Light Up Gold' album review
An astonishing debut LP that reminds us how powerful guitar music can be
By Jonny Ensall Fri Apr 12 2013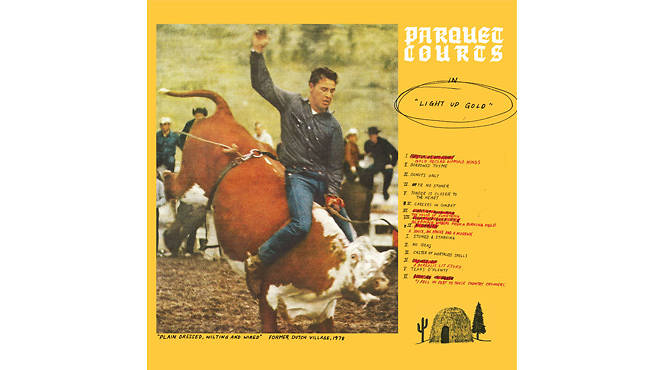 Parquet Courts – 'Light Up Gold'
Attention anyone awaiting the return of guitar music. This – as The Strokes once told us – is it. While in the UK we've been mollycoddling a small group of buzz bands with faint critical praise and NME covers, Brooklyn's Parquet Courts have quietly rolled up the new sound of rock 'n' roll and handed it to us, joint-tight, on an astonishing debut LP.
And that new sound is… exactly the same as the old sound of course. On 'Light Up Gold', the four-piece wrangle the same noises out of their instruments as Pavement, The Modern Lovers and, most obviously, The Strokes have before them. Metronomic drums meet powerful, single-note basslines, while guitars wail freely and slurred lyrics make simply bumming around sound cool as hell. 'I didn't come here to dream, or teach the world things,' is singer Austin Brown's statement of intent on opener 'Master of My Craft', and it's true that the 15 songs here offer welcome relief from the sleepiness or arch emotion of so many other acts.
Most of all, we're reminded of what we've been missing in the years that guitar music has been in the doldrums: the power of riffs; the gut-punch of a perfect 80-second song; and the true joy of being a slacker. Parquet Courts sing about getting the munchies (the brilliant 'Stoned and Starving'), they make subtle anti-establishment jibes ('Careers in Combat') and they embody the ideology of a simpler time – one before irony and the internet harshed everyone's vibe.
Not all truly great albums have to be grandiose. The genius of 'Light Up Gold' is that it makes rock 'n' roll sound easy again.
---
Watch Parquet Courts play 'Stoned and Starving'
---
Listen to 'Light Up Gold' on Spotify
Born in '60s America, with a healthy influence from jazz and world music, minimal music was a groundbreaking movement that explored the very idea of music itself.
They shout and swear, they diss other bands. They didn't even go to public school. Are this Nottingham duo the last angry band in Britain?
For Independent Venue Week, we've rounded up a few of our favourite gig venues
See all Time Out music features