Seven things you didn't know about The Brian Jonestown Massacre
Anton Newcombe on sobriety, 'Dig!' and the trouble with the internet
By James Manning Mon Jun 30 2014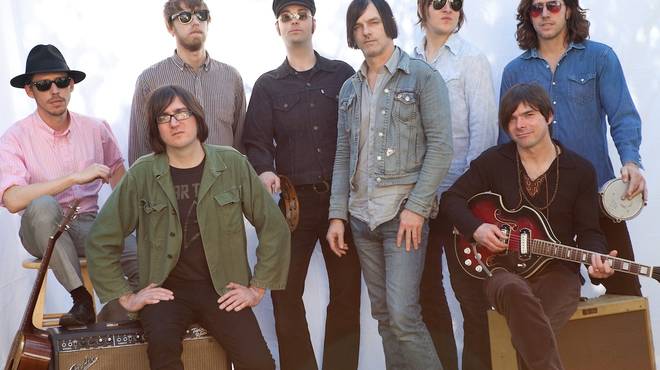 The Brian Jonestown Massacre are as famous for chemical experimentation and on-stage brawls (as recorded in the documentary 'Dig!') as for their huge discography of mind-expanding psychedelic rock. But as we find out, their notoriously prickly leader Anton Newcombe is a changed man – in some respects, at least.
1. Anton Newcombe is stone-cold sober.
'I am done drinking and drugging. I'm not missing any party. My personal revelation was and is that none of this really matters. Heroin wasn't an aid to my productivity: it damn near took my life and kicked the shit out of me. It's not recreational. I thought I was immortal, like young people do, but I was smarter than most people, so I got away with more.'
2. He sees the internet as a wasted opportunity.
'All of this stuff at our fingertips – but are more things happening? No. People are fucking off on Facebook. The internet makes it easy for me to see how little and how useless people really are.'
3. Berlin is his paradise.
'Germans leave you alone. They have self-respect and their country works. America doesn't work: it has its head up its own ass. You need a fucking defence mechanism just to leave your house. The UK? Don't get me started.'
4. Being an ageing rock star is absolutely no problem.
'Have you seen the kids today? Who would want to be young now?'
5. He's full of advice for young and hopeful bands.
'Pick a good name, never give up, don't sign anything without knowing what it is inside and out, don't sell your publishing, work harder, be productive. I think if every group helped another group, you would see action.'
6. If you want to call them 'derivative', you can go ahead.
'It has no effect on me… but why would someone say that to me and not The Rolling Stones, who played black covers and named themselves after a Muddy Waters song? I've brought plenty to the table. Besides, I don't give a fuck.'
7. 'Dig!' isn't a big deal.
'It doesn't matter to me either way. I'm like Ho Chi Minh, I use everything… I even use the enemy.'
'Revelation', the new album by The Brian Jonestown Massacre, is out now.

---
Watch The Brian Jonestown Massacre play 'Anemone'
---