Six things you didn't know about Chilly Gonzales
The maverick pianist tells us about his new series of masterclasses, and how he learned to play with his feet
By Sonya Barber Mon Jul 28 2014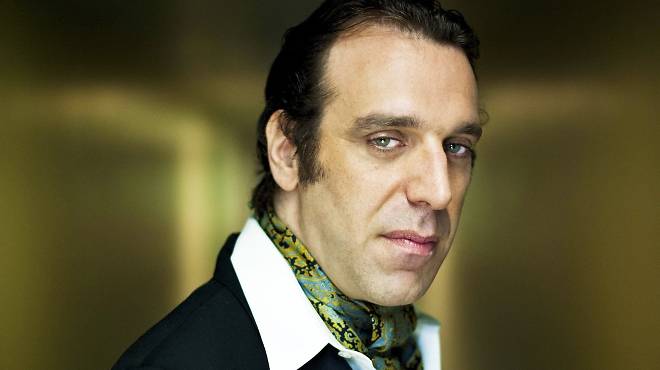 © Alexandre Isard
Self-proclaimed 'musical genius' Chilly Gonzales isn't content with collaborating with the likes of Daft Punk and Drake, or crowd-surfing at his concerts. Thanks to a new book, 'Re-Introduction Etudes', and a series of masterclasses, he's coaxing lapsed pianists back to the ivories.
1. His masterclass will be the coolest music lesson ever.
'It was a natural outgrowth of the most memorable parts of my concerts: when I make connections in the history of Western music. Like, when people wanted to get wasted and go dancing 100 years ago, it would be to a 3/4-time waltz beat – not a 4/4 electronic beat.'
2. Sadly, the book won't teach you how to play piano with your feet.
'I discovered how to play piano with my feet at a gig in Moscow. I was being mobbed by drunk Muscovites at 2am and had to take refuge on top of the piano. I finished my set playing "King of Pain" by The Police, which works perfectly on the black keys. Maybe that's for the second book: advanced techniques.'
3. There's more to life than Facebook.
'People sometimes fetishise this idea that music is an elite club, that something special has to happen for you to have the keys to the music club. Everyone has the keys, and participating is so much more satisfying than just being a fan. In our social media world, we're inclined to be passive and reacting. What we should be doing is acting.'
4. He doesn't use the word 'genius' lightly.
'The composers of the nineteenth century were the first rockstars. That's a cliché, but they were the initial geniuses – in the sense which we now think of genius: an artist who is ahead of the curve and leading us into a new musical era. This fundamentally German idea began with the cult of Beethoven, then Liszt – the first virtuoso and the first guy to make women faint in the audience. There is a direct line between Franz Liszt and Kanye.'
5. Steve Jobs was like an archduke to him.
'It used to be that benefactors would give composers money to live. In a way that's what Steve Jobs did for me. An iPad advert I did [in 2010] paid handsomely and enabled me to finance my album "Ivory Tower". It continues to finance my orchestral ambition and put me on a whole other level of the game. I owe that to the largesse and generosity of Steve Jobs. It's no different to an archduke giving you the money to compose him a string quartet. Kissing your patron's ass is a well-established tradition!'
6. He can show the Chopin in anything.
'I did a video recently explaining "Fancy" by Iggy Azelea. I talk about how that bassline uses a simple and slight rhythmic variation which is similar to Chopin's "Funeral Waltz" or "When Doves Cry" by Prince. Three different songs based on three simple notes. In 200 years people will still use this device. Its universal, it's what the ear wants.'

Cravat-loving piano maverick Chilly Gonzales teams up with German string brigade the Kaiser Quartett to perform new material at a London residency. His insouciant wisecracks, musical wisdom and lightning-fast fingers make him as much of a live draw as any pop star.
---
Watch Chilly Gonzalez's 'Tarantula' video
---