Nine of the best Dolly Parton quotes
As the queen of country rides into town, we revel in her wit and wisdom
By Oliver Keens Tue Jun 24 2014
---
As you can see, Dolly Parton is a trove of homespun, sassy and self-deprecating lols. More significantly, she's also a blip in the matrix of popular culture: a Christian who revels in trashiness, a country star who brought honky tonk to the disco and a performer who can solicit tears from both gents in stetsons and drag queens. The 68-year-old once even entered a drag contest for Dolly Parton lookalikes – and lost. Not that she lacks a discernible image.
Let's face it: few performers with such outlandish and eccentric flair from the '70s and '80s have made it this far without being smeared, reviled – or worse – investigated by the police. Dolly, however, is bulletproof.
Perhaps it's due to her roots: raised in staggering poverty as one of 12 kids in a one-room shack. Most probably it's her songs, which, from 'Jolene' to 'I Will Always Love You' ooze a conviction and earnestness that's both rampantly unfashionable yet admired the world over. She's earned the right to do anything, up to and including opening a flippin' theme park called Dollywood, and not be called up on it.
Approaching her eighth decade, she's bringing her 'Blue Smoke' tour to The O2 – wit, wisdom and wigs in tow – before voyaging into the heart of Glastonbury to show the kids how it's done. What a way to make a living, indeed.
---
Time Out's Music team pick ten unmissable records from the first half of the year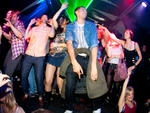 Our top 100 party songs
You're having a party, you say? Rest assured, we've got you more than covered
Say hello to your new sexy-time playlist – it's Time Out's pick of the best love songs ever made
Heaven knows you're miserable now – so you may as well enjoy it with the best break-up songs ever made
See more Time Out music features
---
A new exhibition offers a unique and personal insight into one of Britain's most-loved bands
From teen TV star to globe-conquering rapper, look back on Drizzy's career
As Ye prepares to headline Glastonbury, we ask some famous fans to help us pick his best tracks
See all Time Out music features