What's the deal with… Babymetal
Here's everything you need to know about the J-group who splice cute pop with brutal riffing
By James Manning Fri Jun 27 2014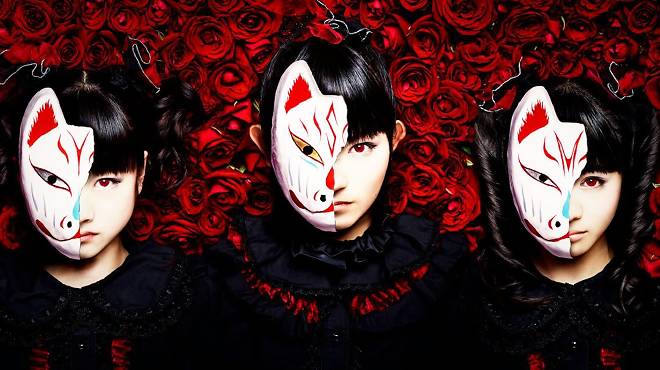 Wow, I don't know whether that's cute or creepy. Who are they, and what are they doing in that Harajuku-goth get-up?
Allow me to introduce you to Su-Metal, Yuimetal and Moametal. They're the three members of J-pop sensation Babymetal.
Shouldn't they be in school?
Probably. They're between 14 and 16 and have already been performing in Babymetal for three years.
But if they're all teenagers, who's in charge?
Kobametal, their producer and manager: a man who (according to Google Images) wears a skeleton morph suit every day. He had the bright idea of combining his love of metal bands Trivium, Mayhem and Pantera with Japanese 'idol music' – ie cute, manufactured pop.
So what are they? Metal or pop?
Both. Their music fuses crushing riffs with ultra-commercial J-pop and techno. It's not a very subtle blend, but that makes it even more fun to listen to. I warn you: this is seriously addictive stuff.
Okay, but why should I care?
Because Babymetal are kind of a big deal. The video for their hit song 'Gimme Chocolate!!' is nudging 10 million YouTube views. Their first ever London show (at The Forum next week) sold out in a flash and they've been booked to support Lady Gaga.
And you don't find this whole situation vaguely weird?
Well, there is something a bit odd about an older man taking three teenage girls around the world to sing, dance and scream in tutus and leather. On the other hand, don't you think it's pretty fascinating in terms of our contemporary, web-driven globalised culture?
What? Sorry, I didn't hear you – I was too busy headbanging.
I knew it: you're already hooked. Once you J-pop…
The Bottom Line: Pop gets thrashed: creepy but compelling.
This manufactured trio from Japan combine the popular 'idol' style of J-pop with crushing heavy metal. The result: three cute teenage girls performing upbeat vocals and dance moves, interspersed with punishing riffs and drumming. It's just as bizarre as it sounds, but millions of YouTube viewers can't be wrong, right? Read our Babymetal interview.
---
Watch Babymetal's 'Gimme Chocolate!!' video
---