What's the deal with… Honeyblood
Here's everything you need to know about the sweet-but-spiky Glaswegian duo
By Nicola Meighan Mon Jul 14 2014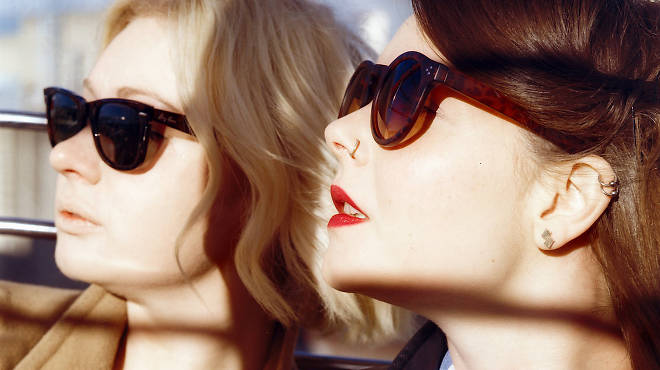 Are they bee lovers?
Not really. Glasgow duo Honeyblood are more concerned with guitar-and-drums rapture than our winged friends. But they do produce some sweet noise-pop, and it has a killer sting in its tale. Imagine the feminist blues-punk of Bikini Kill, the stripped-back thrills of the White Stripes and the sun-bleached rock 'n' roll of The Breeders. Et voilà: you're zoning in on the charms of Honeyblood's Stina Tweeddale (vocals, guitars) and Shona McVicar (drums).
Their new single is called 'Super Rat'. Are we dealing with a rock opera about big pets taking over?
There's a Hollywood blockbuster in that, but sadly not. 'Super Rat' is a joyously barbed romantic takedown; a grunge-pop serenade to a love-rat.

Any other surprises on their eponymous debut LP?
Well, there's 'Bud' – a green-fingered homage to Alan Titchmarsh and a lyrical gardening how-to.
That's more like it.
It's also a lie. Sorry. 'Bud' is actually a cautionary tale; a gorgeous alt-Americana reminder that sometimes it's best not to let love blossom ('nip it in the bud'). Plus, you know – it rhymes with 'blood'.
Sounds pretty sweet.
Indeed. Catch them as they play two gigs on Wednesday July 16: first at Rough Trade East, then at Shoreditch's Old Blue Last.
The Bottom Line: Grunge-pop queen bees.
Two hotly tipped indie bands stop off on a joint NME tour. Straight-up indie band Superfood are the latest band to emerge from the Birmingham indie scene which has spawned Peace, Swim Deep and Jaws, while Honeyblood craft grunge-pop that's sometimes fuzzy and ferocious but often touching and tinged with Americana.
---
Watch Honeyblood's 'Bud' video
---