What's the deal with… Ibibio Sound Machine?
Here's everything you need to know about the London afrofunk collective
By Oliver Keens Wed Mar 19 2014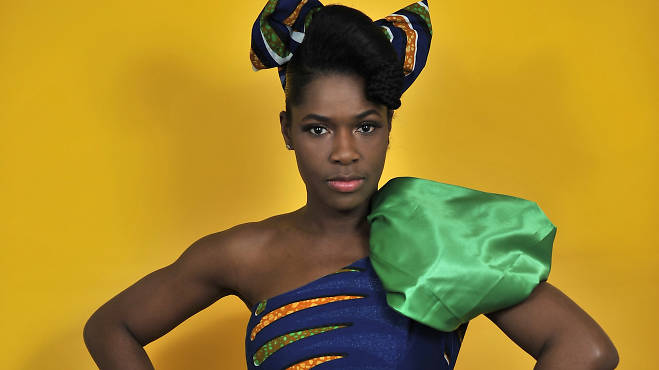 Image: Krzysztof A. Edelman
I'm getting strong Gloria Estefan vibes from the name.
Well, let me stop you right there. This excellent outfit have nothing to do with the conga fiend or her Miami Sound Machine. Think East not West.
Where, Shoreditch?
Pfft, much further – Nigeria. Ibibio is a language and a people from the south east of the country. As a kid, singer Eno Williams was taught a bunch of Ibibio stories and folk tales. As an adult she realised very little of Ibibio culture had crossed into music. What did she do? She sang about them, of course. Hence songs titled 'The Talking Fish' or 'The Tortoise' (about a shell-topped reptile who outsmarts a king).
What if I don't speak Ibibio?
You're definitely still invited to the party. What makes the group stand out is the way they bridge the brassy flair of '70s Nigerian funk and the thumping low end of modern drum machines – not to mention traces of disco and Talking Heads-ish experimentalism. From slow-grooving cosmic numbers like 'Prodigal Son' to tight dancefloor workers like the James Brown-meets-Grace Jones groove of 'Let's Dance', they've managed to lock down an amazingly diverse set of sounds.
How does that end up happening, do you think?
London, baby. Amongst Ibibio Sound Machine's eight-piece band are players of Nigerian, Ghanaian, Brazilian, French, English and Australian descent. Only in our kick-ass city could such a cool melange of sounds come together so effortlessly.
Sod Gloria Estefan – I'm sold. Where can I hear more?
Their self-titled debut LP is out now – listen on the right and buy it here.
The Bottom Line: Afrobeat, disco, funk, talking fishes. Only in London.
---
Watch Ibibio Sound Machine play 'Let's Dance'
---