Gesamtkunstwerk: New Art From Germany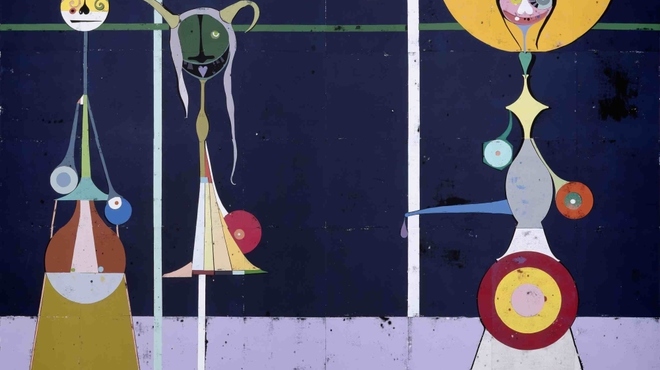 Gert & Uwe Tobias, Untitled, 2007 © Gert & Uwe Tobias, 2007
Time Out rating:
<strong>Rating: </strong>4/5
User ratings:
<strong>Rating: </strong>4/5
Rate this
Time Out says
Fri Dec 2 2011
It didn't take much for Charles Saatchi's shows to start looking purposeful again, just a bit of depth to anchor the endless breadth that seems to characterise his collecting habits. In this survey of contemporary artists from or based in Germany (given Berlin's magnet-like attraction it could be argued that much of the art world is speaking German these days), contextual touchstones can be found in the work of sixty-somethings Georg Herold and Isa Genzken. Genzken in particular exerts a powerful influence over the younger artists on show – far more so than her former husband, Gerhard Richter. With Richter's retrospective in full swing at Tate Modern, this could well be Saatchi's point.
The dominant aesthetic is trashy but downbeat. Genzken's sad, colourful totems of consumerist flotsam along with her wheelchair sculpture and lacquer images of gymnastics bring to mind ideas of vitality and frailty. Often, Genzken's work seems to topple into wilful obtuseness, a kind of collapse of meaning and purpose that tethers the artist to the post-war nihilism of her contemporaries. Her obvious stylistic heir is Ida Ekblad – this show's wunderkind – who conjures images of mangled buildings in off-cuts of twisted metal.
But abundance and decay is in evidence elsewhere, in the vitrines of Josephine Meckseper and Max Frisinger, and in Stefan Kürten's paintings of tasteful, mid-mod interiors menaced by encroaching plant life. Most of these artists are looking back – to generations of expressionism in the glib finger paintings of André Butzer and Marcus Selg's carvings and vast paintings of quasi-primitive subjects (which turn out to be super-enlarged prints).
In his grand installation, Selg comes closest to invoking the Gesamtkunstwerk (total art work) of the exhibition title. However, with barely any photography and, it being the Saatchi Gallery, no video on show, this was always going to be partial survey. At least they didn't call it 'Zeitgeist'.
Write your own review