1/17
2/17
3/17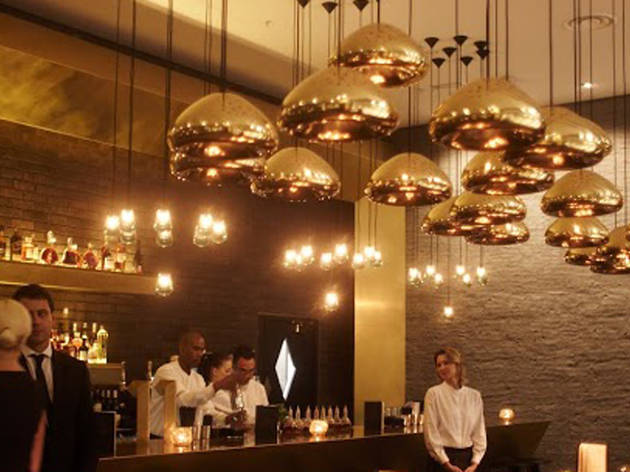 4/17
5/17
6/17
7/17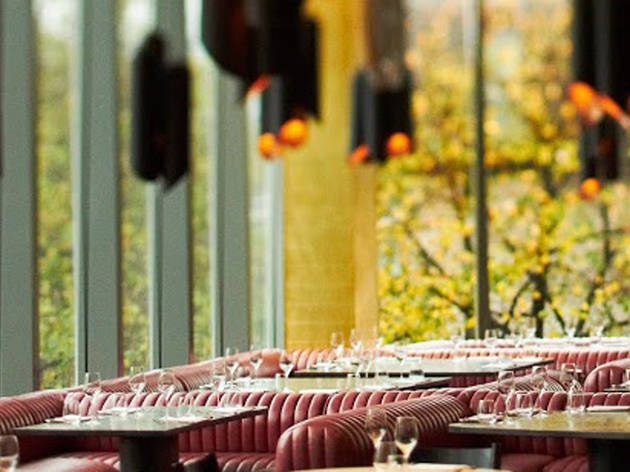 8/17
9/17
10/17
11/17
12/17
13/17
14/17
15/17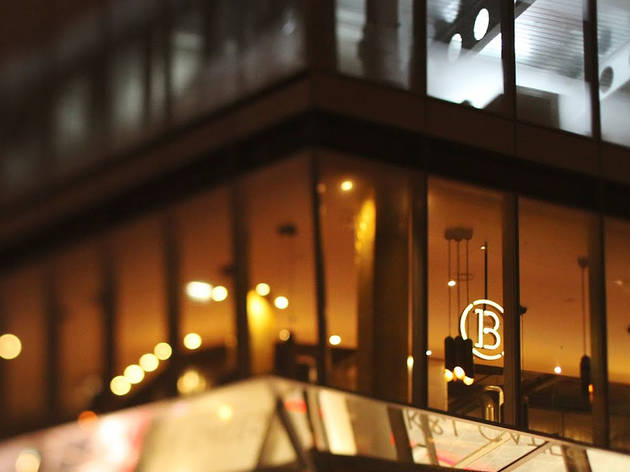 16/17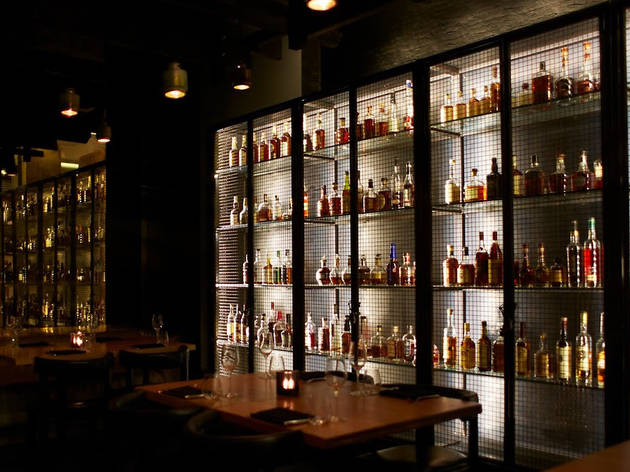 17/17
Venue says

: "Don't forget to visit our butchers at Barbecoa To Go. Spend £35 or more and receive a complimentary bottle of wine."
Jamie Oliver aims squarely at City boys with this meat-tastic offering boasting imposing views of London. Be warned: it's rich in both senses of the word.
The view here, of the looming dome of St Paul's, must be among the most imposing in London. We hope it's appreciated by the City dudes at whom Barbecoa – a joint venture between Jamie Oliver and American barbecue maestro Adam Perry Lang – is clearly aimed. This is meat territory: steaks, roasts, pit barbecue. The brunch menu, available at weekends and bank holidays, gives a full flavour of the restaurant's considerable abilities. Tender shredded short-ribs came in a massive portion with heavenly chipotle salsa. A porchetta BLT cut the salty richness of the pork with fine acidity from cranberry salsa. Baked beans were superbly seasoned and carefully cooked. The big complaint is that some food is unnecessarily (verging on unpleasantly) greasy. That BLT, already rich from fatty porchetta, came on sourdough bread that had been oiled before grilling. The ribs sat on a naan so greasy from the meat we couldn't contemplate eating it. These are solvable problems, but the kitchen had better solve them. Service was polished and friendly. The well-chosen wine list is for rich people (little below £35). The cocktails are unusual, and ours was well executed. Try to avoid the excessive richness, and you'll have a great time.
More
Less
Barbecoa says
Located in the heart of the City, Barbecoa sits overlooking St Paul's Cathedral. The breathtaking views, vibrant atmosphere and incredible food will make any dining experience special - whether it's a business lunch, a catch up with friends, or a romantic evening meal for two.

Opened in 2010 ago by Jamie Oliver, Barbecoa is a celebration of incredible produce and fire-based cooking. Our chefs create beautiful, seasonal dishes using traditional techniques such as the Texas pit smoker, Argentine grill, Japanese robata grill, tandoor and wood-fired oven. The love and passion for food can be felt throughout the restaurant.

What sets Barbecoa apart from the rest is not just the traditional techniques - but also the in-house butchery. Located just below the restaurant, their team of butchers source the finest meat from around the UK and dry-age it in-house, creating meat that is second-to-none.
More
Less
Venue name:
Barbecoa
Contact:
Address:
20 New Change Passage

London
EC4M 9AG

Opening hours:
Meals served 11.30am-10.45pm Mon-Fri; noon-10.45pm Sat; noon-9.45pm Sun.
Transport:
Tube: St Paul's tube
Price:
Main courses £19-£39.
Menu:
View Menu
Do you own this business?
Average User Rating
3.7 / 5
Rating Breakdown
5 star:

9

4 star:

3

3 star:

3

2 star:

0

1 star:

4
I was pleasantly surprised with the service as well as with food. The menu is quite limited but everything what I ordered tasted great. It wasn't the most impressive food experience I've had but definitely one of the best restaurants I've been. Lovely place for a dinner - although I was excited for the wonderful view and unfortunately was squeezed in a corner with no windows. Just bad luck. Nevermind - I would go back.
great food ...amazing ambiance...
Amazing steak house restaurant. Finest cuts and dried aged meat to die for.
Great food, nice atmosphere, skilled personnel. Fantastic experience. Love it.
Had a work lunch here last Friday and it was immense! The steak was to die for- I went for the Sirloin- and the starters all really good. The view of St Paul's makes it that little bit more special! I would highly recommend it!

went for a meal here, the food was out of this world!! never tasted anything like it!! and the service was amazing!! cant fault it!!
Great lunchtime meal at Barbecoa. The restaurant is in a beautiful setting overlooking the high-street near St Pauls, with a great stylish decor, a buzzing atmosphere and very friendly helpful staff. The ribeye steak for two was absolutely delicious, perfectly cooked and succulent with great flavour. The chicken wings and shrimp for starter were delightful with some lovely garnishes and sauces. The restaurant also has a great selection of drinks and we had a superb glass of port to round off the meal.
Excellent steaks, cocktails and views. Tremendous boubon and whiskey list.
On Monday, 20 April 2015, my partner and I attended a celebratory dinner at Barbecoa. My partner was really looking forward to visiting Barbecoa as he had passed by on a recent visit to The City and was intrigued by it, and firmly added it to his list of "To Visit" places. The restaurant had been informed that it was my partners birthday and I had requested that the table be ready for 20:00. I was emailed a confirmation that informed me that the table would only be available for 2 hours.
Upon arrival at Barbecoa, we were told that the table was not ready and we would have to wait in the bar, no apology. We were escorted to the extremely full bar and simply left to our own devices. There was nowhere to sit and we weren't even offered a drinks menu. The lone barman did not even acknowledge us for a full 15 minutes. When we eventually got his attention and asked for a menu, the lighting was so poor it was very difficult to read.
After half an hour we were told that our table was ready and were seated at a table alongside the window with a fabulous view of St Paul's Cathedral. Still no apology for the wait. This, as per your seating policy, left us 90 minutes to enjoy our dining experience.
Our waitress came to our table and did not introduce herself to us. The receipt identifies her as 26 - Abi. She also did not send over the Sommelier as promised.
We placed an order for some of the "Nibbles" which was Sour Dough Bread with Chicken butter while we reviewed the menu. We then ordered our self-chosen wine and some starters, which were recommended by our waitress - baby back ribs and Tandoori Prawns.The wine, a Chenin Blanc was warm. Still no sign of the Nibbles. After 15 minutes, we enquired as to the whereabouts of the Nibbles, as blank look came across her face as she had clearly forgotten to place the order and then said - they should be here any minute. She scurried off to collect the Nibbles, which arrived roughly 30 seconds before our starters. Had she said she had forgotten, we would simply have cancelled the order instead of having Nibbles and Starters at the same time.
The baby back ribs were extremely dry and cold and all in all, very disappointing. The prawns had a pleasant flavour, although the yoghurt flavour certainly overpowered the spice. The waitress did not top up the wine and unfortunately as the wine bucket is on the other side of the restaurant, we could not do it for her.
I had mentioned upon ordering our food that I would like to order red wine to accompany my main course, Abi promised to return with but she clearly forgot.
Our main course was a Rib Eye for 2 with chips, mushrooms and truffle butter. The truffle butter tasted more like garlic butter and was seriously overpowering with no hint of truffle. The mushrooms were very tasty albeit a very small portion for the price. The meat was extremely fatty and I found that the chef could have reduced this by caramelising the fat over the open flame, which would have reduced the amount of fat and improved its unsightly appearance. I was extremely disappointed in a £70 piece of meat. Moreover, £4 for Truffle Butter with no truffle, £5 for a small pot of pieces of chips (not real chips in my view), I can hand cut a chip that look like chips, and £5 for garlic mushrooms on top of £70 for a steak feels a lot like daylight robbery.
There was a management table inspection (settings not service) going on while we were dining which seemed odd as one would think this is a post dinner activity. The manager however, never came over to find out if we had enjoyed our experience, in fact, no one did.
As the restaurant knew it was my partner's birthday, they undertook a very annoying, American diner style "Happy birthday" as every member of the waiting staff passed by. This is hugely out of place in a restaurant of Barbecoa's purported standard.
All in all, this is possibly the worst dining experience for the price that I have ever had, anywhere in the world. The total bill was £199.68. Maybe your team should visit Elbow Lane in Cork, Ireland for a lesson in experience, steak and service - all of which would cost less than 80 Euros.
Also, I have written to them twice and they have completely ignored me. I have to say, I think they have THE WORST customer service I have ever experienced in my life and I am thoroughly disappointed that they trade on the Jamie Oliver name but do not in ANY way, shape or form live up to his service and quality ethic. AVOID, AVOID, AVOID. I gave them one star as I couldn't give them zero.

A really lovely meal and great evening for my friends birthday last weekend. Good atmosphere in the restaurant and excellent choice of meats with generous portions! Would definitely go again!
Great atmosphere and the BBQ style Fillet was fantastic!
Can only echo other's views. Very average food considering the price. Pretty disappointing. Certainly wouldn't return.
If this was a simply a bar it would be great! Fantastic views, nice ambience. However it is not. The food is actually extremely mediocre bodering on awful. The prices are just over the top, £35 for a steak is ridiculous. I had a disgusting pig cheek starter at £9 followed by a £16 burnt chicken, all potatoes, chips, vegetables etc are extra. Our food bill for 5 came to £222 without booze! Jamie Oliver claims so much and this restaurant fails on so many levels, just lucky it is in a good location!
We ate at Barbecoa last night to celebrate two birthdays. Our party of 11 people arrive for the later sitting to be informed that our table was not ready and we were asked to sit in the overflow bar, the entrance. Eventually we were asked if we would like a pre dinner drink but this arrived after we were eventually seated. On arrival in the restaurant room the staff seemed surprised to see us, obviously no communication between reception and restaurant. The views of St Paul's from the table were amazing and the best feature of the restaurant. The quality of the food was ok, not what you would expect from a restaurant run by a celebrity chef. The front of house staff friendly but the service poor. we had to wait 90 mins between our starter and main course. Waiters did know who had ordered which dish and called the dishes names, very canteen style. We had a good time but not because of the restaurant. Over priced, average menu. Poor service. Would not recommend to dine, worth going for the view of St Paul's but you can have the same view from the shop across the way.