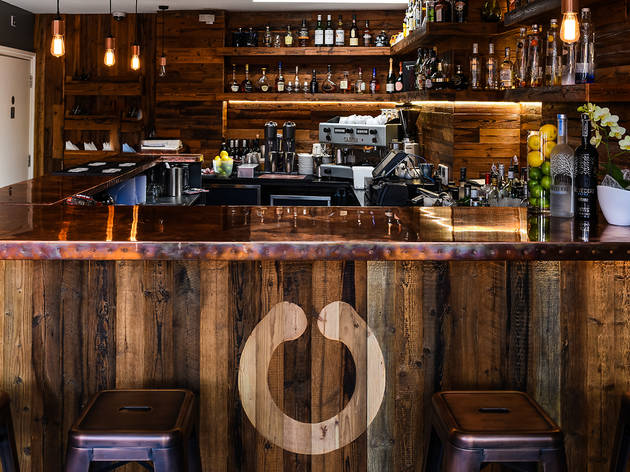 1/8
Ryan Lee Chow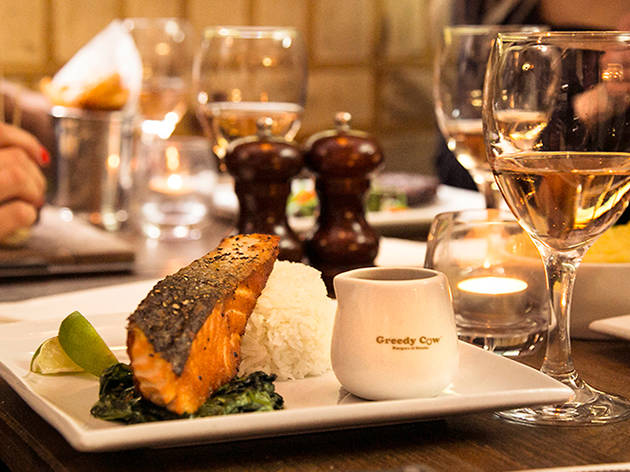 2/8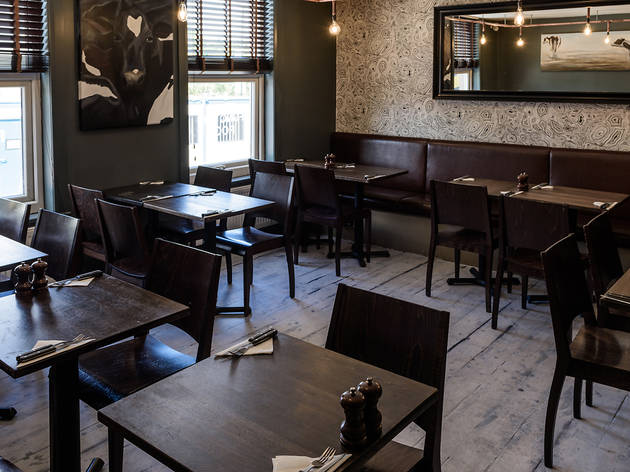 3/8
Ryan Lee Chow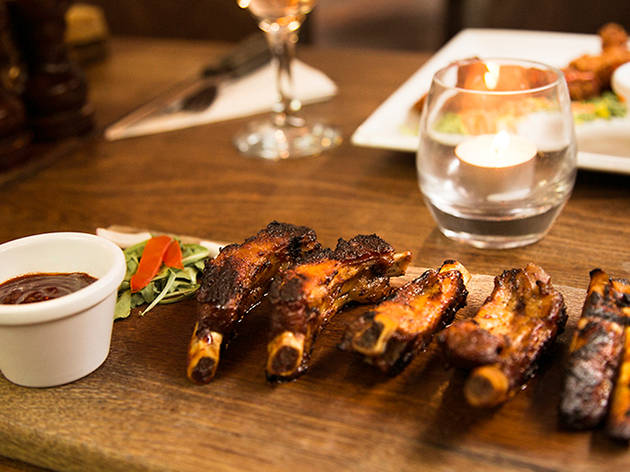 4/8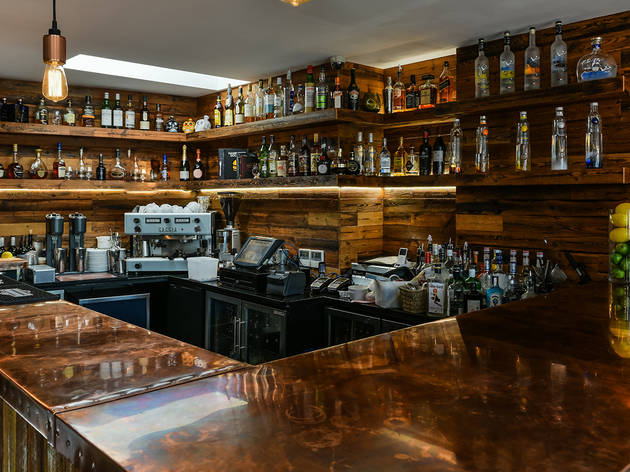 5/8
Ryan Lee Chow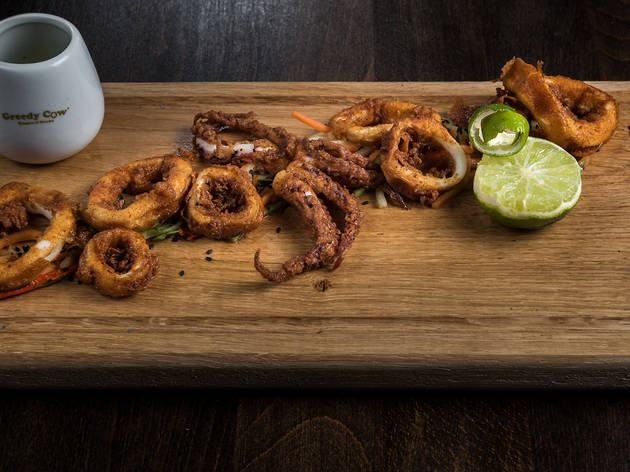 6/8
Ryan Lee Chow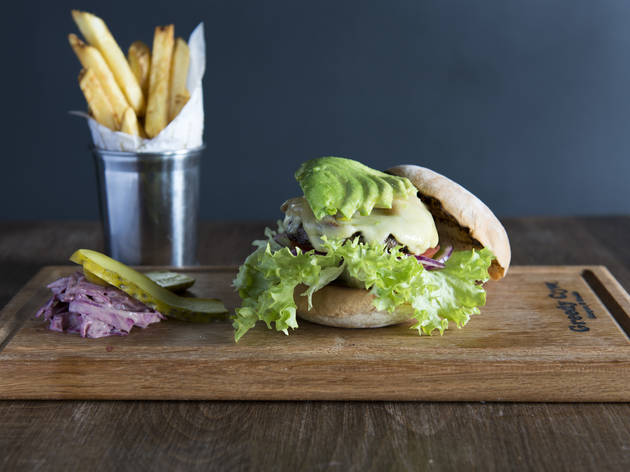 7/8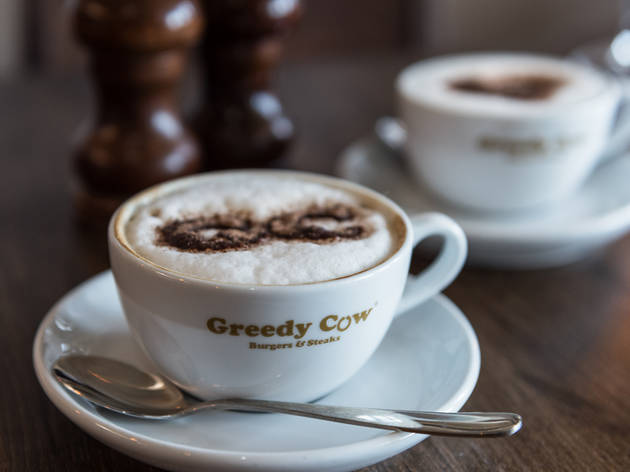 8/8
Ryan Lee Chow
Venue says

: "Free cocktail when you spend £25! Quote 'greedy cocktail' to redeem."
A Mile End restaurant specialising in burgers and beef
Greedy Cow is one of the few places in Mile End not serving sweaty donners, fried chicken or cups of terrible coffee. For this, as well as its commitment to carnivores, it should be applauded. The menu offers burgers every which way – from kangaroo to wagyu beef – and great variety in its cuts of steak. In the upstairs dining room, cowhide furniture and bovine prints on the wall lay it on a bit thick, while cheesy muzak (or should that be moozak?) nearly pushed us over the edge. Maybe they were trying to relax the wagyu some more?

If so, it did the trick – it tasted as a high­end burger should. A plump fillet steak with a piquant peppercorn sauce was near- perfect, although rarer than requested. Desserts were solid; a chocolate fondant with a molten centre and a creme brûlée torched at the table for kicks.

Where Greedy Cow really excels, though, is in its service. Our warm waitress seemed genuinely interested in her customers. Grab a seat in the rustic restaurant downstairs where the tackiness is left behind, chew the cud with staff and you'll be in for some enjoyable meats out east.
More
Less
Greedy Cow says
The Greedy Cow was created by two brothers with discerning taste, a love of good quality food and, above all, a strong belief in value for money. Our mission is to source the best and freshest in local produce and use it in the most inventive and exciting ways. With this we aim to fill your stomach without emptying your wallet.

Since day one, very little has changed. Whilst assembling the old classics with their usual adornments, our menu continues to tickle the gastronomic taste buds of our customers through the inclusion of exotic meats such as wagyu, kangaroo, bison and crocodile.

So come along and let us take you on a journey of the meats and burgers of the world.

We won the 2016 Q Award from Quandoo for being top rated in 2015!
More
Less
Venue name:
Greedy Cow
Contact:
Address:
2 Grove Road
London
E3 5AX

Opening hours:
Meals served noon-11pm daily.
Transport:
Tube: Mile End tube
Price:
Dinner for two with drinks and service: around £80.
Menu:
View Menu
Do you own this business?
Average User Rating
4.1 / 5
Rating Breakdown
5 star:

9

4 star:

6

3 star:

1

2 star:

0

1 star:

2
Friendly atmosphere and good food. It is great to have a fab burger joint in the local community. No chain formality here. Owner always willing to stop and chat with his regulars. Always the option for more exotic dinner if you want to explore.
Really, really good burgers! I used to live around the corner and always used to head here. Re-visited a few weeks ago and it's still every but as good as it was. Well done!
Delicious food served by the nicest staff
A small but excellent independent restaurant. The burgers are amazing, and the chocolate fondant desert is to die for!!
Not the best burgers in town. If you wanna have a dinner in greedy cow wrong place, good things it's drinks. Place it's really busy, we wait for a table 20 min. Food q it's it's 4 from 10. Service 5 from 10.
Even burger was over cooked, and chicken wings was extremely spicy. Artichoke salads was from the tin. :( sorry guys you need to step up.
Arrived at 7.30pm on Saturday evening to be told that we could have a table, but would need to be finished and gone by 8.45pm as the table was booked for then... not a good start, but we were promised that our food would be served quickly.
Starters took over half an hour to arrive, at which point I was told that the wagyu burger that I ordered was sold out, so I ordered a rib-eye instead. Starters were good, but 15mins later I was told that the rib-eye was sold out as well! I then ordered a sirloin, wondering how a supposed steak & burger restaurant could operate like this.
Our mains finally arrived at 8.40, 5 mins before we were supposed to vacate our table. The sirloin was almost raw, despite me requesting it medium/rare, and was a very poor cut as it had a huge chunk of gristle running right through it. Two of our party ordered chicken burgers, each of which was half a chicken breast cooked to the point where it was barely edible.
We didn't bother with deserts as we just wanted to get out if there, especially as the waitress who seated us kept clock-watching and staring at us in a 'hurry-up' manner throughout. When the bill came, we'd been charged for 2 rib-eyes, which weren't available, so we pointed this out to the manager, who then brought us another incorrect bill, again charging us for more expensive steaks than those that we had. When he finally got the bill right he made absolutely sure we were charged full whack, instead of doing the decent thing and knocking a few quid off. As a gesture of good will he gave us 2 scoops of sorbet between 4 of us... what a joke!
While we were there, a waitress spilled a pint of beer over a customer at the table behind us, one of whose chairs collapsed under them during their meal (and they weren't a fatty!). Even they had to pay their bill in full.
This place is a shambles, I don't know how they were so busy if this is how they operate. Perhaps this was an 'off-night', but we won't be returning to find out.
Came over for the Olympics from the states. Wow! Lucky to find this place. just walked past and smelt the food, so went for it. Had the plain cheeseburger with the hand cut fries and a cider drink (can't remember the name). Enjoyed it so much that I came back every day that I was in the city. Still moving around the UK and not found anything as good yet. Great service and very welcoming. Will get back there one day for sure!
Read great reveiws about this place, so thought I must give it a try.Very disappointed, food was served warm not hot, Ordered onion rings with meal, they were so greasy, complained to waiter who said he would speak to chef, that was the last I heard about it,. If you want a meal to remember, go to the Greedy Cow, you wil certainly be remined of your meal there because it repeated on me all night.
Nice cosy place to eat. Food was fresh and there were good veggie options available. Prices were cheap for the very filling portions. Waitresses were great with the kids. Plenty of space upstairs for the kids to move around and they loved the blue ice cream! Would definitely recommend.
Excellent food, excellent service, highly recommended!!
Fantastic restaurant - HUGE range of food and such GENEROUS portions. All food brought in fresh every day - you can see through a window whilst sitting at the tables, the chefs preparing the food in the kitchen. The staff are great - very willing to see to all needs of the diners - they are cheerful and friendly too. I was in a group of 15 people and we all were served quickly, despite it being lunchtime and full of other diners. We, as a group, have been going out together for many years and dine in many different restaurants, but we all agreed that the food at the Greedy Cow was the best we had tasted. I do hope other people make the effort to travel to Mile End instead of staying in central London for meals and eat at the Greedy Cow, as it is well worth the effort as the food is so delicious.
I popped into Greedy Cow for a lunchtime visit for the first time - and I will be going back! With exotic meat dishes to simple burgers I felt spoil for choice so I was recommended trying the Wagyu burger which I had medium/rare (my mouth is watering again as I write this!) which was juicy and ordered a side of wedges which came with a salsa and mayo dip - perfect combination! I also tried one of their new organic red wines and if I didn't have to go back to work that afternoon I would of had another as it was one of the best Cabernet Sauvignons I've tasted. Great value for money, such friendly staff who I got chatting to about the local area and a great location - pretty much across the road from Mile End tube station. I highly recommend Greedy Cow and on my return I may try the pan seared Kangaroo!
im nearly there every week because the Restaurant is AMAZING!!!!!!! I love the burgers there so lovely
Popped in here after a session at the Mile End Climbing Wall on a Sunday afternoon and were spoiled for choice. Service was excellent, friendly and funny and keen to ensure we enjoyed our visit. My brother had the Wagyu burger medium rare and it was gone in seconds he liked it so much! I had a truly giant salad that was super tasty and not drenched in fatty dressing as so many places serve it these days. Onion rings were epic in size and quality. Great ambiance and I loved the funky jazz playing in the ladies' loos. Only negative comments would be that you have to pay extra for chips with a burger and on the day we went the restaurant was a little too warm. But really minor details. This place serves food far far better than most fancy pubs I've been to recently and I would definitely recommend it to anyone in the area.