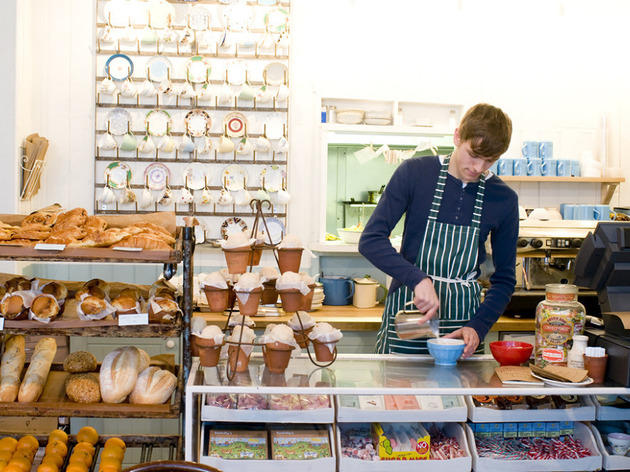 Haberdashery is a brilliant example of the 'make-do-and-mend' café, not just in its aesthetic of vintage crockery, cocktails in jam jars, and hand-written labels, but also in its multifunctional appeal. It also sells books (lovely novellas by local press Peirene) and prints, tea sets, groceries and old-fashioned sweeties, as well as hosting sales, launches and monthly themed supper clubs.
Given the (well-handled) weekend waits for one of the tightly packed tables, the tucker has to be good – and it is. From a stunning window display of cakes to the handspan-sized bowls of glossy hot chocolate, this is a professional affair. Brunch might involve a veggie breakfast – nicely fried egg, soft rather than crunchy hash brown, halloumi, a big moist mushroom and excellent greens – or french toast with maple syrup and cinnamon bananas. For lunch, there are the likes of falafel burger or Scandinavian meatballs with Danish cucumber salad and teacup soup. Weekdays are quieter, while in summer trestle tables in the gravel backyard provide more space.
Venue name:
Haberdashery
Contact:
Address:
22 Middle Lane
London
N8 8PL

Opening hours:
9am-6pm daily
Transport:
Tube: Turnpike Lane tube or Crouch Hill or Hornsey rail
Price:
Main courses £5.75-£12.95
Menu:
View Menu
Do you own this business?
Average User Rating
3.8 / 5
Rating Breakdown
5 star:

8

4 star:

2

3 star:

2

2 star:

2

1 star:

2
You have to commend the owners for their community spirit and starting up fun innovations for the town such as Barboot. The food can be a bit hit and miss. There is a quirky menu but the execution isn't always spot on and it's a bit pricey for what you get. One of the owners is very chatty which is can be nice or not depending on whether you want to relax and read the papers and sink into your own little world. I tend to go to Coffee Circus now which has less room for prams and is a better place for peace and quiet, plus I prefer their coffee. I'm glad that the Haberdashery opened as it's better for us all to have an independant rather than another chain place but its definitely more a yummy mummy destination. The garden is nice and gets the sun in the morning.
This is probably a LOVELY place to have a coffee and croissant in the morning. I just had lunch there with my partner and unfortunately it was dreadful. And dreadful at a price! One clue was that the menu board outside displayed no prices. But I wasn't worried about the cost if we could have a nice lunch there. I had wanted to try Haberdasheries as others had told me 'Oh, you MUST go there.. it's lovely.' Well, maybe it is lovely but the food ain't.. Cappuccinos arrived in pudding bowls and were not very hot (not surprising if the bowls were used cold). My partner had a Full English and I had a Falaffel veggie lunch platter thing. The breakfast was dry, not helped by the lack of beans, and a homemade hash brown even greasier than the processed variety. Bubble would have been a better. The portion wasn't great either; one sausage, one mushroom(!), one egg. One positive note: the egg was tasty. There's yourone star. My falaffel special was worse. The falaffel comprised two fried discs of a smooth, pasty substance; a sad effort at homemade falaffel. Accompanying hummous tasted like it was made with 50% garlic and too much tahini. Another sad effort. -Who cooks this stuff, don't they TASTE it? It needs more chick peas. With this was a dollop of sieved beetroot mush and some sweet pepper tasting mush. Oh, and a small turret of cooked (well, warm) earthy-tasting lentils. The mush was actually quite nice but would have been more at home with a salad dish. The only salad with this was a tuft of rocket. There was also an interesting muffin-shaped bread served with this. At first this tasted interesting but later an overpowering taste of strong olive oil just wouldn't go away and this bread was too doughy in the middle. Real fart-fodder. I love olives and like olive oil but you shouldn't cook with the strong stuff, you should save it for salads or pouring onto bread. The taste took about 1/2 hour to go away. The bill was over twenty five quid for just the two dishes and two coffees. Last night we ate at the superb A Baia cafe in Camden and a whole HOT cooked dinner of steak / fish with pasta, salad, coffee and TWO beers came to less. I kid you not. Oh, I had a pudding, too. I would say give this place a whirl for tea & a bun but be VERY cautious if considering a 'meal'. Charitable, charming, stylish, good service and community-minded. Brilliant. It should just give-up on making food. P'raps it would make a nice trendy laundry. Try Troodos Greek Taverna at the end of Priory Rd. May lack interior design theme but all dishes (and puddings) are home made and you can have a blow-out for a score. Veggie friendly. Quality!
As new cafes and coffee shops have opened in Hornsey and Crouch End, Haberdashery continues to stand out from the crowd. With an eclectic rustic Swedish-eque wooden panelling, beautiful old fashioned tea sets and delicious selection of homemade, rustic and healthy dishes and smothies, this place always feels like a hug from an old friend on a cold day - comforting, reassuring and ultimately rejuvenating. Haberdashery, we adore you!
The owners are such lovely people. Proud to have Haberdashery in Crouch End!
Delightful breakfasts in all shapes and sizes. I had delightful eggs and my friend has porridge. They also bake amazing plant pot bread and do great coffee!
Have to be honest, I've been here and it was great but also been and it was terrible. Too hit and miss for my liking. You can't be expected to spend at their prices and not know what service or quality of food you're going to get. Please also put handles on the coffee 'bowls'. This isn't Shoreditch nor is it ramen.
A bit too 'try hard' for my taste. The killer is that they don't do baked beans, whether this is to keep out the supposed riff raff or because the owner isn't English and doesn't understand the VITAL bonding function that the humble baked bean plays in the full English breakfast, I can't say. However, this is a terminal problem for me a the moment.
I'm afraid I wasn't impressed. Had full English breakfast, but it was tasteless and greasy. Didn't look good and didn't taste good. When breakfast and brunch are increasingly popular with so many Londoners I have to say there are other much more satisfying places not too far away (I'm not talking about Banners). So do shop around.

I have to agree with fiveportions here. Haberdashery is a nice place for a coffee and a pastry. It is a lovely social hang out and they did a great job where it comes to the decor, supporting the local area, organising social events and supporting artists. However it's small, overcrowded, the service is at times slow and one can wait as long as an hour or more for food. The food is very overpriced, portions are very small and it is not very nice. Also a down point is the cracked pottery last time I went the hot tea poured out because the tip of the neck was broken in the teapot and it burned me.... Oh and I will not mention the restroom....
Having spent a lot of time at The Haberdashery over the past four years I decided it was a fitting venue to hire for my birthday party. My guests and I were not disappointed! Massimo (one of the owners) handled all the planning and organising which made sure there were no pre-party nerves on my part. It looked stunning in the evening with the fairy lights and tea-lights shining. We were even blessed with a warm summer's evening so we could spill out into the pretty garden. The staff were absolutely fantastic, making everyone feel welcome and creating divine cocktails. I couldn't have asked for anything more....thank you!
The Haberdashery hosted my son and daughter-in-law's wedding meal at the end of July 2013, and really added to the happy and warm atmosphere of the whole day. The Tapas style food was homemade, and extremely tasty, and was served to all 45 guests simultaneously in one seemingly, easy effort. They provided a selection of delicious homemade cakes, as an alternative to a traditional iced wedding cake, which proved a popular choice with the guests. The drinks, alcoholic and non-alcoholic flowed, and the staff worked very hard to ensure that everyone was well looked after, despite it being a very hot afternoon. On arrival Pimms was served in the garden, and Massimo, the co-owner, put great effort into the planning of the meal with the bride & groom during the preceding months, and managed to seat all the guests in the main area of the Haberdashery for the meal and speeches. The one certainty when planning the wedding for the bride & groom was that they wanted their wedding meal to be at the Haberdashery – it is a very special place to them. I honestly cannot fault the food for the wedding celebration, or the care that Massimo and his team took to help make this a very special celebration. The Haberdashery is a small, intimate and beautifully decorated establishment and I have found that, not only on this special occasion, but whenever we have been there to partake in their wonderful breakfasts, we have been made to feel very welcome and the food has been excellent.
This is a great cafe in Crouch End, quirky and friendly and great food and drink. They also do free venue hire on Saturday night (subject to a minimum spend). I had my engagement drinks party (complete with fabulous cakes and lots of cocktails) there and the venue was perfect - friendly staff, and just fun and relaxed for cocktails and cake with friends and family. Strongly recommend!
I am so glad that i found out about this place. It is the kind of Cafe i have been looking for a long time being enoyed by all this boring brance Cafes kicking around all over London. The Haberdashery has got a nice flair, it makes you fell home and cozy even if they if the stuff is buzy. And Yes they seem to do well, because everytime i pass the Cafe it's full of people, and that says already a lot about a place. The staff is always very polite and happy and the food is just amazing! I just tried last week the Special Burger (or club Burger) with chickpeas and grilled aubergine and beetroot houmous, hmmmm it was so delicous. After that i had a big piece of Banana and Cinnamon Cake:) First i thought, what a srange combination but it was delicous!!!! But thats not all! The Haberdashery has got a lot events going on as the monthly Barboot (Vintage Sale) , 3 Songs Night and the monthly Art Exhibition of local artists. If you are in Crouch End or around this area, you have go to The Haberdashery. I am a big Fan!!!
This place is lovely - we have been coming here for several weeks now and it's really very good - just the type of thing Crouch End should have. Today I sat in the sunny garden and had a veggie parmesan frittata sandwich with the eggs drizzled in a basil olive oil, and it was just spot on - fresh and tasty. Their veggie breakfast is fantastic too - grilled halloumi, fresh spinach etc. My only complaint is that it can get insanely busy on the weekends and even other times, but the staff and owners are always polite and friendly and it's nice to see a new business like this thriving in these times. Highly recommended...
Despite having lived practically next door for the past year, i've only recently visited this lovely eatery. I've definitely been missing out. Charm, style, good food, excellent service and a real commitment in supporting various charities and the local community have made The Haberdashery my new favourite local.
More venues
Sponsored listings