Hammersmith restaurants
Discover the tastes of the world in Hammersmith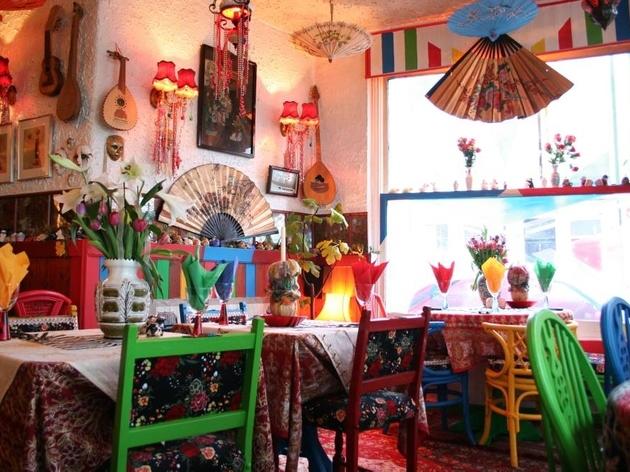 Given the fact that Hammersmith is a major travel hub, it is unsurprising that you can explore the culinary world in a day with the area's restaurants. They feature a wide range of cuisines, from Keralite food (from an area in southern India) at Shilpa and eclectic vegetarian fare of The Gate to Saigon Saigon's Vietnamese and Polanka's Polish menus. Perhaps more surprising is how well priced it all is.

Think we've missed a great restaurant in Hammersmith? Let us know in the comment box below.
Opened in January 2011 in Brook Green, West London, Malina offers Polish and Eastern European cuisine. Malina is owned and run by two partners: Beata Murphy and Jola Pinchard.
With its beach-style wooden bar, hessian cushions, beads, and quirky curios, Potli has a tropical street-bazaar vibe. Local residents visit for the classic curries and smoky grills.
Despite its reputation for exclusivity, it's possible to get a table at the River Café with just a couple of hours' notice if you choose your moment.
Don't be put-off by the no-frills decor, Shilpa quietly goes about its business of putting speciality Keralite cooking on tables at surprisingly low prices.
But for the tables outside, you might think that this was a shop. But a pub it is, and a popular one at that: head here on a Friday evening, and you'll probably find 'reserved' signs everywhere.
Book now
Flower-filled exterior aside, there's nothing fancy about this local favourite. From the well-worn furniture to the order-at-the-bar chalkboard menu, it's all very familiar.
Book now
The Hampshire Hog in Hammersmith sounds like the start of a tortuous tongue-twister, but it's actually a 'pub and pantry', run by the team behind the Engineer gastropub in Primrose Hill.
Book now
It's on the same road as the River Cafe – another Hammersmith dining institution – but this tiny, one-room neighbourhood Lebanese restaurant couldn't be more different.
See our full Hammersmith area guide
Sponsored listing
Brackenbury Wine Rooms
This Hammersmith Grove spot comes from a group with similar venues in Fulham and Kensington. The focus is on wine – it's a wine shop as well as a wine bar – but there's also a grown-up food menu, as well as good-looking bar plates.  Forty-eight wines are available by the glass, served via Enomatic wine dispensers. The list is categorised by styles (think 'clean and lean', 'aromatic and textured', juicy, bright and structured' and 'heavyweights'), with worlds old and new given equal billing. Bar plates include English charcuterie and cheeses from Androuet. The main food menu features dishes such as foie gras with quince jelly and toast, confit duck salad with watermelon, cashews and pomegranate, herb gnocchi with spring vegetables, parmesan and rocket, and onglet steak served with hand-cut chips. 
"Fancy a private wine class? Contact Michael via the site."
Hammersmith
Online booking