Holborn restaurants
Check out one of Holborn's great restaurants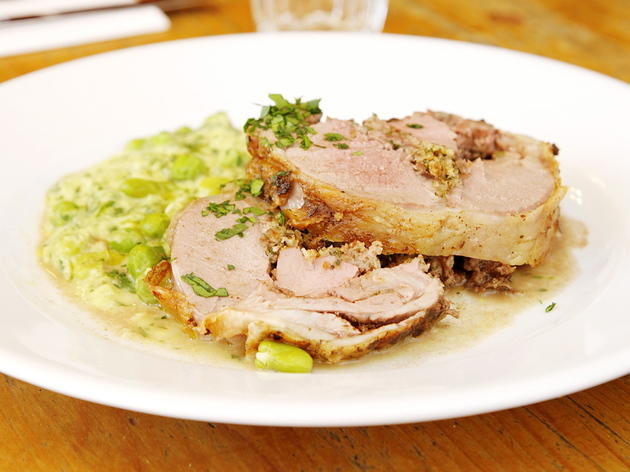 The restaurants in Holborn offer outstanding food with a side of adventure. Take in some burgers, milkshakes and bowling at All Star Lanes, or enjoy afternoon tea at Bea's of Bloomsbury. Read the Time Out guide to Holborn restaurants and cafés to find the right one for you.


Sponsored listing
Holborn Dining Room
If there is a formula for the perfect British brasserie, it would undoubtedly involve plush leather upholstery, polished marble floors, a sprinkling of copper and more than a hint of oak. Akin to a stately gentlemen's club, the service would be impeccable, while the cooking wouldn't offend diners' palates or risk displacing older patrons' teeth. If anyone should know how to set up such a restaurant it's Des McDonald, who after 20 years running Caprice Holdings is behind this new hotel dining room.  From the comfort of the red leather and tartan-trimmed banquettes in the sweeping expanse of his retro dining room, you can tuck into a range of classic British cooking, diner-style dishes and homely desserts, while a host of smart waiters attend to your every need. True to form, the food is mostly subtly flavoured and soft-textured.A starter of roasted langoustine saw the sweet shellfish enveloped in a pleasing garlic and butter sauce simply presented in a cast-iron pan. A main of 'hock and coq pudding' turned out to be more racy in name than flavour, with tender strips of chicken and ham encased in a pastry shell, framed by a bright green parsley sauce. The Holborn Dining Room may not serve the most exciting food in the capital, but it's comforting, won't scare the maiden aunts or the in-laws, and is an appealing place to get away from the chaos of modern London.
"Festive party menus are available from November 28 to December 24 for lunch and dinner. Menus start from £65 per person."
You might also like