London's best Korean restaurants
Chow down on kimchi and bulk up on bi bim bap at the best Korean restaurants London has to offer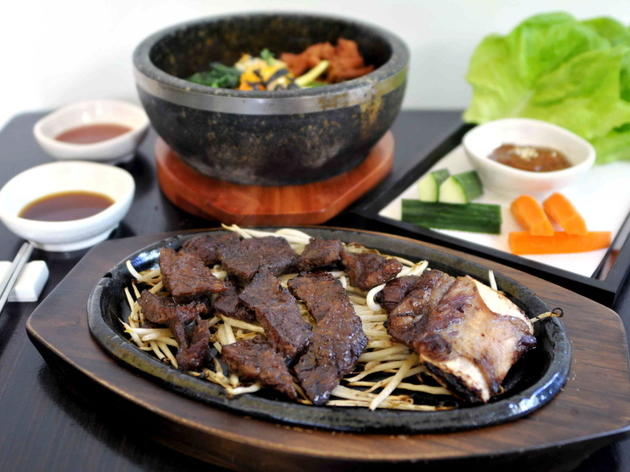 If you've got that kimchi craving, then you've come to the right place. These are the best Korean restaurants in London. Do you agree with our choices? Use the comments box below or tweet your suggestions.
With a discreet entrance just by Holborn station, Asadal has been the go-to venue for Korean food fans in central London for many years. On a Friday night, the stairs leading down to the dark, spacious basement dining room were filled with hopeful diners queuing to get a table. The busy restaurant took its toll on the staff, who weren't as efficient as we've known them to be in the past. Asadal wasn't on top form this time, but it certainly still draws a crowd.
Read more
This is the second branch of the popular Korean mixed rice restaurant in Soho. Since the first branch opened in 2011, Bi Bim Bap has become a regular favourite for a cheap and warming bowl of its namesake dish – bibimbap. Served here in hot stone bowls (dolsot), there are ten varieties of the spicy rice mix to choose from including beef fillet, spicy pork and five different veggie options, all topped with a range of shredded vegetables and ready for you to mix with all the chilli sauce (gochujang) and bean paste you fancy.
Read more
There's a real warmth to this residential Raynes Park restaurant, which pulls an appreciative crowd of Eastern and Western diners. Even on a cold, dark evening, the dining room feels light and bright – and comfortably cosy. The smiling staff are happy to talk you through a menu that contains more than just the standard array of barbecues, stews and stir-fries. Even the complimentary panch'an are better than average, with subtle own-made kimchi and sweet, nutty adzuki beans a regular feature. Without doubt, this is one of the best Korean restaurants in the London area.
Read more
This restaurant next to Finsbury Park station established its reputation soon after opening in 2008. It's still nigh on impossible to get a table without booking – even on our early-evening midweek visit, several hopeful diners were turned away. All's not lost if you don't bag a seat, however, as they do offer takeaway. Even on an off-day, it's hard not to be forgiving, thanks to the well-prepared and well-priced food.
Read more
Translating as 'my neighbour Jee', Jee Cee Neh is an apt moniker for this restaurant, which has a decidedly homespun feel. It's often packed, with a mix of Korean and Western customers, and at weekends is a popular family lunch spot. Like the venue, the authentic dishes are homely and unpretentious. Service can be variable, but usually comes with a smile.
Read more
Venue says: Please call us to reserve your table and to enjoy an authentic Korean table barbecue.
Koba remains one of the strongest players on the West End Korean scene since opening in 2005 – we've yet to have a disappointing meal here. Barbecue meats such as beef kalbi or bulgogi are well marinated, and grilled at the table by efficient staff. Barbecued squid was fresh as a daisy, with just the right amount of tongue-tingling heat in the vibrant red sauce. Stews make a sound choice too, with umami-rich stocks and accompanying bowls of pearly rice.
Book now
Read more
Like so many of the Korean eateries in New Malden, Korea Garden sits halfway up an unremarkable residential street. The green plastic signage and generic dish pictures displayed in the window give little indication of the quality of the food here. But once inside, it doesn't take long to work out what the main attraction is. The chef is trained in both Korean and French cuisine, which imparts a subtlety to the flavours, and keeps both Korean and Western diners coming back for more.
Read more
Korea House may be plonked on a busy stretch of the Burlington Road, but don't let that put you off – it's worth a visit. The characterful interior is decorated with wooden masks and Korean calligraphy; to one side are a couple of quiet tatami-mat rooms. Service was both gracious and informative. The restaurant's name changed in 2012 (it was formerly called Hankook), but the extensive menu is the same as ever, covering the usual barbecues, stews and variations on bibimbap, plus Japanese sushi.
Read more
Naru puts more emphasis on cheffy presentation than most Korean restaurants, with zigzagged sauces and stacked ingredients. It's not a matter of style over substance, though – this is a solid venue for quality Korean classics, with a few innovative touches. Conspicuously absent from the dining room, which is adorned with wood-framed Hangul calligraphy and paper lanterns, are any table-top barbecues. Instead, the meat and seafood are grilled in the kitchen, then brought sizzling and succulent to the table.
Read more