Shoreditch restaurants
Time Out's guide to the best restaurants in Shoreditch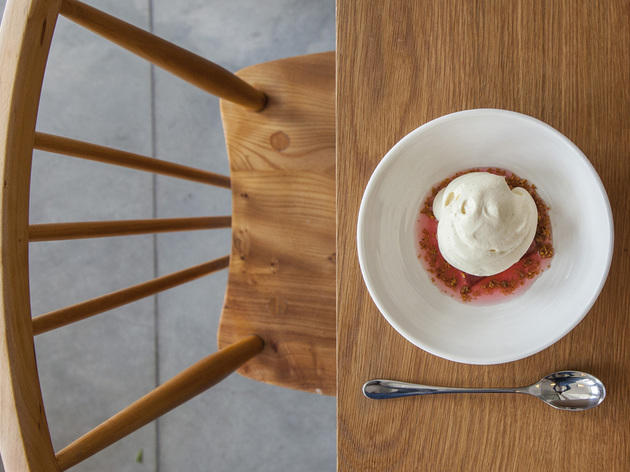 For a sumptuously satisfying feed, Shoreditch is a safe bet. Expect fantastic steaks at Hawksmoor, and if you're after something a little different, head to Rochelle Canteen. Check out Time Out's guide to the best restaurants in Shoreditch for even more options. And don't forget to read our guides to Shoreditch bars and clubs.
Hawksmoor's USP is in supplying excellent produce cooked well, focusing on top-quality beef from renowned London butcher Ginger Pig. There's a serious attitude to beef provenance and an impressive list of breeds; Longhorn is always available, but guest breeds range from Herefords to Lincoln Reds.
Read more
Eating at Melanie Arnold and Margot Henderson's daytime-only spot remains a distinctive treat: entry is via a buzzer on a tiny door in the wall of an old Victorian school on Arnold Circus, now a hub of creative studios. Inside, a handful of outdoor tables and a former bike shed converted into an airy, modern space act as the canteen for the creatives working here, and those lucky outsiders in the know.
Read more
Hoi Polloi is accessed via a tiny flower shop. Walk straight through and the large restaurant (from the team behind Bistrotheque and Shrimpy's) reveals itself with a mix of retro and contemporary styling that wouldn't look out of place on a Scandinavian cruise ship circa 1950.
Read more
'Wham-bam, thank you m'am' – the new normal for London's restaurants. Book ahead? You're having a laugh. Queue? Of course. Meals come and go at breakneck speed, and before you can even settle into your faux-distressed school chair, the bill appears and you're out on your ear, wondering if it was all just a dream. If that's the kind of fast and furious that floats your boat, then you should probably give Lyle's a swerve.
Read more
Boho Mexica's claims to authenticity rely on its domestic labour-of-love approach – chef Tía Patty, the owner's aunt, uses recipes learnt from her mother. While a starter of bland guacamole disappointed, painstaking care showed through in another of slow-cooked beef brisket, and crispy tostadas of green plantain topped with prawns and roasted habanero peppers had us happily glugging back our cocktails.
Read more
On a Saturday night at Merchants Tavern, Angela Hartnett stood by the open kitchen beaming from ear to ear. Understandably so – this new Shoreditch restaurant cuts a fine figure with its retro curved green leather booths, comfy chairs and exposed brickwork.
Read more
There's never a dull mouthful at Andina, which charms your tastebuds with its Peruvian-inspired ceviches, street food, cocktails and colourful smoothies. Andina is the second branch of the fun-loving Ceviche, but rather than imitating its older Soho sibling, it has new tricks, some of them inspired by the food of the Andes.
Read more
Sit in Dishoom's basement dining room and you can watch the Indian chefs at work. Our seekh kebabs arrived well spiced, the minced lamb juicy, served piping hot from the grill. Many more distinctively Bombay dishes are on the menu, including bhel (a spicy puffed-rice snack) and pau bhaji (spicy vegetables in a bread roll).
Read more
The popularity of Pizza East, one of the first bastions of Shoreditch gentrification, hasn't waned. This Soho House operation still packs out the landmark Tea Building, with hipsters and City boys arriving to eat well past 9pm during the week.
Read more
The dining space at the Rivington Grill is calm and white, with crisp linen and enough of both formality and trendiness to gratify different audiences. Contemporary art such as a Tracey Emin light sculpture add a splash of Shoreditch cool. Menus follow the distinctively British style set by Mark Hix, chef-supremo of Caprice group when the Rivington opened.
Read more
Up the spiral staircase from the bustling downstairs bar, the dining room at this 250-year-old corner premises is a good-looking, cosy space. A dozen linen-clothed tables – candlelit at night – are served by a small team of young, efficient staff.
Read more
After over a decade in existence, Eyre Brothers is a trusted local fixture, equally attractive to couples, Shoreditch's young movers 'n' shakers and suited City persons deep in lunchtime conversation. The low-ceilinged, dark-wood and leather design helps – it's contemporary-classic without flimsy trendiness.
Read more
Find cheap eats in east London