South Bank restaurants
Discover the best places to eat along the South Bank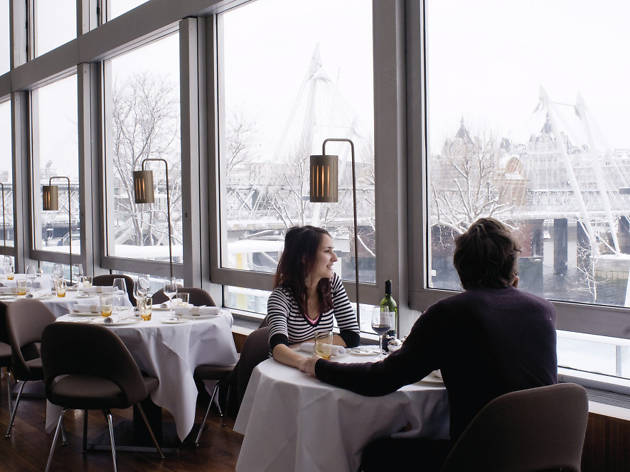 After a lengthy stroll along the riverside, you're going to need a feed. Sadly, the South Bank is a bit of a mixed bag when it comes to dining out. If you don't fancy footing it round the corner to Borough for better fare, you can still find relief with our list of South Bank restaurants. From budget and mid-priced chains to more interesting options at institutions like the Tate Modern and the National Theatre, enjoy dinner with a view in among the action.
Restaurants on the South Bank
After years of struggle, BFI Southbank has finally figured out its catering. Or, rather, they got Benugo to figure it out for them. The low ceiling, square dimensions and lack of natural light have long hampered the riverfront space, and Benugo haven't succeeded in making it into an appealing venue. But it's a different story in the newer bar further back, busy with a mix of cinephiles and other revellers who've realised this is the place to drink on the South Bank.
Read more
Footfall keeps this SE1 branch of the popular chain busy, even if, tucked away around the back of the building, it's away from the main Royal Festival Hall drag. It's one of two Canteens in London, with its sister site in Spitalfields. The group was one of the first to reappraise British cuisine, and the ethos remains the same today. Expect, then dishes such as devilled kidneys on toast, sausage mash and onion gravy, ham, egg and chips, daily-changing pies and smoked haddock with spinach and mash.
Read more
As you'd expect, the food at this third branch of coffee-roasters-turned-fusion-fare hawkers Caravan is sound – with a broad, globally peripatetic menu branching ever wider from the Antipodean fare it first made its name with in Exmouth Market all those years ago. Snacks of cornbread and peanut wontons – practically humming with the earthy funk of blue cheese – are reliable staples harking back to those early menus, and Caravan succeeds best when merging East and West. Plus, the cavernous room – all lofty height, stripped wood and metal girders – looks marvellous.
Book now
Read more
Serving sustainably sourced fish and regular seasonal menus, Feng Sushi takes its ethical/eco responsibilities seriously. During spawning season they particularly promote vegetarian options, for instance. Their tofu comes from Clean Bean, which manufactures on Brick Lane. A choice of chilli or miso dressings adds finger-licking goodness to edamame, and fruity vinegar drinks make a refreshing change from tea.
Book now
Read more
If you don't love Giraffe, you probably don't have children. It's not that giving birth suddenly creates a taste for burritos or pesto oil, but new parents have a heightened appreciation of such elements as well-spaced tables, buggy parking, unflappable staff and ground floor toilets. Giraffe's crayons, sheet of games and spot-on kid's menu have given many a couple the simple luxury of a breather on a hectic day out – and the food's not bad.
Read more
The National Theatre' flagship restaurant was revamped in summer 2014, hiring three new chefs in a publicity-grabbing, MasterChef-style cook off. A serious interior sets the tone for cooking of considerable ambition and adventurousness, though there are more conventional dishes. Desserts make it clear that chefs here possess creativity that's bursting to get out. The perfect location if you're seeing a performance at the Olivier or Lyttleton Theatres.
Read more
"Book your table now for Valentine's Day – Champagne, live music and impeccable views will accompany your romantic set menu."
The Oxo Tower is a London landmark, and its two restaurants and bar emanate a sense of occasion. A glass frontage makes the most of river views, with St Paul's and City buildings easily visible. Dishes here range from a root veg and pearl barley risotto, lobster tempura with a seashore vegetable broth, and venison terrine with pumpkin chutney and toasted brioche.
Book now
Read more
Ping Pong makes dim sum for the not-always-initiated – 'little steamed parcels of deliciousness', in its own words. That means dumplings, and lots of 'em. Expect the full range of beef, chicken, seafood and vegetable options – not just steamed, mind, but fried too – plus soups, buns, rice dishes and desserts.
Book now
Read more
Show more
Find more South Bank restaurants
Find more options in the area
Eating out in London Bridge is all about knowing where to look. Magdalen, which is easy to miss on the busy Tooley Street, serves outstanding British food that shows a real attention to detail. Champor-Champor provides Asian fusion cuisine that resists most labels, aside from 'great'. At café and gallery Caphe House, you can pick up a Vietnamese baguette, called bánh mì, along with a painting, if you want.
Read more