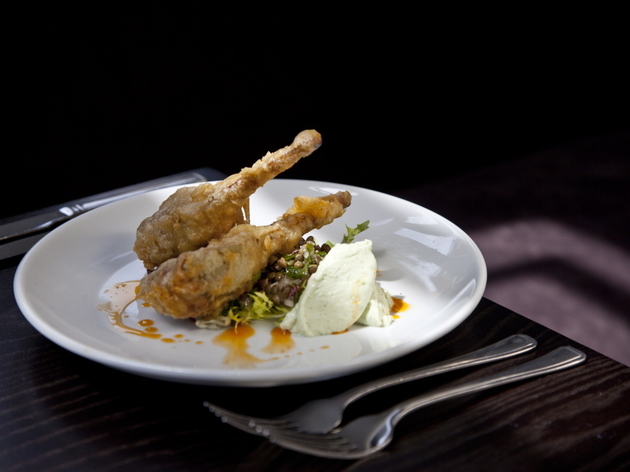 First impressions augured well: on a midweek night, every table was full and the place was humming. Our neighbours had schlepped all the way from Hammersmith while their favourite restaurant – the original Gate – was being refurbished (due to reopen autumn 2013). This is a class act, with a modern and airy interior featuring an open kitchen/bar and big industrial lights under which to examine the menu.
There are plenty of à la carte starters and mains and, for the indecisive, a great mezédes menu – one plate for £4, three for £10, five for £15. Every dish was beautifully presented, with a little dish of aïoli, pepper coulis or harissa to complement the leading flavours: halloumi skewers; artichoke tempura; crunchy balls of couscous, feta and mint; tortilla with tasty beetroot and goat's cheese filling. Desserts are no less fabulous: lavender crème brûlée, apple tarte tatin with cinnamon ice-cream and, genius this, even a dessert meze (allow 15 minutes) for £15.
We've already planned to go back for the weekend brunch, not least because we love the sound of the mamoosa – pan-fried potato with tomato, scrambled eggs and coriander, served with salad and schoog (green chilli dip). Vegetarian food never tasted so good.
Venue name:
The Gate
Contact:
Address:
370 St John Street
London
EC1V 4NN

Opening hours:
Lunch served noon-2.30pm Mon-Fri. Brunch served 10am-3pm Sat, Sun. Dinner served 6-10.30pm Mon-Sun
Transport:
Tube: Angel
Price:
Main courses £12.50-£15.50. Set meal (5.30-7.30pm) £15 2 courses
Menu:
View Menu
Do you own this business?
Average User Rating
2.8 / 5
Rating Breakdown
5 star:

2

4 star:

2

3 star:

1

2 star:

0

1 star:

4
The Gate, Islington
I have come to the Islington branch (there's another one in Hammersmith) a handful of times over the last 3 or so years and the food has been amazing every time.
They always use fresh, seasonal vegetarian ingredients, and they're big on corporate social responsibility- but don't let that bore you. You really don't have to be a vegetarian hippie to appreciate and enjoy their food. I have gone with seriously carnivorous men who have been sceptical about not having a chunk of meat in their meal, but who've ended up leaving full and happy.
The flavour combinations can be surprising- the wild mushroom rotolo and it's heavenly; so is the aubergine schnitzel. And you definitely can not go there and NOT have the divine chunky polenta chips with aioli. Thankfully it's always on the menu and that alone is a reason to go back.
But there's a but: As amazing as the food can be, every time I've eaten here the kitchen service has been slow. You can't pop in for a meal during your lunch hour. You'll need 2 hours just to be safe. More than once colleagues I've dined with have had to take their food away because it's only arrived 45 minutes after ordering, and they've had to rush back to the office with a doggy bag.
Once a fly flew into my cocktail so I asked for another one. The waitress was fine about replacing it- the cocktail not the fly- but the manager wasn't so accommodating. I did get my replacement martini but because I'd had a few sips before the fly decided to dive into it- not sure how many sips; I didn't measure, but obviously someone else did- I got exactly half a martini back, and exactly half the rim was covered in salt. Pretty stingy I thought. I mean, would it have hurt that much just to have given me another proper martini? It's not like they're big. And it's not like I was only spending £6 on a meal deal. If I wasn't with a group of people celebrating a birthday, I might've let my feelings be known. But I let it go. Well, sort of. I haven't been back. Which is a shame because I've been craving the polenta chips since then.
Food 5*; service 3*.
We had high expectations and wished to try The Gate to get more inspiration in our own cooking, we are meat eaters but are trying to eat more vegetarian food to be healthier. Unfortunately every single dish we had was overloaded with cheese. The portion sizes were huge but the food was unappetizing, very rich with the cheese and lacking in flavour or texture. We were expecting innovative and healthy vegetarian food but walked away feeling over-full and bloated.
The meals are overpriced given the very small portion sizes. The food isn't very impressive either. I definitely won't be going again.
I've been to The Gate several times and it has never failed to impress me. The food is consistently delicious and inventive and the service is always friendly and attentive. This restaurant is one of my favourites in London, and always makes for a special evening.
I was really excited when I saw that the Gate was opening in Islington as I'd been hoping for a vegetarian restaurant to open here for ages, but it doesn't really work. The food isn't as delicious as places like Ottolenghi and the atmosphere is the worst thing. They were playing club music when we were in there and the acoustics were really bad with the wooden floor. It didn't make me want to run back, which is a real shame, as I want to love it.
Terrible overpriced food and rude service. Avoid
Went to the Gate for Sunday Brunch. Had amazing halloumi cheese and mixed pepper skewer as a starter and for main I had the large beetroot, watercress and goat cheese salad and my partner had the corn cake from the mains menu. Both of the mains were absolutely delicious and nicely presented!
If you want very very small portions of vegetarian food and stupidly high prices, The Gate will suit you. A real disappointment.
More venues
Sponsored listings