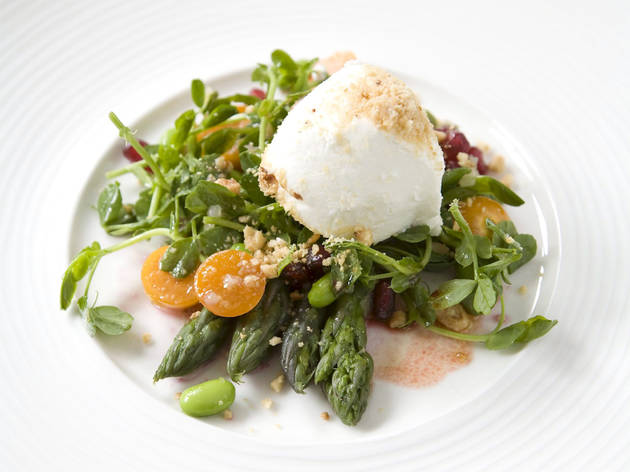 1/6
© Ming Tang-Evans
2/6
© Ming Tang-Evans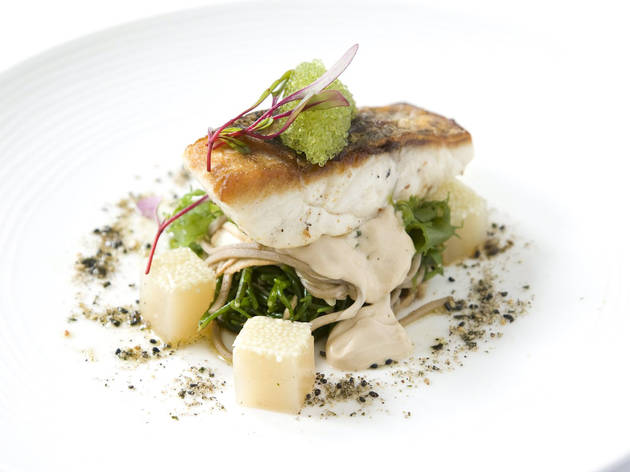 3/6
© Ming Tang-Evans
4/6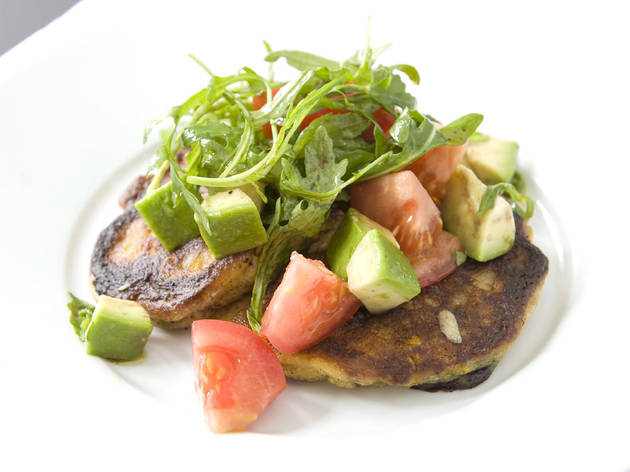 5/6
© Ming Tang-Evans
6/6
© Ming Tang-Evans
London's first Fusionista, Peter Gordon combines the buzzy Tapa Room on the ground floor with the more formal but still intimate Providores restaurant upstairs.
Peter Gordon is on a roll. His funky, relaxed fusion café and restaurant Kopapa has been going great guns, and summer 2013 saw him taking the famous Sugar Club kitchen back to his native New Zealand for a starry hotel launch. None of this has taken the shine off The Providores & Tapa Room, his flagship Marylebone project.
On the ground floor is the Tapa Room, a casual, buzzy space heaving with well-dressed locals knocking back top-quality coffees, New Zealand wines and an all-day menu of small plates. Upstairs in the more formal but still intimate Providores restaurant, everything is ratcheted up a notch. You pick between two and five courses from the sonnet-like menu of small plates, sit back and wait to be blown away. But you're not – not quite.
Few, if any, menus like this can hit the high notes with every dish. We liked almost everything – though the scallops with a bright salad and beurre noisette hollandaise were all but ruined by a spicy ketchup-like bloody mary sauce; and dal-stuffed tempura was ill-conceived. Still, coconut laksa mined with a fish dumpling and quail's eggs was deliciously memorable, and the meat dishes (pork, beef, duck) all inventive and well executed.
For a good dinner out, however, we're more tempted by the lower prices and expectations met at Kopapa.
Venue name:
The Providores & Tapa Room
Contact:
Address:
109 Marylebone High Street
London
W1U 4RX

Opening hours:
The Providores Lunch served noon-2.45pm Mon-Fri. Brunch served 11am-2.45pm Sat, Sun. Dinner served 6-10.15pm Mon-Sat; 6-10pm Sun. Main courses (lunch) £17-£25. Set lunch £20 2 courses. Set dinner £33 2 courses, £47 3 courses, £57 4 courses, £63 5 courses. Cover (brunch) £1.50
Transport:
Tube: Baker Street or Bond Street
Price:
Tapa Room Breakfast/brunch served 9-11.30am Mon-Fri; 10am-3pm Sat, Sun. Meals served noon-10.30pm Mon-Fri; 4-10.30pm Sat; 4-10pm Sun Tapas £2-£14.40
Menu:
View Menu
Do you own this business?
Average User Rating
3.3 / 5
Rating Breakdown
5 star:

8

4 star:

3

3 star:

1

2 star:

5

1 star:

4
Good good, unfortunately the portions are absurdly small and it's very expensive.
Loved everything about this place, service, food, price and atmosphere - perfect
Attempted to make a reservation for 8 people for Sunday brunch and we were going to be placed in the restaurant as it was not possible to reserve the Tapa room. The clincher was being informed that we would be paying a cover charge of £1.50 per person as our table would have a table cloth. Needless to say we quickly cancelled our reservation, before we were told what the crockery and cutlery were going to cost us!
Great lunch. Lovely set menu with a different kind of menu; non-traditional combinations. The settings and deserts was sophisticated. The wines lovely.
I have had a few meals at Providores over the last 10 year. I had one 2 weeks ago (with international guests) and was a little shocked at the decline. The food was still good but not good enough for the price. The staff were quite unfriendly (and didnt really know the menu). The upstairs restiarant also feels tired and old, acceptable 10 years ago but not with the competition today. If you are looking for the Antipodean food experience you are better served at the Modern Pantry (the chef here trained at Providores a few years ago).
We ate at the restaurant upstairs on a Saturday night. The room is beautiful. The staff however were really unfriendly. I was offered a stale piece of bread, no apology for this (after I said it was stale) and asked to take it by hand, lovely! Food is way overpriced. Meal for two with wine was close to £160. That is top end dining prices and the service should follow suit. We even shared a dessert! My main was basically a samosa and completely over peppered. Wine was excellent, though. Just felt ripped off and a bit sad by the end. A shame because it could be so much better with a bit more charm.
Absolutely brilliant restaurant. Delictable food, attentive but non-intrusive service, modern relaxed elegant dining. Yum Yum Yum.
Ah, Providores, what a lovely treat for Valentines night...were my initial thoughts. This changed within 10 mins of being in the restaurant. Experience was; - met at door by a man who ticked us off a list without even looking at us, and then told to wait in the window area - no pleasantries made or offer of drinks - told to go upstairs - no direction, had our coats taken by an equally disengaged waitress - told to enter the restaurant where we would be seated - noone around in restaurant so waited for coat lady to sort our coats and then come in and seat us - seated next to the kitchen so were were able to listen to the squabbling staff (they weren't a happy bunch sniping at each other all night) - endured cigarette smell of waitress when she came to take our order (presumably straight after fag break) - cold lamb (that should've been hot) Aside from that the food was really tasty, on the pricey side but happy to pay that for the quality - some fantastic flavours. The staff weren't over-worked, there were plenty of empty tables and judging from the amount of rude chatter and squabbling in the kitchen we had to listen to they clearly weren't rushed off their feet. It's a real shame for the chefs that the front of house staff were so miserable and disinterested. We won't be going back. From the reviews below I see that this has been a problem for quite some time, presumably the management don't care. At least this has taught my other half to read reviews in future....Spend your money elsewhere!
If you are going there to simply eat food, perfect location. I loved everything I ordered. It is worth for the price, though not cheap
Dreadful experience in the upstairs restaurant Friday night a few weeks ago. Ive never written a comment about a restaurant, but this was such an expensive rip-off I felt I had to. To start with, we booked a table for 4 and they plonked us by the door - a request to move to a window seat and push two tables together was ignored. It wasnt a hot day, but the aircon was on full blast and it was freezing. The atmosphere was as cold as the temperature, the room started to fill up but was deafly silent. The toilets were down steep stairs, in to the busier tapas bar with lively music and better looking food. Unfortunately i was dining upstairs, where the staff outnumbered the diners in this tiny room and it felt like our conversations were being listened to by bored servers who were whispering rudely. The food, 2 courses for £32 or 3 courses for £46 was the biggest let down. Every dish was starter size at best - we were warned about this, but that did little to help now we were sat down and stuck with the menu. We left hungy and skint, if you are hungry in Marylebone, avoid dining at The Providores - save £100 and go for entrecote at Le Relais de Venise!
I've eaten at a succession of Peter Gordon restaurants with pleasure - Bali Sugar, Sugar Club and Tapa Room. Then a few years ago, the prices went up, the portions got smaller and the presentation declined. The scallop in the Scallop with Chilli/Creme shrank each time I visited. The downstairs cafe just fails on cost/benefit. I cant comment on the room upstairs.
Frankly, i do not understand the negative reviews as stated below. In fact, I am dumbfounded by them... Even though there were so many negatives on this page, we decided to trust the Time Out review as we usually do when we travel around the world and tonight, the service was impecable, the place was absolutely rocking with great people, the food was delicious, and the wine list impeccable. From the moment we arrived, the person in charge took extra care of us, even if the place was absolutely packed with people who, by the look of their reaction to the food, were clearly enjoying themselves. Every waiters who attended to us throughout the whole evening were kind, caring, and made absolutely sure we had a good time. The food was delicious and we very much enjoyed the New Zealand wines on offer. The Providores is definitely recommended and for sure i will return on my next trip to London!
I'm assuming the staff knew the TO reviewers were in because my experience chimes with the other customers here. The service was appalling. The waiter was rude and absent minded, it was only when my friend engaged him about where he was from, that he smiled. The food was underwhelming and overpriced for what it was. We ordered some plates to go with our drinks, we may ordered badly but even so: prawn dumplings that were perfectly ordinary, sardines ditto, chicken liver pate that could have bought in your local mini-mart. Only the ham hock croquettes and chorizo were as you'd expect for the price. Avoid.
Over priced with poor service. Was quite busy and we thought it must be good and went in. Turns out most people were waiting ages for their food. The staff were more interested in chatting amongst themselves. Drinks were ready and waiting on the bar for ages before someone managed to take them to a table. It's a great looking place and if the food had been served up in a timely fashion, we would have loved our experience. Shame about the front of house staff letting the side down. Took over 15 minutes to get to pay our bill...... that about sums it up. Feel sorry for the chefs who prepared all the good food only for it to be cold by the time we got it. Would not really be tempted to go back. There are so many others within a stones throw who have better service.
More venues
Sponsored listings