Search
2 matches found
Shopping centres & malls
Stratford
What's On -
Until Sun Jan 4 2015,
- Take a magical tour through the enchanted woods and into this fairytale house which holds a dark secret. As you try to discover the truth behind Red Riding Hood's disappearance, the maze you explore will rustle and whisper and you'll be immersed in the...
The 'city within a city', Westfield's £1.45 billion retail behemoth snakes through the Olympic site, with 300 retail units – the cornerstones of which are gigantic versions of High Street brands John Lewis, Marks & Spencer and Waitrose – 70 restaurants,...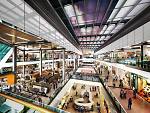 Department stores
Stratford