Search
1 match found
What's On -
Thu Sep 11 - Fri Sep 12,
- Electropop by the five-piece group who originate from Budapest, Hungary.
+ 9 MORE
When this seen-'em-all pub and music venue successfully campaigned against proposals to transform it into a gastropub at the end of 2009, its PR war relied heavily on its heritage. Having hosted live music since 1963, the Half Moon named but three groups...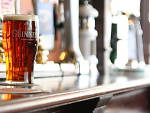 You refined by:
Remove all
Categories
Types of venues