London Fashion Week FAQs
Everything you need to know about the UK's biggest fashion fest
By Time Out editors Wed Aug 28 2013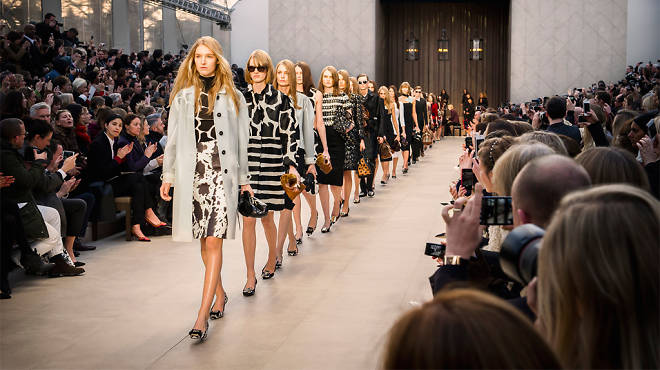 What is London Fashion Week?
Like peacocks fanning their feathers, the four biggest fashion weeks – Milan, New York, Paris and London – like to out-do each other by hosting the biggest catwalk shows by the world's best designers. Our homegrown showcase (organised by the British Fashion Council) takes place twice a year and gives top international talent a chance to present their latest collections to a rapturous (and self-consciously groomed) parade of global press, industry buyers, bloggers, photographers and chancers.
When is London Fashion Week?
The spring/summer collections are shown in September each year, while autumn/winter collections are presented every February (the next one runs February 14-18 2014).
Where is London Fashion Week?
After many years at the Natural History Museum, London Fashion Week moved to the courtyard and buildings of Somerset House in 2009. The exhibition, which is a static showcase of designers, takes place in the Somerset House Galleries, while a courtyard marquee hosts catwalk shows by invitation.
Many designers choose to showcase their wares at other locations – from the Royal Opera House to the Turbine Hall at Tate Modern, where Matthew Williamson hosted the venue's first fashion show in 2011. Meanwhile, if you're without an invitation (getting you entry to the exhibition itself), some of the best fashion can be seen outside on the cobbles, where bloggers take turns to photograph each other in flamboyant garb.
How do I get tickets to London Fashion Week?
If you're a fashion mover and shaker (and you've registered on the LFW site), your stack of invites to individual shows is in the post. If you neither move or shake in the industry, it's exceptionally tough to get into private shows. There is, however, a programme of public shows and fairs which take place away from the official schedule.
What is the schedule for London Fashion Week?
There are more than 60 catwalk shows taking place over five days. There is also a programme of off-schedule events and presentations. You can see it here.
What should I wear during London Fashion Week?
Well, it depends if you have your heart set on being snapped by one of the hawkish bloggers and paps who stand in and around Somerset House hoping to get a portrait of the most fashionable and fabulous. If so, don't just think 'on-trend', think eccentric, ultra-creative or super-chic. Personally, we favour flat shoes, but we've seen many a slavish stylista wobbling over the venue's cobbled courtyard in towering platforms.
Which designers will be at London Fashion Week this year?
The line-up in London is better than ever this September – we've even bagged labels like Tom Ford that have their pick of the globe. If you can get a seat, hot tickets include Christopher Raeburn and Eudon Choi on Friday; Antipodium and Holly Fulton on Saturday; Paul Smith, Vivienne Westwood, Preen and Manolo Blahnik on Sunday; Erdem, Burberry, Christopher Kane and Tom Ford on Monday; and Anya Hindmarch and Simone Rocha on the final day.
Will there be a chance to mingle with designers and celebs?
It depends how pushy you are. If you have a ticket to some of the big shows, you can definitely play spot-the-celeb in the front row. The most celebby shows tend to be Topshop Unique and Burberry – who fly in their favourite style stars from all over the world to ensure a ritzy turnout.
---
The self-professed 'wildcard' of British modelling talks shop
Does the popstar actually do any designing?
The youngest of the sorority wishes £10 got you more
More shopping interviews