Primping ain't easy: London's best dog groomers
George, our intrepid canine correspondent, tests the capital's premier parlours for pooches
By Sara White Mon Aug 19 2013
Purplebone
On Monday, the most handsome hounds in the capital will be frantically sprucing up in preparation for the Paw Pageant – a hilarious canine fashion parade–in Old Spitalfields Market. Thinking of entering your furry companion? Then you've got some grooming to do. I volunteered my yorkie cross George for a makeover with London's finest pooch primpers. These are the pick of the litter.
Purplebone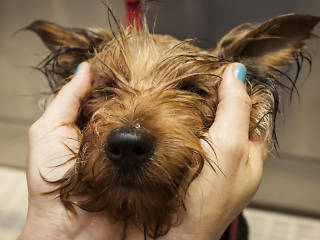 The vibe
A funky lifestyle destination for west London's more modern mutts. Forget old- fashioned cages – post-pamper, pooches can take a load off on luxurious Ibiza-style canine cushions in perspex-fronted chill-out zones.

The treatments on offer
Wash and Fluff Dry (from £30), Pawdicure (£10), Full Glam Session (from £50).
The review
George was smeared in Paul Mitchell detangling shampoo and given a thorough de-matting, much to his displeasure. A good blast of hot air got the fluff dry under way as he was transformed from drowned rat to handsome hound in a jiffy. Dreadlocks will not do at a beauty pageant, particularly in the pubic area, so George was swiftly treated to a 'dogzillian' sanitary trim to tidy up his knotted nethers. He left fresh and fluffy, ready to sniff out some cheeky west London bitches.
95 Notting Hill Gate, W11 3JZ. www.purplebone.com
Groom Dog City

The vibe
East End pooch punk – this Hoxton pamper parlour uses 100 percent natural dyes* to give the hipster hounds of Hackney flashes of colour to match their owners.
*Colouring subject to dog's suitability
The treatments on offer
Sugar and Salt Scrub (from £5), Feather Extensions (£10), Full Body Colour (from £50).
The review
Expertly appropriating the dip-dye trend, George opted for some extensions using cruelty free feathers in punk purple. His new ear adornments were painlessly applied and seemed perfectly comfortable. Bringing the whole look together, a bright purple flash of colour was applied down his back using a non-toxic Blo-Pen, which really made him stand out from the canine crowd.
9 Ravenscroft St, E2 7SH. www.groomdogcity.com
The Pet Spa at Harrods

The vibe
The undisputed king of doggy indulgence. After a quick run on the treadmill, while watching cinematic classics like 'Beethoven' and 'Turner & Hooch', cultured canines slide into a state of boundless bliss with calming candles, fluffy towels and luxurious bubble baths. Pupcakes and pupcorn are on hand for hungry hounds.
The treatments on offer
Aromatherapy Bath & Body Massage (£49.95), Canine Communication and Reiki Healing (£175), Spa Day (four hours, £295).

The review
George went straight in for a VIP reception and beauty consultation. A blueberry and vanilla face mask was slathered on to give a healthy boost of antioxidants and eliminate those unsightly tear stains. A luxurious lather of shampoo and a sweep of the blow dryer got him all in a fuzz, so a pupcake was administered with haste. A final spritz of Harrods pooch spray left him smelling like a newborn pup.
Fourth floor, 87-135 Brompton Rd, SW1X 7XL. www.petspalondon.com
Primrose Hill Pets

The vibe
A back-to-basics, no-nonsense salon where groomer and dog-whisperer Antonio works wonders on messy mutts with all the cutting skills of Vidal Sassoon.
The treatments on offer
Full groom (from £30), Pawdicure (£10), Cat Groom for the pussies (from £30).
The review
Antonio used his special calming powers to send George into a zen-like state while he went to work on creating the perfect doggie 'do'. The fur was really flying as he shaped and shaved, lopping off dull split ends to reveal a debonair new look, including a sharp set of eyebrows that would make Alex Mills proud. His sleek new physique was then dunked into a bath of manuka honey and mango bubbles, followed by a glossy blowdry for a final furry flourish.
132 Regents Park Rd, NW1 8XL. www.primrosehillpets.co.uk
Sara White is the editor of online pet magazine www.styletails.com.
Images © Ed Marshall and Rob Greig
The country comes to town with this scruffs' Crufts-style dog show, complete with prizes in eight categories including best dressed dog, and owner. Alongside the pooch parade will be a specialist market selling accessories, food and toys for your pet, as well as food, accessories and toys for you. It's free to attend, but £5 advance pre-registration if you want to enter your dawg or £8 registration on the day.
See more about Paw Pageant 2013
---
This one goes out to all of the city's four-legged best friends. Sara White writes StyleTails, an online lifestyle magazine full of fashion and London tips for our canine pals, and has kindly recommended five secret London spots which welcome furry little fellas. No hell-raisers though please; he may be the apple of your eye, but if Fido is prone to knocking over things that shatter easily or chewing on things which aren't strictly chewy, then he might need to stick to the park…
See Sara White's top five dog-friendly London spots
---
The self-professed 'wildcard' of British modelling talks shop
Does the popstar actually do any designing?
The youngest of the sorority wishes £10 got you more
More shopping interviews
London's best...