The best nights out in London this week
Looking for a night to remember? We've selected this week's very best evening activities
By Time Out in association with Windows Phone and the Nokia Lumia 925
Whether you're throwing some shapes in an edgy Dalston disco or sipping classy cocktails on a rooftop, no night out is complete until you've roped your friends into an impromptu photoshoot. Thanks to its great capabilities in low light, the Nokia Lumia 925 smartphone is the ideal tool for the job – allowing you to capture and share your night however you want, no matter how dark the venue is.
So now that you can get a whole new perspective on your good times, why not go all-out, ditch the predictable, and try one of these more unconventional restaurants, parties and shows? Alternatively, discover the best things to do in London with our app on Windows Phone and Windows 8.
Find out more about the Nokia Lumia 925 with Windows Phone.
Tuesday August 27
Check out a night of great music at the Roundhouse. Old meets new as the former Talking Heads singer collaborates with the delicate alt-rock voice of Annie Clark, aka St Vincent. It's quite a soundclash but it works – especially with a live horn section and programmed rhythms to get the most reluctant hips wiggling.
---
Wednesday August 28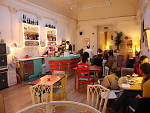 This King's Cross tearoom is a shop at the front, but venture inside and you'll be amazed. It turns into a friendly, lively bar at night where you can do all sorts of things like make Lego models, play board games and have your hair done in a 1950s style, all while you sup with your mates. There's a club in the basement, too.
---
Thursday August 29
Pete Frame is a legend among music fans for his beautifully drawn, meticulously detailed family trees tracing the fates, fortunes, sackings and mid-tour resignations of rock's biggest bands, going back to the 1970s. In this free exhibition his subjects include the Liverpool Renaissance, Children of the Revolution and Heady Days in Madchester. Open until 7.30pm on Thursdays.
Barbican Library, Silk St, EC2Y 8DS
020 7638 8891
---
Friday August 30
You've heard of 'Pop Idol', you know what burlesque is, now you can enjoy both thrills together in this burlesque night where you, the audience, gets to choose who the winners and losers are! The judging panel who will guide you are three arch exponents of this saucy genre – Lola LaBelle, Tempest Rose and Delores Deluxe.
---
Saturday August 31
The hills of Regent's Park are alive with the sound of music at this evening of kitsch singing fun. The lovely setting of the park's open-air theatre is as much a draw as the chance to see a new production of the Julie Andrews classic. Sit among the trees and flowers and enjoy a drink or picnic before the show, and watch the twinkling lights come on as the dusk turns to darkness.
---
Sunday September 1
It might be the first day of September, but don't give up on the summer just yet. Get a true taste of contemporary Brazil, from food and live music to dancing. Arrive early and be introduced to a few steps of samba or forró, a fun dance for all, taught by Carlos Andre, then join in like an expert later on when the music, traditional and pop, starts up.
Guanabara, Parker St, WC2B 5PW
020 7242 8600
Read more
---
Monday September 2
Catch the last late-night opening (until 7.30pm) of this exhibition of art, fossils, furniture, machinery and oddities from the beautiful to the bizarre, all due to be auctioned off on Thursday. If you've a spare quarter million you could pick up a triceratops skull, or £800 might get you a Vivienne Westwood cowboy hat.
Plus see the pedal-powered Waxflatter Ornithopter flying machine from 'Young Sherlock Holmes', Cygan the 8ft-tall 195Os robot, a leopard-print platform-shoe chair, Francis Bacon's paintbrushes, a slice of the Queen's wedding cake and, Russian oligarchs take note, the world's biggest silver caviar dish.
---
---
---
---
Looking for more fun in London?
Just announced
---