Anne Boleyn
Types of venues , Theatre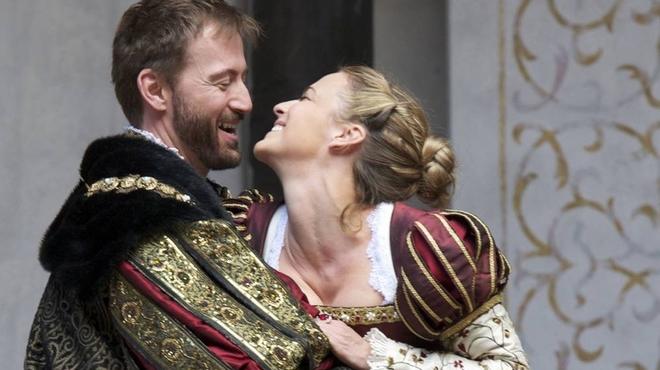 Anne Boleyn © Manuel Harlan
Time Out rating:
<strong>Rating: </strong>4/5
Not yet rated
Time Out says
Mon Jul 18 2011
Writer Howard Brenton has been a living hit for Shakespeare's Globe, writing history plays with a verve and revisionist wit surely inspired by the big man himself.
His 2010 drama, which makes a welcome return to the Elizabethan-style venue it was knocked up for, tackles characters too close to the royal knuckle for Shakespeare: Queen Elizabeth's shrewd but awkward Scottish successor, King James I, and her decapitated mother Anne. Like Brenton's first Globe hit, 'In Extremis: the Story of Abelard and Heloise', 'Anne Boleyn' makes religion sexy – and doctrinal disputes bloody good fun.
Anne, much scarletted by bodice-ripping novels and telly, is recast as a conviction politician. She keeps Henry VIII at comically priapic arm's length for seven years, until he wins her radical Protestant heart by ditching the Pope.
It's an audacious and at times tongue-in-cheek historical rewrite, which gleefully exceeds the numerous facts at its disposal – just what you'd expect, given that the story is presented by Miranda Raison's playful, persuasive Anne.
Anne comes back to haunt James I – and us, the 'demons' of the future – as he brokers religious tolerance and a new English bible. James Garnon plays the tic-ridden surly Scottish King with shades of a gay seventeenth-century Gordon Brown.
Actually, the politicking is more thrilling than the royal sex scandal in John Dove's production, whose undisputed queen is Rainson's Anne. She is a wholly seductive being with the passion of Joan of Arc, the willpower of Margaret Thatcher and the disputatious dazzle of a young Germaine Greer.
She's too good to be true – and a couple of awkwardly invented forest scenes in which she flees Archbishop Cranmer and Thomas Cromwell's bully boys to tryst with her spiritual guru, the banned vernacular Bible-writer William Tynsdale, over-polish her halo. But Brenton wants to make you fall in love with Anne and succeeds with characteristic brio, reinventing scenes from her life with one eye on the violent past and the other on the bawdy, knowing present.
Brenton and Dove have proved they are fantastically good at turning past ills into present laughter. An excellent ensemble – many of whom double in Dove's very jolly current production of 'All's Well that Ends Well' – make the most of the many opportunities in Brenton's breathable script, which is sharp enough to hit every intellectual and emotional target in its sights, and broad enough to embrace every last groundling.
'Anne Boleyn' has drama, royalty, sex, scheming and an ebullient gay spoof on seventeenth-century courtly dancing – in short, as much entertainment value as a Tudor execution.
Share your thoughts