Gatz
Types of venues , Theatre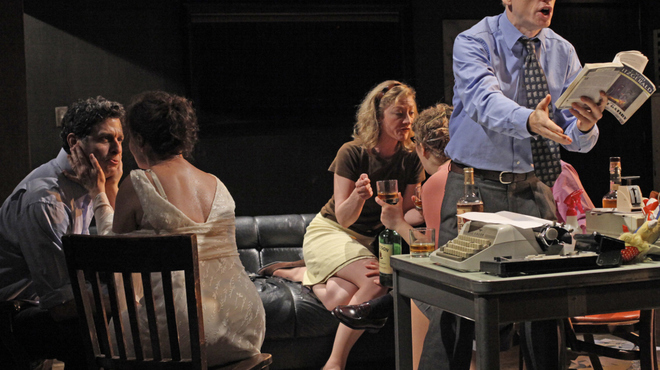 Gatz
Time Out rating:
<strong>Rating: </strong>4/5
User ratings:
<strong>Rating: </strong>5/5
Rate this
Time Out says
Thu Jun 14 2012
The vital statistics of this snob hit from New York are colossal, impressive and daunting. Elevator Repair Service's word-for-word staging of 'The Great Gatsby' requires eight hours of your life, six of which will be spent bum-numbingly in a narrow seat watching one man read F Scott Fitzgerald's 49,000-word novel from cover to cover.
'Gatz' is an extraordinary piece of theatre, which strives to widen your cultural horizons beyond snappy summaries and easy boredom. It doesn't always succeed (I found the first and last 45 minutes, effectively monologues, particularly hard going). But if you can open your mind's eye to it, it will take you somewhere you've never been in the theatre.
Adaptations of 'Gatsby' usually fail because they fall too heavily for the gilded leads (mystery zillionaire Jay Gatsby and Daisy, the siren-voiced objet of his dreams). They lose the voice of its wry narrator, Midwestern bond salesman Nick Carraway. Not this one.
'Gatz' begins when a bored office drone called Nick (Scott Shepherd) finds Fitzgerald's novel in his Rolodex. He opens it and starts to read. It's the beginning of a quietly brilliant performance: gradually, his hunch vanishes, his soul expands, and his monotonous voice is carried away on the dreamy tide of Fitzgerald's narrative.
Essentially 'Gatz' is a long – probably over-long – love letter to the beguiling power of a great book: director John Collins and co show Nick's imagination wax, lyrically transforming his crummy office into the mansions and dust heaps of 1920s New York. But their show only begins to cast its own spell when Nick's downbeat colleagues morph into Fitzgerald's glittering super-rich leads, and the 'casual moths' who are drawn to them and perish.
Robert Cucuzza's racist janitor shades gleefully into Tom Buchanan, Daisy's polo-playing white supremacist moron husband. Postal worker Laurena Allan brings drunken, poignant vitality to his white trash mistress, Myrtle. But the keynote is Nick's boss Jim (Jim Fletcher), who makes a genuinely great Gatsby.
A big, hairless middle manager with a husky boxer's lisp, he brings a twist of thuggish authority to the self-made bootlegger. The morning after Gatsby finds his Daisy, this towering, dead-eyed hulk unexpectedly blooms like a rose, striding into his dim office clad head to toe in blushing pink.
'Gatsby's gorgeousness is often highlighted by 'Gatz's cheap grey frame. The metal filing cabinets and invoices are, on occasion, more romantic than a yacht full of DiCaprios and Redfords, because they illustrate the imaginative power - and real limits – of a dream. But this meticulously acted production also brings forensic, police-procedural clarity to a story whose grisly ending insists on showing what a grotesque thing a rose can be.
As Fitzgerald's silvery sentences sharpen, the beautiful girls, pearls, champagne, fast cars, loose women and starlight that have drifted through them seem like nothing more than the trashy flotsam of wrecked dreams.
ERS's adaptation gets to the heart of 'The Great Gatsby' because it too is about desire, not its meretricious objects: the extravagant desire that motivates romantics, self-made men, makers of marathon theatre shows and anyone whose dreams are larger than their life. This singular show is a big ask. But if you can grow with it, you'll see a Gatsby or a Daisy behind every pair of tired eyes on the train home.
Share your thoughts