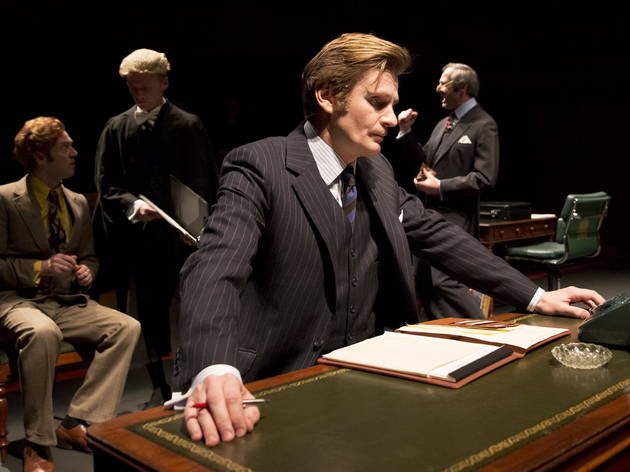 This review is from 'This House's 2013 run at the National Theatre. A new review will follow on December 1. Casting infor is TBA.
'Hung parliament' might conceivably make a decent name for a politics-themed porno movie, but beyond that there's precious little sexy about the term, which describes the state of affairs when no party wins an outright majority in a general election.
Arise, then, James Graham, the young playwright whose long apprenticeship in London's tiny fringe theatres has yielded this unfeasibly sexy beast.
Transferring confidently from the Cottesloe to the Olivier, 'This House' is a backroom, whips'-eye view of the relentless grind that was UK politics between 1974 and 1979. It was the period in which the hung parliament of February '74 yielded to the miniscule Labour majority of October '74, which in turn begat four years of political near-deadlock.
As the subject of a play, it should be stodgy as hell. In reality, 'This House' is a hoot, like 'The West Wing' forced to get off its high horse, down a pint of mild and don a crap polyester suit.
Crucial to its success is that the party leaders of the era – Ted Heath, Harold Wilson, Jim Callaghan, Mrs Thatcher – are kept firmly off stage. Instead Graham lets his imagination loose on the challenges faced by the party whips, tasked with getting their respective MPs into the Commons and on-message.
In the red corner stands wily cockney Bob Mellish (Phil Daniels, blokishly charismatic) and his 'Yorkshire bruiser' deputy whip Walter Harrison (Reece Dinsdale, boisterously endearing). In the blue corner is oily toff Humphrey Atkins (Julian Wadhan) and his disarmingly decent right-hand man Jack Weatherill (Charles Edwards, on excellent form). And for four-and-a-half years they will tussle tirelessly through a singular period of British history that Graham conveys vividly, with colourful language, lashings of humour, and an eye for lurid details – anyone remember John Stonehouse, the Labour MP who faked his own death?
There's a palpable sense of nostalgia for a time when Labour represented the man in the street, the Tories the poshos, and ne'er the twain did meet.
It's a big play that deserves a big Olivier-sized audience, and designer Rae Smith in particular has upped her game superbly for the transfer, with a huge, mobile House of Commons set that cheekily incorporates seating for a few brave audience members.
An intoxicating political thrill ride, and a strangely escapist antidote to current British parliamentary affairs. Andrzej Lukowski
Venue name:
National Theatre, Olivier
Contact:
Address:
South Bank
London
SE1 9PX

Transport:
Tube: Waterloo; Rail: Waterloo
Price:
£12-£47. Runs 2hrs 45mins