Top theatre in London
Our theatre critics recommend the best London theatre for the coming season
Tips from the Time Out theatre team for the best new plays that will be coming to London this season. You can buy tickets to recommended theatre shows and reviews and star ratings will be added once the shows have opened.
Rated as: 4/5
Critics choice
The National Theatre fourth current West End transfer, 'Untold Stories' brings together two autobiographical Alan Bennett shorts that were staged at the NT last year. Originally intended as a warm up act to 'People', Bennett's 'proper' new play, together 'Hymn' and 'Cocktail Sticks' are actually the stronger work, two playlets that beautifully demonstrates the great Yorkshire wit's ability to evoke the past warmly without rose-tinting his signature spectacles. 'Hymn' sees Alex Jennings's elderly Bennett reflect on the role of music in his 1940s working-class childhood, while 'Cocktail Sticks' looks back on key moments in his relationship with his ageing parents, as Oxford University and then success as a playwright beckons. Throughout, Jennings turns in far more than just a superb impersonation. As he tells anecdotes and has imaginary chats with his character's dead mum and dad, he fleshes out Bennett's trademark blazer, tie and crumpled jacket into an affectingly wry but mournful figure. 'Hymn', directed by Nadia Fall, is an elegiac half-hour in which a solitary Bennett, standing amid dustsheet-covered furniture, turns a youthful trip to Leeds Town Hall to hear an orchestra into a cheap-seat snapshot of workaday artistry caught between the trundle of tram rides. From Bennett pausing to listen to the talented onstage quartet to recounting his awe at his dad's violin, reverie blurs with regret as his scratchy attempts to play the instrument end on a note of parental disappoint
2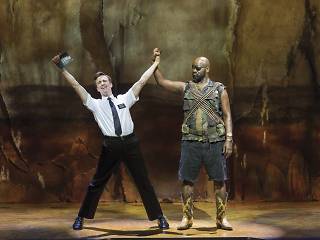 THE BOOK OF MORMON by Parker , Stone, , Writers – Trey Parker and Matt Stone, Music – Robert Lopez, Director – Casey Nicholaw, Design –Scott Pask, Costume design – Ann Roth, Lighting – Brian MacDevitt, London West End, 2013 , Credit: Johan Perss © Joan Marcus
'South Park' creators Trey Parker and Matt Stone's comedy musical about a pair of hapless Mormon missionaries is the most feverishly-anticipated West End opening since 'Matilda'.
Rated as: 4/5
Critics choice
Brakes shrieking; people jabbering; a million frantic bits of information rushing past – city life can be too much, even if you have learned to ignore large chunks of it. Which is precisely what 15-year-old Asperger Syndrome sufferer Christopher Boone can't do. When he comes to London, at the peak of his strange quest to solve the mysterious death of his neighbour's dog, he is overwhelmed. Onstage, lights, disconnected letters and people stream all over him. It's our own hyper-reality, and when you look at it like this, it is madness. It's also an electrifying staging of Mark Haddon's novel, directed by Marianne 'War Horse' Elliot. 'The Curious Incident…' was the bestselling book of the noughties precisely because it was so successful in showing readers the world from Christopher's point of view. What you see more vividly in this tight adaptation by Simon Stephens – a prolific playwright who always hits a nerve – is what it's like for Christopher's mum and dad to love their unique, shuttered-up boy, who knows the name of every country and capital city in the world, but screams whenever anyone touches him. No fear though, this absolutely isn't a mawkish Swindon-set 'Rain Man'. Yes, the sheer strangeness of Christopher sheds new and largely heartwarming light on the grumpy coppers, gossipy old neighbours and adulterous wives who are clichés of suburban life. But Luke Treadaway's performance as Christopher, a maths genius who struggles with the basic emotional facts of life, is
Share your thoughts