Shine 2013: fitness walks
Sign up and get in shape for Shine, Cancer Research UK's night-time walking marathon in London
By Time Out in association with Shine
Light up the night along with an incredible parade of over 10,000 walkers on September 28 2013 for Shine, London's night-time full and half walking marathon in support of Cancer Research UK. By joining this walk, you can raise money to help beat all types of cancer, or personalise your sponsorship to fund translational research into one of 12 cancer types - Shine is unique in enabling you to do this.
As well as being an inspiring way to raise money for Cancer Research UK, Shine symbolises the light their work can bring to the darkness of cancer. So sign up now and get going with these ten walks.
Bloomsbury
Start: Warren Street tube
End: Chancery Lane tube
Distance: 2.9 miles
Time: 60 minutes
Pretty stucco houses line the peaceful squares of Bloomsbury, an area with indelible connections to the 1920s literary and intellectual set the Bloomsbury Group. As well as the blue plaques marking the homes of Virginia Woolf and her contemporaries, this walk takes in pretty shopping streets, historic academic institutes and beautiful architecture.
---
1
University College London
Gower Street is lined with the buildings of UCL – a radically progressive university founded in 1826 to provide an education to students of any race, class or religion. It was also the first university in Britain to grant degrees to women.
2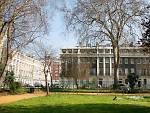 Gordon Square
Known as the Bloomsbury Group's headquarters, Gordon Square was home to Virginia Woolf, John Maynard Keynes, Vanessa Bell, Duncan Grant and Clive Bell. Walk around the square and tick off all the blue plaques.
3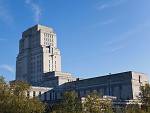 Senate House
As you leave Gordon Square, the blocky white bulk of the Senate House looms above you on Malet Street. The 19-storey art deco building houses London University's library and offices and was the second tallest building in London (after St Paul's) when it opened in 1937. It was the inspiration for George Orwell's Ministry of Information in '1984'.
4
Bedford Square
Bedford Square, Bloomsbury's oldest complete Georgian square, is one of the area's most picturesque spots. Although the garden at its centre is private, benches are plentiful, making it a great place for a break.
5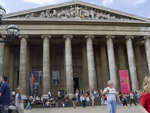 British Museum
As you stride up Great Russell Street, look left and admire the imposing neoclassical columns of the British Museum, the UK's most visited tourist attraction, founded by Hans Sloane in 1753. The main steps are good for a quick sit-down, and if you're hot, escape into the cool of the Norman Foster's beautiful glass-topped Great Court.
6
Queen Square
Arts and Crafts fans should seek out number 26 Queen Square, where the movement's spearhead William Morris lived from 1865 to 1871. He also set up his shop, Morris, Marshall, Faulkner & Co, on the ground floor.
7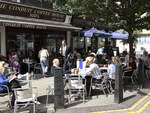 Lamb's Conduit Street
The independent shops on villagey Lamb's Conduit Street will tempt you to stop, but resist the urge – make a note of them and return another time. Its unique run of boutiques and stores includes the co-op run People's Supermarket and Persephone Books, a publisher and bookshop devoted to twentieth-century female writers.
8
Coram's Field's
If you want to lounge on the pleasant lawns of this park you'll need to be accompanied by a child under the age of 16. Designed for kids, it's named after Thomas Coram, who founded a children's hospital here in 1739. The seven-acre site includes a playground, duck pond and pet's corner, and is well used by the local Great Ormond Street Children's Hospital.
9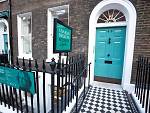 Charles Dickens Museum
Once the home of Charles Dickens, 48 Doughty Street is now a museum celebrating the literary giant. If you're feeling tired as you power-walk past, think of the hard-working author, who had the energy to write 'Oliver Twist' and 'Nicholas Nickleby' – and to father two daughters – in his two years' residence here from 1837 to 39.
---
Find out more about Shine 2013 by going to www.shinewalk.org/timeout, or simply sign up now and help make London shine. The entry fee is £35, which helps cover the cost of putting on the event. Registration closes at midnight on Sunday September 15 2013.
Users say
I loved to support cancer because my adopted mother passed awayy
Backing what Martin said. Can the Bloomsbury link be fixed, please?
Hello, it's great - thank you. But there is a little mistake - the download link (pdf) for Bloomsbury (the first of 2.9) is the same like the first one - Soho. best regards Martin
This alternative take on the London Marathon replaces the traditional 'run' with a more manageable 'walk', and moves the event from day to night.
See Shine FAQs
Shine training tips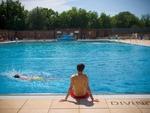 Discover more ways to keep fit in London