Music in Los Angeles: The new jass
Check out the new jass movement—some of the best up-and-coming music in Los Angeles.
By Hope Urban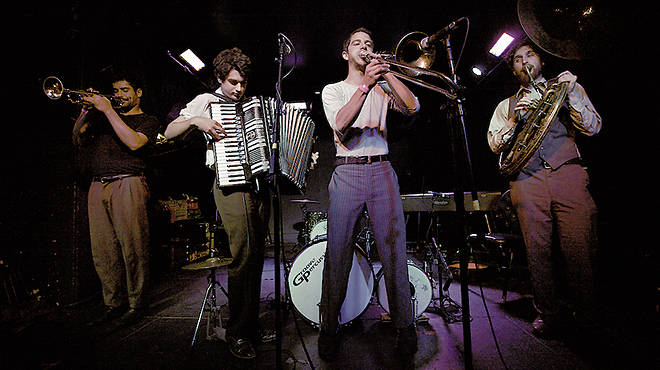 The Petrojvic Blasting Company Photograph: Tyler Golden
Sister Rogers | Petrojvic Blasting Company | California Feetwarmers | Hot Club of Los Angeles
Petrojvic Blasting Company
Lineup: Brandon Armstrong: sousaphone; Cory Beers: tapan; Charles De Castro: cornet, trumpet; Daniel Fernandes: trumpet; Josh Petrojvic: accordion; Justin Petrojvic: trombone, trumpet; Dominique Rodriguez: snare drum.
Where to hear them: The Gorbals, Joe's Great American Bar & Grill, Seven Grand, Hollywood Farmers' Market

With song titles like "Maladetta Orangina," "Simon Was" and "The Hungry Klezmorin," this is not your average Balkan street band. As a matter of fact, they are not your average anything, beginning with two Jewish half-brothers from Nashville who took on the surname of the Syrian musician courting their mother, the same man who encouraged Josh and Justin Petrojvic to embrace folkloric music.
Currently on a hiatus, all band members seem to be keeping busy. Josh and his wife are caring for new son Mortimer, born last year, while sousaphonist Cory Beers is in Moldova studying the Romanian cimbolom (a large chromatic dulcimer). Justin is sailing the Aegean sea, sending occasional music clips and captionless pictures; sousaphonist Brandon Armstrong is living in New Orleans, practicing violin and accordion; and Charles De Castro has been busking in LA with the California Feetwarmers. Drummer Dominque Rodriguez has been performing locally with his other band, the tremendous El Haru Karoi, while original trumpet player Daniel Fernandes is living in Granada, practicing Romanian/Moldovan music and listening to Adam Stinga records all day.
In an interview over a sporadic connection from Mexico City, Josh says he is practicing (and parenting) daily, scoring a couple of film projects and writing the next album for PBC with Justin, which mostly consists of sharing cell phone recordings of song clips.
From the beginning in 2008, street playing was an integral part of the band; besides a financial source, it also provided a reason and means to travel, which inspired more song writing.
"I guess the most influential place we ever went as a band was to Clejani [a commune in Romania known for its Gypsy music], where the Taraf de Haïdouks are from. Seeing them play live really changed our whole idea of what was possible, and the talk we had with them after we played for them pretty much changed everything for us," he continued. " Going to New Orleans is always a really beautiful experience, too. There are just so many incredible bands down there, and listening to the brass bands as they parade around on Mardi Gras is one of those experiences that can really change you. For us, it's always sort of a reach to sound as powerful as them, or Taraf, or Elvis Ajdinovic, or Louis Armstrong's Hot Five. I guess deep down we know that it will probably never happen, but the reaching is more the point. "
PBC's live shows border on the ecstatic; dancers respond in kind. Catch them plying their unique blend of Balkan Bessarabian New Orleans jazz when they regroup in Los Angeles early this Spring.
---
Write your own review