Parental Guidance (PG)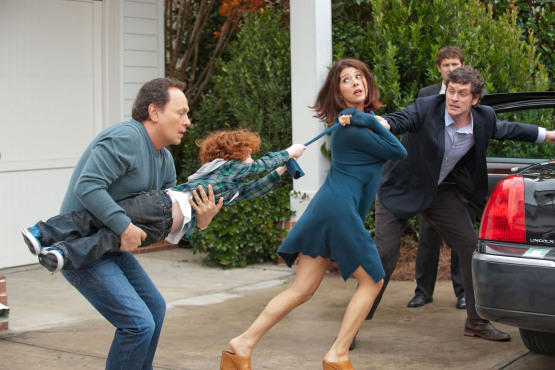 Left to right: Billy Crystal, Marisa Tomei and Tom Everett Scott in Parental Guidance
Time Out rating:
<strong>Rating: </strong><span class='lf-avgRating'>1</span>/5
Time Out says
Fri Dec 21 2012
"There's no cure for dumb," utters Billy Crystal's minor-league baseball announcer in the opening scene of this comedy, and you have to wonder: Is this a preemptive deflection of blame, the comedian's sly way of saying, "Hey guys, I did my best here"? Realizing they're the "other" grandparents, Crystal and Bette Midler—the dream comic duo of 1992!—volunteer to look after three sheltered, high-strung grandchildren while the couple's grown daughter (Marisa Tomei) and her husband (Tom Everett Scott) are out of town. The family lives in a Demon Seed–ish "smart home," and everything about the kids' coddled, progressive upbringing seems designed to provoke eye rolls. Thank goodness, then, for the intervention of these aging role models, who supply the discipline and fun these little ones need.
It's hard to say what's worse: the sneering disdain for modern child-rearing tactics or the hacky generation-clash humor. (With Crystal busting jokes about Twitter and the X Games, it's probably the latter.) Somewhere between an idyllic kick-the-can montage and a funeral for an imaginary friend, the film teeters over the edge into unbearable sentimentality. Every other scene is a heart-to-heart, with director Andy Fickman ladling on the twinkling piano music as one of his leads takes a knee to impart some nugget of wisdom. Leave it to Tomei, countering the broad mugging with a real performance, to supply a lone hint of pathos. Were there a cure for this much dumb, she'd be it.
Follow A.A. Dowd on Twitter: @aadowd
Author: A.A. Dowd
Users say
<strong>Rating: </strong><span class='lf-avgRating'>0</span>/5