Wrong: movie review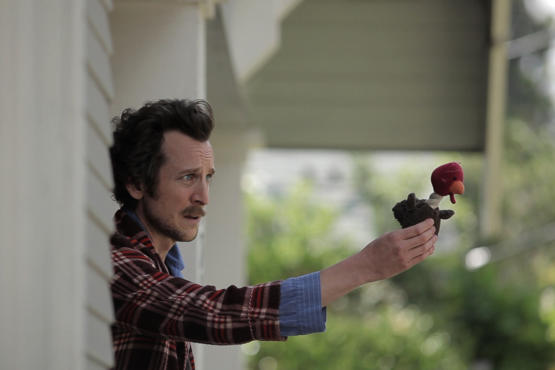 Wrong
Time Out rating:
<strong>Rating: </strong><span class='lf-avgRating'>2</span>/5
Time Out says
Posted: Mon Mar 25 2013
Dolph Springer (Jack Plotnick) has lost his dog. But forget about that for a second—his antagonistic neighbor, who is ashamed that he likes to jog, is leaving on a vision quest. Dolph Springer has lost his dog. But hold on—why is he still going to work (at an office where it's always raining inside) despite being fired three months prior? Dolph Springer has lost his dog. But maybe—just maybe—he can use the methods of pigtailed, pidgin-accented guru Master Chang (William Fichtner) to communicate telepathically with his missing mutt. After he figures out what the hell is up with that organic pizza delivery logo, of course.
Confused yet? Quentin Dupieux's follow-up to his 2010 tongue-in-cheek killer-tire movie, Rubber, is just as unapologetically nonsensical as that plot description—tracking our befuddled protagonist through a bizarro world that seems as if it were lifted from Charlie Kaufman's rejects pile. At first, the outlandishness is enjoyable: Dupieux's eye is inventively off-kilter, with lots of rock-steady, low-angled compositions that give the proceedings an M.C. Escher–like disorientation. Plus, any movie that lets Fichtner go as delightfully bug-fuck as he does here gets some crazy-character-actor bonus points. Weird for weirdness's sake gets you only so far, however, and when Dupieux tries to connect all these strange goings-on to Dolph's corporate-drone despondency, the movie takes a spurious turn toward rancid sentimentality. It seems that even a piece of dog excrement has feelings. Yuck.
Follow Keith Uhlich on Twitter: @keithuhlich
Author: Keith Uhlich
Users say
<strong>Rating: </strong><span class='lf-avgRating'>0</span>/5