Made in LA: Meet the new (and obsessive) breed of LA food artisans
From the handsomest guys behind Downtown's coffee to the hardest working gal of Silver Lake's hand-batched jams, get to know some of the best LA food artisans
By Katherine Kims Mon Oct 1 2012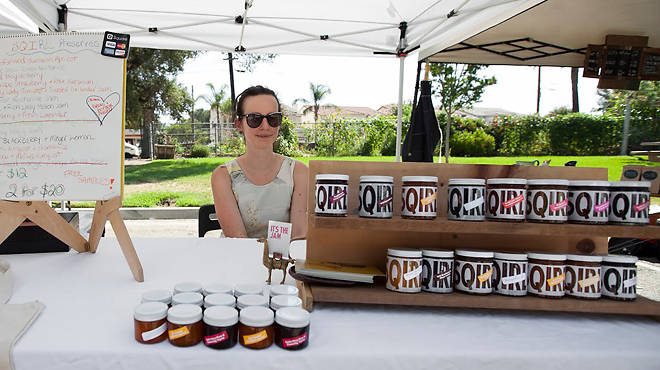 Jessica Koslow of Sqirl Photograph: Jakob N. Layman
Handsome Coffee | Sqirl | Brassica & Brine | More...
Sqirl
Who: Jessica Koslow, preserver, owner/founder of Sqirl
What: Artisanal preserves from jams to pickles and preserved lemons
Where it's made: Silver Lake (ok, technically Virgil Village)
Taste them at: Proof Bakery
Sqirl 2.0: Koslow teamed up with former Intelligentsia alums Kyle Glanville and Charles Babinski to open Sqirl with G&B Coffee, offering coffee alongside breakfast and lunch items like brioche toast served with Sqirl jam and hazelnut-almond butter, open-faced sandwiches and heirloom rice porridge.
"Jammer" Jessica Koslow hunts down "the dodo birds of produce"—uncommon heirloom varieties, only briefly available during growing season. "Restaurants can't bake with them because of their limited quantity and markets can't stock them because of their short shelf life." But Koslow captures them at their peak and preserves them into jars of Sqirl jam.
Koslow works with local farmers—McGrath Family Farm for Seascape strawberries, See Canyon for Blenheim apricots—to source the best of what's in season. That also means making the trip to Walker Farms in Sebastopol to drive down 100 pounds of Gravenstein apples. But this is no matter for the 31-year old native Angeleno who's up for any challenge from hand slicing Mandarinquats for marmalade (altogether a three-day process), hand-labeling more than six different seasonal flavors of her small-batch jams and filling requests like dill pickles for clients like Nancy Silverton's Short Order.
To know Sqirl is to know Jessica Koslow. Named for her character of squirreling away things and being a girl—at once quirky, whimsical and a little silly (as evidenced by her blog, an inspiration board of everything from design and fashion to dreamboats David Byrne and John Hamm). Proof Bakery's Na Young Ma uses Sqirl jam on her brioche toast, pastel de vasco and sandwiches and appreciates Koslow's worker bee, or rather, squirrel-like work ethic. "She's constantly experimenting and trying to make her products better than before," Ma says. "We try to use that same philosophy at the bakery."
Last year, Koslow completed the UC Cooperative Extension's Master Preserver course—a coveted and competitive spot for 18, whose alums include Mother Moo's Karen Klemens, Saving the Season's Kevin West and the Institute of Domestic Technology's Joseph Shuldiner—but Koslow was no stranger to the craft of preserving which she was first introduced to working at Atlanta's Bacchanalia. In between stints at Bacchanalia and after working in New York and ultimately LA as a TV producer, she opened Sqirl last March in Silver Lake. "I knew I wanted to go into food and preserving in a way that no one else was doing."
Koslow sells her jams at local stores like Proof Bakery and at Wednesday's Altadena Farmers Market. There's also monthly jam making classes held at Sqirl. And as she prepped for the debut of Sqirl with G&B—which she opened October 4 with Intelligentsia alums Kyle Glanville and Charles Babinski—she called on Ma for granola and brioche bread for open-face tartines and architect David Freeland who designed the geometric-designed interior and back patio. And in true Sqirl fashion, weeks before opening, Koslow had already canned 4,000 pounds— that's 4,000 jars—of fruit.
---